A GoPride Interview
Sam Nackman
Meet Sam Nackman from the Book of Mormon tour
Who cares what happens when we're dead? Why should we think that far ahead?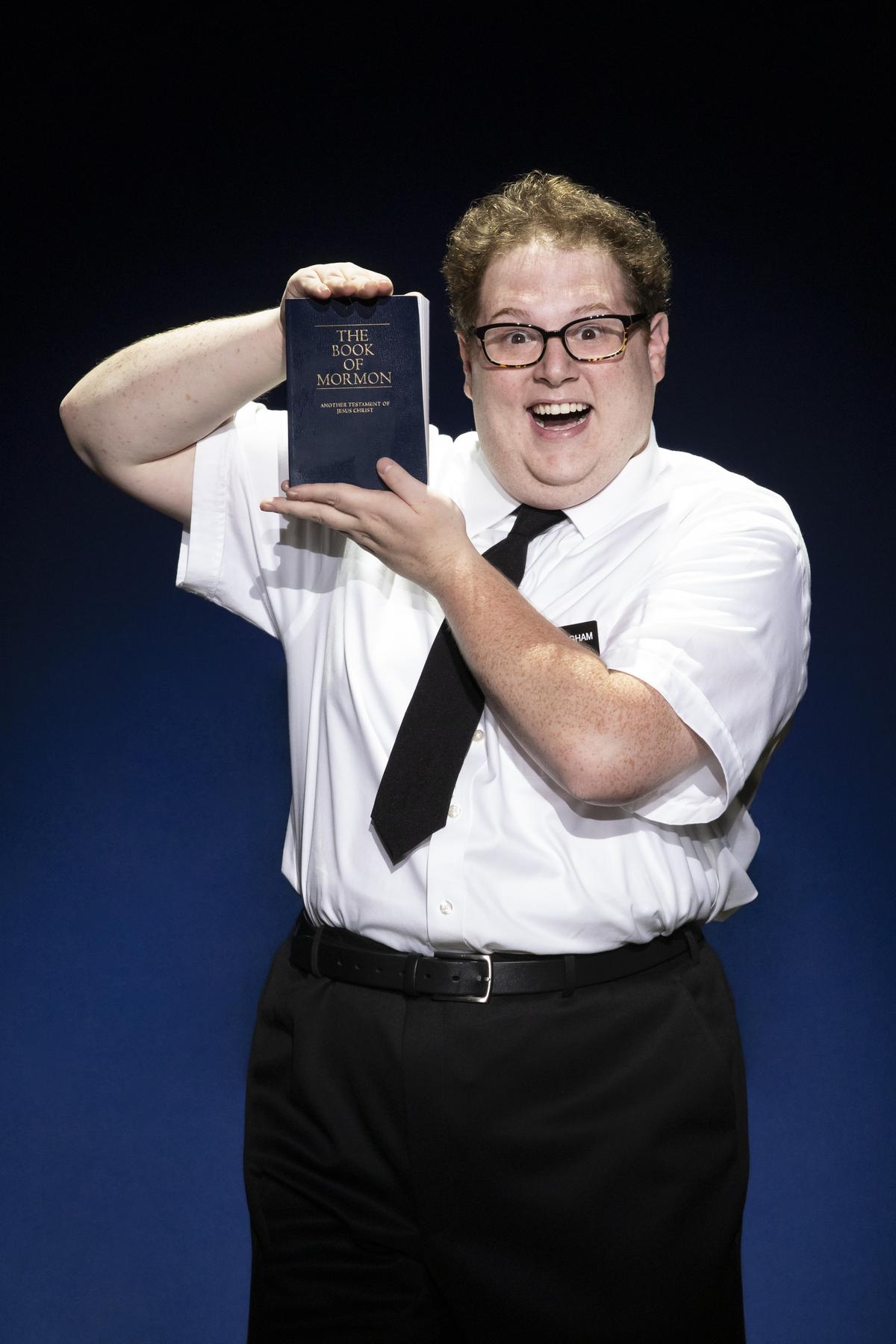 sam nackman in book of mormon
photo credit // juliet cervantes
It's the final weekend for the Book of Mormon, currently playing at Broadway In Chicago's Cadillac Palace Theatre, and we got a moment to catch up with Sam Nackman, who's thrilled to be making his national tour debut as Elder Cunningam in this tour.
The musical has become one of the most successful shows in Broadway history. In addition to numerous awards, it has won nine Tony Awards, including Best Musical, and the Grammy Award for Best Musical Theatre Album.
MI: (Matt Inawat, GoPride) Tell us about the moment you found out you had been cast as Elder Cunningham.
SN: (Sam Nackman, Book of Mormon) Well, it was a crazy moment for me because I had been auditioning for the show, whether it was the tour or the Broadway company for three years prior to finding out that I was going to be in the tour. So it was sort of a long time coming moment for me where I was like, "Oh wow, it's finally happening. I made it happen." It was just so thrilling because it's a dream role of mine and I'm very lucky and honored to get to do it.
MI: What got you interested in performing?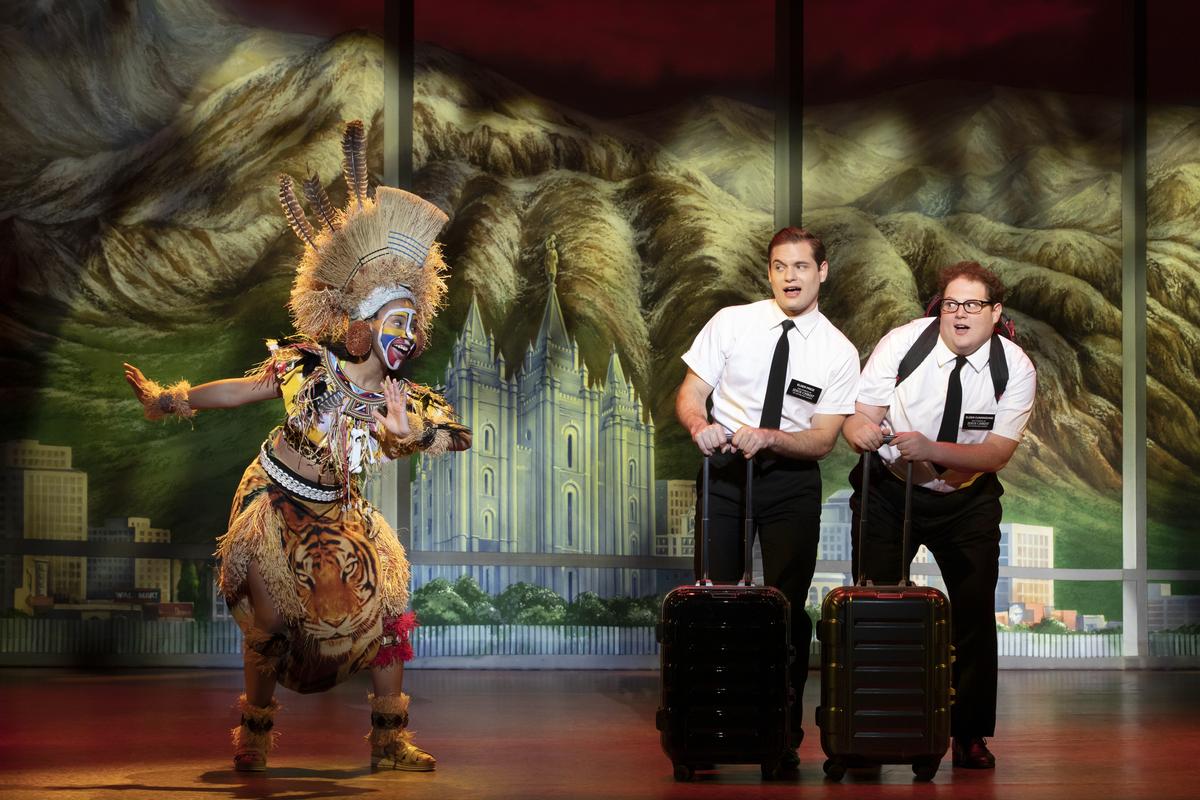 Book of Mormon US National Tour; credit: Juliet Cervantes
SN: I've always loved performing. I went to Marymount Manhattan College for musical theater, and I did shows in high school and middle school as well. I went to a performing arts high school out on Long Island in New York where I'm from. So performing's always been part of my life and a little ways into high school, when I started going to the performing arts school, I realized, "This is what I want to do as my career, as my life."
I first saw the Book of Mormon around that time and fell in love with the show. And between me loving it and everyone telling me that I would make a great Elder Cunningham, I sort of set my sights on that. And when I saw that this tour was announced and they were going to be holding auditions, I crossed my fingers and hoped that I would get a chance.
MI: How does your interpretation of Elder Cunningham differ from previous actors who played the role? What's been the most challenging part of playing him?
SN: I'd say the hardest part is definitely the energy. It's a lot of energy, especially the way that I do it. I don't do anything not 100%. And that is both a strength and a weakness of mine because it makes it so I always want to give the best performance that I can and give the audience and even my fellow castmates the most fun watching and performing alongside me.
But it also means that by the end of a show, I'm pretty exhausted. It's a lot of energy that it takes. And yeah, it's sort of a blessing and a curse because I love doing it like that. It's the most fun because I think my Cunningham is charming and fun, but you can also very much see why it might be annoying to be paired with him.
MI: Do you have a favorite song you're singing in the show?
SN: My favorite song, sadly enough, is actually one that I'm not in, is Spooky Mormon Hell Dream.
That's my favorite number in the show. It's just so much fun. You could watch that number three or four times and still be finding new little things going on onstage, in the music, in the lyrics. It's just such a crazy experience and it's also very catchy.
MI: Are there any aspects of the Book of Mormon's subject matter or theme that resonates with you personally or inspires you as an actor?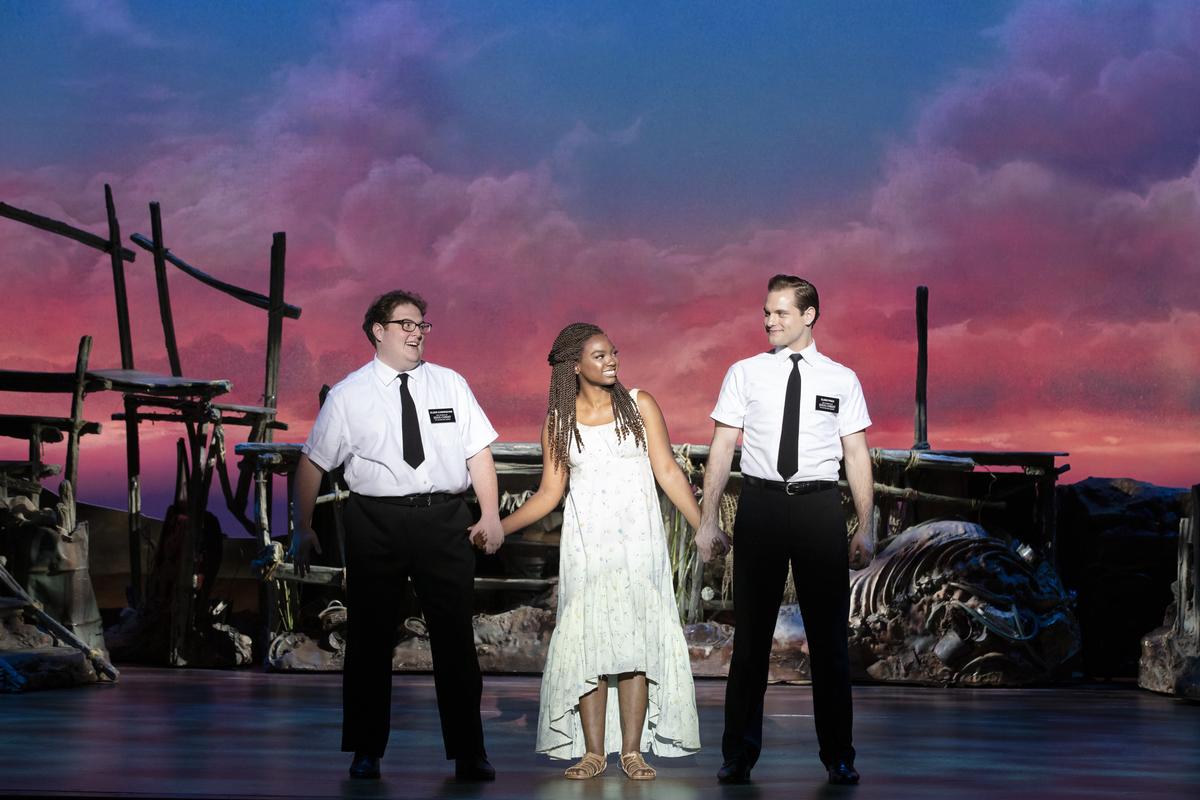 Book of Mormon US National Tour; credit: Juliet Cervantes
SN: Absolutely! As much as the show pokes fun at lots of people and at Mormonism and organized religion as a whole a little bit, I think it does it all very lightheartedly and with the best intentions in that I think it's a very faith-forward show. The final message of the show, which is the thing that resonates the most with me, is who cares what happens when we're dead? Why should we think that far ahead?
The only latter-day that matters is tomorrow. The exact words from the final song that's about how life isn't about making the next life great. Life should be about making this life great for yourself and everyone else in it while we're living it. And I think that's a really fantastic outlook. And for me personally, I'm Jewish and as a Jew, that is, to me, a very Jewish ideal, is living this life for this life and it's very nice for me to bring that to audiences.
MI: What's been your favorite role to play in your career so far?
SN: I'd say that this is probably my favorite role that I've done so far. I will say I'm still pretty green. This is my first real professional gig post-college. I'm only class of 2021, so I haven't had too much professional experience, and this has just been a dream come true role of a lifetime.
MI: What's your dream role?
SN: I do have some roles that I would love to be, but some of them would require me to be a little older maybe. My favorite musical of all time is Fiddler on the Roof and getting the chance to play Tevye would be an incredible experience that I would jump to immediately, but obviously, I would need to be a little bit older. I'm only 23.
MI: What advice do you have for other young aspiring actors who dream of playing a lead role in a major touring production?
Book of Mormon US National Tour; credit: Book of Mormon US National Tour; credit: Juliet Cervantes
SN: Be proud of yourself. Stick with it. It can be tough, a lot of rejection, but just be proud of yourself. Know what you can do and make sure that's what you're showing other people.
MI: You're in Chicago for a little bit. Is there anything on your top things-to-do list while in the Windy City?
SN: Go see a Chicago Cubs game. I'm a big baseball fan. I actually just yesterday drove up to Milwaukee to go see... I'm a New York Mets fan, and I saw the Mets get absolutely crushed by the Milwaukee Brewers, but that's typical for a Mets fan. 
I'm going to a Cubs game next week on our day off, and I couldn't be more excited. I'm also planning to go to the art museum, the Chicago Institute of the Art.
Chicago has been my most anticipated stop, so I'm very excited to be here and just explore.
MI: Any other parting words?
SN: I just want to voice my support for all members of that community and say that we're living in pretty tumultuous times right now, but I love all my queer, gay, lesbian, trans brothers, sisters, and whoever!

Ticket Information
Individual tickets for THE BOOK OF MORMON are on sale now and range from $40.00 - $145.00 with a select number of premium tickets available. Tickets are available now for groups of 10 or more by calling Broadway In Chicago Group Sales at (312) 977-1710 or emailing GroupSales@BroadwayInChicago.com. For more information, visit www.BroadwayInChicago.com.
About Broadway In Chicago
Broadway In Chicago was created in July 2000 and over the past 23 years has grown to be one of the largest commercial touring homes in the country. A Nederlander Presentation, Broadway In Chicago lights up the Chicago Theater District entertaining up to 1.7 million people annually in five theatres. Broadway In Chicago presents a full range of entertainment, including musicals and plays, on the stages of five of the finest theatres in Chicago's Loop including the Cadillac Palace Theatre, CIBC Theatre, James M. Nederlander Theatre, Auditorium Theatre, and just off the Magnificent Mile, the Broadway Playhouse at Water Tower Place.
Interviewed by Matt Inawat. Ron Matthew Inawat is president of the GoPride Network and contributes to ChicagoPride.com, PrideLA.com and other sites within the GoPride Network. Follow @cpmatthew