CHICAGO is the longest-running American musical in Broadway and West End history and is currenly playing in Chicago at Broadway in Chicago's CIBC Theatre from January 17-29.
The musical is set in Chicago in the 1920s and follows the story of Roxie Hart, a wannabe vaudevillian who murders her lover and is sent to prison. While in jail, Roxie meets the smooth-talking lawyer Billy Flynn and the vaudeville star Velma Kelly, who have both been convicted of murder. With the help of Flynn, Roxie and Velma become media sensations and fight for their freedom.
The score was composed by John Kander and Fred Ebb, featuring a variety of musical styles from jazz to blues to vaudeville. The show's score has been praised for its catchy melodies and clever lyrics and features a variety of dance numbers, including the iconic "Cell Block Tango" and the show-stopping "All That Jazz".
We chatted with the talented Brian Kalinowski who plays Amos Hart is in the touring production. Kalinowski recently was named the winner of 2022 MAC Award for Male Piano Bar Entertainer at NYC's legendary "Don't Tell Mama Piano Bar."
MI: (Matt Inawat) Brian, tell us a little about your journey to the "Chicago" musical. What drew you to the audition for this national production?
BK: (Brian Kalinowski) Amos has always been on my bucket list of characters to play. I started singing "Mr. Cellophane" in cabarets, probably when I graduated college.
So, I always was familiar with the part, and definitely knew that I wanted to play it. And then I got a chance to do it in Florida at a regional theater called the Broadway Palm in around 2016. And then when I saw the breakdown that the tour was going out, I immediately was like, "oh, yes, I have to jump at this and make sure that I get this part!"
MI: What flair are you bringing to Amos' character in this production?
BK: My Amos is very positive and upbeat. People think of Amos as a sad sack, which his story is sad, but he himself is not sad. He doesn't feel sorry for himself. He doesn't go mope through life feeling defeated. He has an amazing life and just this terrible thing happens and he does not know how to navigate it. 
And he's not stupid. People think of Amos as dumb. And I'm definitely not playing him like that either. He's just trying to catch up with what is going on with this vaudeville world that he doesn't really fit into -- that everybody else has this flair about them and this showmanship, and he does not have this showmanship, so he is trying to navigate his way through that world. And that's what "Mr. Cellophane" is. He's discovering through that song like, "Oh, maybe I can fit into this world of vaudeville and maybe I can be Mr. Cellophane." 
And then he finds out that that's not right for him either, that's not his place.
MI: How is this production different from some of the other stagings, and how is it keeping the story fresh for today's audiences?
BK: So, it is pretty much the show that you will see on Broadway. It's the staging and the choreography and sets and costumes and lighting as the Broadway production. 
But other productions that are done regionally, I mean there are so many takes that you can do on it, right? So, it leaves room for such interpretation of how to stage it and how to costume it. 
But this is very bare bones. This production is stripped away. There's not much of a set. The band is on stage with us, and it's just a big band stand and chairs, and we do everything around that. There are very few set pieces, but that is also cool because it makes the things that are set pieces and that do happen, it makes them look so magical against a very stark black background. And the lighting design makes everything pop, and it really focuses the audience to where they should be looking, and it helps tell the story in such a unique way that when you have big sets and splashy costumes and everything, sometimes you get distracted and you're looking at too many things. This really is focused.
And to have the orchestra on stage, I mean, this band is amazing. In Chicago, we're going to have a different band, but the band that travels with us, it's amazing. To see the music played live on stage, it's such an amazing part of the show and they really are part of the show. We're doing everything around the bandstand.
MI: Without giving too much away, what's your favorite moment in the show?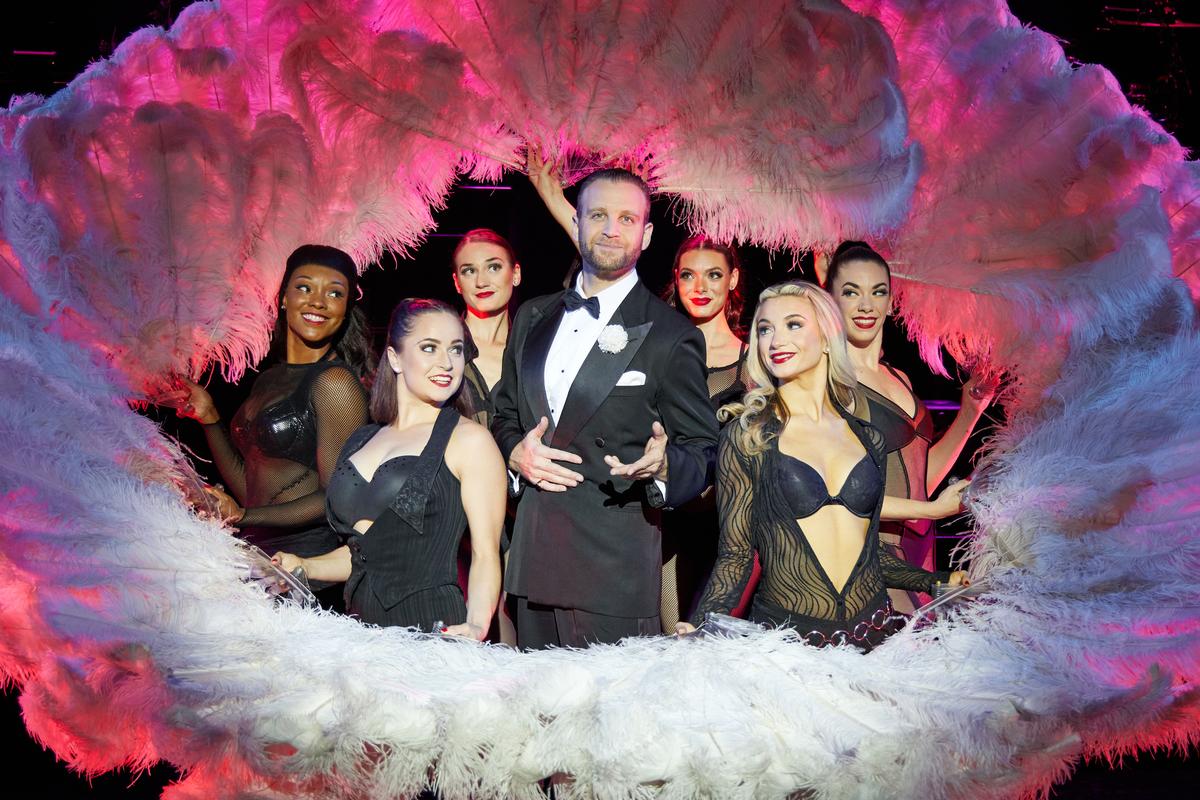 Chicago Tour 25th; credit: Jeremy Daniel
BK: My favorite song to sing along to backstage, and just my favorite song in the show, is called My Own Best Friend.
I sit in the dressing room and just sing along, because I do have a lot of offstage time. Amos is only in Act One for a couple scenes, and halfway through Act One, he's done for Act One, and then he comes on in Act Two. That's the great part about this role is it's what they call a princess track. You get to just roll on stage and do your thing and get your big applause and then leave. And everybody else is working so hard and you're on there for two minutes and people fall in love with this character. So, that's what's amazing about it, too. 
But, yeah, I'm sitting backstage singing along and it's great. It's called My Own Best Friend, and it's a duet song between Roxy and Velma. And it's a song about determination.
MI: I understand you won an award last year, which sounds super exciting. So tell us a little bit about that.
BK: I did. I won a MAC award for the Manhattan Association of Cabarets. When I'm not performing in stage shows, I work in a piano bar in New York City called Don't Tell Mama on Restaurant Row. I'm basically a singing bartender and singing waiter. So, I will be making you a margarita while singing As If We Never Said Goodbye into a microphone. So, I can only use one hand at a time. So, I won an award for that, for male piano bar entertainer.
MI: That's awesome!
BK: It's right in the heart of things. It's in Midtown, right around the Broadway theaters. It's a great after theater place to go if you want to keep the party going after you see a show, and you're like, "You know what? I didn't get enough show tunes tonight. I'm going to go." And they don't just do show tunes. There's all kind of music. They just sing live music and everybody's singing along. 
MI: You can never get enough of show tunes!
BK: Oh, I know, right? That's why I work there. I was like, I need to work somewhere where I can be singing show tunes the entire time.
MI: Where did you find your passion for theater and how you got started?
BK: I grew up in Wilmington, Delaware, and it was pretty small. I went to a Catholic school, and it was pretty small. I was not great at sports, and my family was into athletics and stuff like that, and I could not find my place in that world. Just like Amos, right? I couldn't find my place in that. I was not very good at sports. 
And I was like, I've got to find something that I like and that I'm good at and that I can do after school that will make me be involved. And then theater came along. I think that I started listening to the soundtrack of Phantom of the Opera, and I was like, "I love this. This is something that I connect with." Then I started doing little school shows here and there.
My school did not have a lot of theater, so I went and did community theater at the Wilmington Drama League. I just saw an audition in the paper and I said, "Why don't I go for this?" And it was for The Best Christmas Pageant Ever. And I got into the ensemble of that, and it was just amazing. I was like, "This is exactly where I fit, with all of these people. This is what I want to do." And I didn't really know that it was possible to do it for a living and make money from it. I was just like, "This is fun." And actually I did community theater in Wilmington with Aubrey Plaza and Jonathan Gallagher, Jr., because we came up around the same time. So they all made it much further than I have so far. But it was great, and I started doing all these shows there.
Then it came time to start thinking about what I wanted to do to go to college. And I was like, "Well, this is the thing that I like and that I'm good at and that I would like to do for the rest of my life." And I said, "Well, why don't I just go to college for theater and dedicate my life to it?" So, I did.
MI: You mentioned that Amos was a bucket list item. Is there a dream role in any play or musical that you would just love to portray?
BK: I would love to play Albin in La Cage aux Folles. That's pretty up there in my dream roles. 
Phantom of the Opera was always the show that I fell in love with at first. When I was younger, there was a period of time where I thought that it was the only show on Broadway. I was like, well, naturally that's the only thing that's there. And then I saw Miss Saigon and I loved it. And I was like, "Oh, wait. Am I cheating on Phantom of the Opera? I can't have another favorite show." But anyway, Phantom. I would love to be in Phantom. I would love to play Andre in Phantom. So, that's another dream role. 
And I got to play one. I played Edna in Hairspray for Royal Caribbean on the Oasis of the Seas. And I would love to do that again, because that was 10 or 15 years ago, and I was way too young to be playing that part. But I did it, and I would love to do it again.
MI: You're here in Chicago for a couple weeks. What's on your top three things to do while in town for the show?
BK: I have so many friends that were very excited that I was going to Chicago. I've never been to Chicago. I would love to see some of the other theater, maybe go to the Steppenwolf and see what they've got going on. I looked and they have a few shows going on while we're there. 
What else? I want to eat pizza, because I hear that Chicago's known for it's pizza, and I guess there's a gayborhood to hang around that's downtown.
MI: Lakeview, North Halsted, Boystown...
BK: Yeah. So, going out to the bars and seeing the nightlife. When I moved to New York, I became part of nightlife, and I was a drag queen for a while and worked as a barback and a bartender and a waiter and all that, so those are my people. The nightlife.
MI: So, can you sum up your entire theatrical life in one musical title.
BK: I would think that it's something along the lines of like, "And The World Goes 'Round." We just keep plugging on.
Kander and Ebb is right up my alley. I love Kander and Ebb, everything Kander and Ebb. So, And The World Goes 'Round, that musical review is amazing. And Mr. Cellophane is in that musical review. But, yeah, And The World Goes 'Round.
MI: Who would play you in that musical?
BK: Patty LuPone a hundred percent!
MI: Absolutely awesome! Thanks for chatting with us, Brian!
-----------------
TICKET INFORMATION
Individual tickets for CHICAGO are now on sale and range from $30.00 - $105.00 with a select number of premium tickets available. Tickets are available now for groups of 10 or more by calling Broadway In Chicago Group Sales at (312) 977-1710 or emailing GroupSales@BroadwayInChicago.com. For more information, visit www.BroadwayInChicago.com.

ABOUT BROADWAY IN CHICAGO
Broadway In Chicago was created in July 2000 and over the past 22 years has grown to be one of the largest commercial touring homes in the country. A Nederlander Presentation, Broadway In Chicago lights up the Chicago Theater District entertaining up to 1.7 million people annually in five theatres. Broadway In Chicago presents a full range of entertainment, including musicals and plays, on the stages of five of the finest theatres in Chicago's Loop including the Cadillac Palace Theatre, CIBC Theatre, James M. Nederlander Theatre, Auditorium Theatre, and just off the Magnificent Mile, the Broadway Playhouse at Water Tower Place.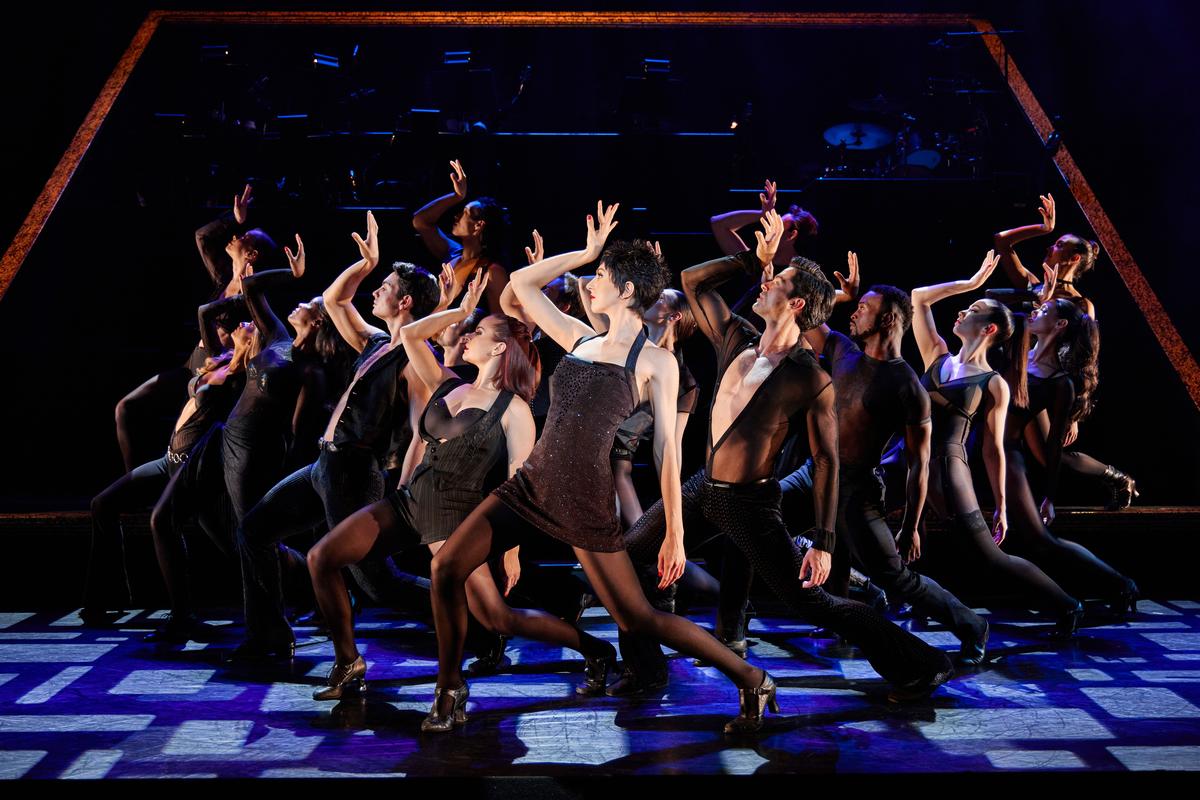 Chicago Tour 25th; credit: Jeremy Daniel
ABOUT CHICAGO
CHICAGO is BACK IN TOWN and after 25 years, CHICAGO is still the one musical with everything that makes Broadway shimmy-shake: a universal tale of fame, fortune and all that jazz, with one show stopping song after another and the most astonishing dancing you've ever seen.

The cast of CHICAGO features Katie Frieden as Roxie Hart, Logan Floyd as Velma Kelly, Jeff Brooks as Billy Flynn, Christina Wells as Matron "Mama" Morton, Brian Kalinowski as Amos Hart and G.A. James as Mary Sunshine.

The cast also includes Michelle Attardo, Lincoln Belford, Cate Benioff, Megan Campbell, Tony Carrubba, Jess DiForte, Robert Garris Aka Shapiro, Ed Gotthelf, Jasmine Janae, Tal Kedem, Liz Lester, Chase McFadden, Sammy Tuchman, Asher Van Meter, Jordan Vasquez and Evy Vaughan.

Produced by Apex Touring, CHICAGO is the winner of six 1997 Tony Awards? including Best Musical Revival and the Grammy Award? for Best Musical Cast Recording.