A GoPride Interview
Chris Willis
Chris Willis interview with ChicagoPride.com
Wed. September 23, 2009 by ChicagoPride.com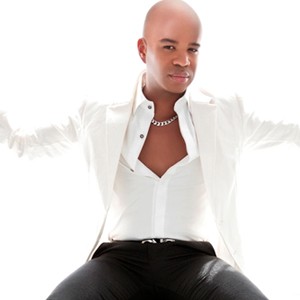 You might not be able to put a name to the voice—not yet anyway. But all of that is about to change. Pop music fans are soon destined to not only recognize, but to revel in, the gorgeous voice and emotional intensity of Chris Willis, a performer who has been thrilling dance music aficionados, DJs, and club denizens for the better part of this decade. Beginning with his vocal performances on the debut album, Just a Little More Love, by superstar DJ David Guetta in 2004, Willis has increasingly made a name for himself as that rare male vocal sensation in a world normally populated with divas and sirens of the opposite gender. Perhaps it's because Willis has such a deep understanding of the emotional landscape of the dance floor—his voice is an affecting instrument that speaks directly to the hearts of the love-seeking dance habitués who populate clubs around the world hoping to find, in the ecstasy of the musical moment, that special someone with whom they can transcend all space and time.

The transcendent world of gospel music is where Willis first got his start, and it's the spiritual and technical training learned from numerous live performances and recordings—including his own debut album Chris Willis—that has made him such a revered virtuoso in the dance world. Yet talented (and often unrecognized) singers are plentiful in the dance community. Its that inexplicable (and un-teachable) sensitivity that emanates from Willis' open heart that first caught Guetta's ear on their first fateful meeting. The pair's partnership now spans four albums, and their hits together—which also feature contributions from Willis as writer and producer—include "Love Don't Let Me Go," "Just a Litte More Love," "Everytime We Touch," and "Love is Gone." Willis is in stellar company as part of Guetta's all-star roster of guest vocalists on the DJ's recently released fourth album, One Love, which also features Akon, Ne-Yo, and Estelle, not to mention two of the summer's biggest pop-dance hits, "I Gotta Feeling" by The Black-eyed Peas and "When Love Takes Over" with Kelly Rowland. With his profile justifiably raised by being involved in such a superstar project, it's inevitable that the world will soon get a chance to delight in the latest chapter in Willis' ever-evolving musical career—his long-awaited second album, the pop opus he's been destined to make all these years.

Here, the singer talks about his musical journey from hardship to triumph, his take on the state of dance music today, and the Gay Pride moment that he will never forget.

Q: How did you first meet David Guetta?

CW: (Chris Willis) To be honest, it was such a fluke, a happy accident. I was in Paris after co-producing a band with Desmond Child, and one of the guys in the group introduced me to David, who was in the process of recording his first album. He invited me to come by the studio the next day to see if we might vibe together. The next day, I show up and he played me this electro-dance track, something that was quite foreign to me at the time. But I starting coming up with some melodies, and they recorded everything that I sang. Martin Luther King's "I have a dream" speech was he catalyst. A few other melodies and lyric ideas later, "Just a little more love, just a little more peace, is all it takes to live the dream." That's literally what came out.

Q: And "Just a Little More Love" became the title track of David's first album.

CW: Yeah, the Civil Rights Movement was already a sensitive spot with me and

David is a big fan of the Martin Luther King "I Have A Dream" speech. When I was done singing he and Joachim were just screaming and shouting in the control room, "That's it! That's it!"

Q: So, this was a big departure from your work in gospel music and the singing you had been doing in Nashville, obviously.

CW: Yes, I had been singing gospel music for many years hoping for great success. Although a pretty nice following developed around it I just wasn't satisfied. So, I was really searching for a way out in into the mainstream.

Q: Tell me more about the trajectory of your career up until the point when you met David.

CW: Well, the short version is that I started at a very young age. Music was an escape for me when I was growing up in Ohio. I wasn't good at sports and felt kind of like a misfit. Music was my way to communicate. After high school, I started singing in choirs and playing piano. Ultimately, I ended up signing with a gospel group called the Heritage Singers, and we toured all over the world. One of the members of Take 6 heard about me and started producing me for Warner Brothers.

I recorded a gospel album in Nashville, but it was never released. It was one of the biggest disappointments of my life.

Q: You decided to stay in Nashville, though?

CW: Yeah, it was either that or go back to Ohio. There were so many background singers on my album, and I just called them to see if they would bring me in on sessions. And they did. That's how I got involved in the session world, and I sang on everything I could. I wanted people to know my name. This led, at last, to my first album, a gospel record called Chris Willis.

Then, my record company was bought and that was kind of the end of that. While pursuing my gospel career, I had also been singing all different kinds of music, trying to diversify. I'd sing and perform in industrial shows at Opryland, doing everything from Motown to the Spinners. I sang on demos for artists who wanted a more pop/urban sound to try to cross over into the mainstream market. I did backup for people like Shania Twain, Amy Grant, Kenny Rogers, and Dolly Parton. With all of that experience, I finally decided to set myself free to explore other music styles. So I bought my own gear, and began to really make my own music.

Q: And now, you're singing dance music. Does that feel like a natural fit for you?

CW: Yes. Part of the fun of writing this music is that I listen to the track and the instrumentation, and I just start blurting out melodies. Then, I plug in the lyrics later.

I create 3 or 4 different melodies, and sit with DJ or producer and decide which is the strongest one. Having been a gospel singer and a session musician, I have thousands of melodies in my head. This music also allows me to be more versatile. When I got to Nashville, I was very stiff. Over time, I've been able to pull myself out of my shell and just put all of my history and training to work. To now be able to incorporate the visuals—the flash, the flair, the heavy performance—along with the vocals is really a lot of fun.

Q: Some people think of dance music as monotonous and repetitive. It certainly doesn't have to be. How do you keep it fresh?

CW: The honest truth is that I never in a million years thought I would be interested in the world of dance music. Now that I'm here, I get the chance to tell really good stories with this music. That's how I keep it fresh. Even with gospel music,

my favorite thing was to take the story that was pretty much the same: "God, he is always with me. He saved me…" and try to say it in a different way. Now I get to do that plus reach a broader audience. Change and progress and evolution—that's what I'm about.

Q: What kind of stories do you like to tell with your songs?

CW: Well, the main focus of dance music is love. When you're on the dance floor, you're either in a relationship, or you're looking for love. When I'm writing songs, I think, "What would I say to someone I love, or someone I loved and lost? What would I say to someone I just met?" There are hundreds of DJs making an endless array of sounds. And I like playing with the words in the

English language to tell great stories.

Q: David Guetta's songs are crossing over to the pop charts, and he's got artists like Kelly Rowland and Akon singing on his tracks.

He's also produced for the new Black-eyed Peas album. Most dance songs don't crossover to the pop charts. What do you think it takes for a dance hit to become a pop hit?

CW: It's a collection of unique opportunities. I think it goes back to gospel music. There's a point in church where everyone is singing in harmony. What I think happened with "Love is Gone" is that, for whatever reason, everyone could sing this song—just like the songs in church. And the lyrics are so connectable, everyone can identify with the words. The guys in the club can sing it, the girls in the club can sing it. Then, it's on the radio and it has this anthemic element, and everyone can sing it. In terms of David's new album, he's been able to marry what he does with what people like Kelly and Akon do. He's incorporated these urban artists in a way that it's breathing new life into urban and hip hop music.

Q: Have you garnered a lot of gay fans from your club gigs?

CW: Yes, definitely. One of my favorite experiences in the gay market was when we did Gay Pride in Paris. It was one of the most incredible experiences of my life. There were hundreds of thousands of people listening to our music. People were having a great time, and the line was totally blurred—gay people were hanging out with straight people and having a great time. There wasn't that kind of barrier between gay and straight that you often see. There is still a schism between the gay community and the straight community in our society, and those party lines make it hard to progress.

Q: Well, do you see that separation in clubs as well?

CW: It depends. Most of the time, it's one big party. Love is the most important thing, and love is inclusive and accepting. That was the message that I took from my gospel experience, and that is the message that I'm sending out with all of my songs.
Interviewed by ChicagoPride.com
Serving the Chicago gay, lesbian, bisexual and transgender communities. ©Copyright 2019 GoPride Networks. All rights reserved.