Uber-talented actor and musician Taylor Bloom arrives in Chicago as one of the stars in the internationally-acclaimed show and the heralded national tour of The Simon & Garfunkel Story. Bloom portrays Paul Simon in the production, playing at the Broadway Playhouse (Water Tower Place, 175 E. Chestnut) November 19 through December 8, 2019.
One of five brothers, Bloom was born and raised in the Shenandoah Valley near Middletown, VA. Taylor attended Shenandoah Conservatory where he caught the bug for acting, film, writing and directing. "It's a place that's felt like home to me from when I first began at age 11," he says. Bloom grew up with his mom playing the likes of Cat Stevens, Dan Fogelberg and James Taylor on their drives. His earliest memories of Simon & Garfunkel was the first time he heard the song America. In his spare time, Bloom enjoys cooking, ukulele, piano, and writes music for his band Coastline. His biggest inspiration now is Ben Platt and his four siblings.
The show chronicles the amazing journey shared by the folk-rock duo, Paul Simon and Art Garfunkel and tells the story from their humble beginnings as Tom & Jerry to their incredible success as one of the best-selling music groups of the '60s to their dramatic split in 1970. Projection, photos and original film footage, accompanies a full live band performing all of their hits, including 'Mrs. Robinson' (featured in the 1967 film The Graduate), 'Cecilia', 'Bridge Over Troubled Water', and 'Homeward Bound.' 
Soon after I listened Bloom's self-released music, the actor and I had a conversation about the the dynamic music duo, inspirations for the show, and his Chicago to-do list. 
MI: (Matt Inawat) Hey Taylor, congratulations on the success of the show! How excited were you when you got the news you were cast as the Paul Simon of the legendary Simon & Garfunkel?
TB: (Taylor Bloom) I was pretty amped. It was a really exciting moment for me just because it was sort of like, the first major thing I auditioned for; and I remember I was walking through a park, in Brooklyn, at the time and I got the call and as soon as I hung up the phone I did the classic jump up in the air. I was so excited and I was fist-pumping in the air. I was so stoked.
MI: Tell us a little bit about the show.
TB: It is about a 2 hour and 15 minute concert comprised totally of music written by Paul Simon for Simon and Garfunkel. Not only that; you get an understanding of their life, because they had a very – in the grand scheme of things - they had what would be considered a short career given how wildly successful they were. So it is a really interesting story hearing about how they rose to prominence so quickly and then what followed after that.
MI: We know that music is transformational; and as you mentioned, we learn quite a bit about the little-known, behind the scenes lives of Simon and Garfunkel. So, was there anything you learned about their relationship that made an impact in the way that you currently treat your role in the production? Was there something that kind of made it click where you said, "yeah, now I get what Paul Simon was all about!"
TB: You know that is a really great question. I remember when I was doing research on the two of them, I watched a lot of footage of them performing and you can sort of track their evolution through their career together. And one thing that really spoke to me was, when you watch early footage of the two of them together, they are having a really great time; particularly when they really started to gain a following. It's just these two guys who have known each other for a better part of their lives playing music together and it helped me understand the first part of our show because we are playing it chronologically. So we are playing sort of early in their careers in the first act and it helped me kind of realize how much joy and excitement needs to be in that part of the show. Like it needs to be very excited, but it also needs to feel very new, you know?
MI: Definitely! In addition to playing all of the timeless music, do you have a personal favorite message that comes from the show?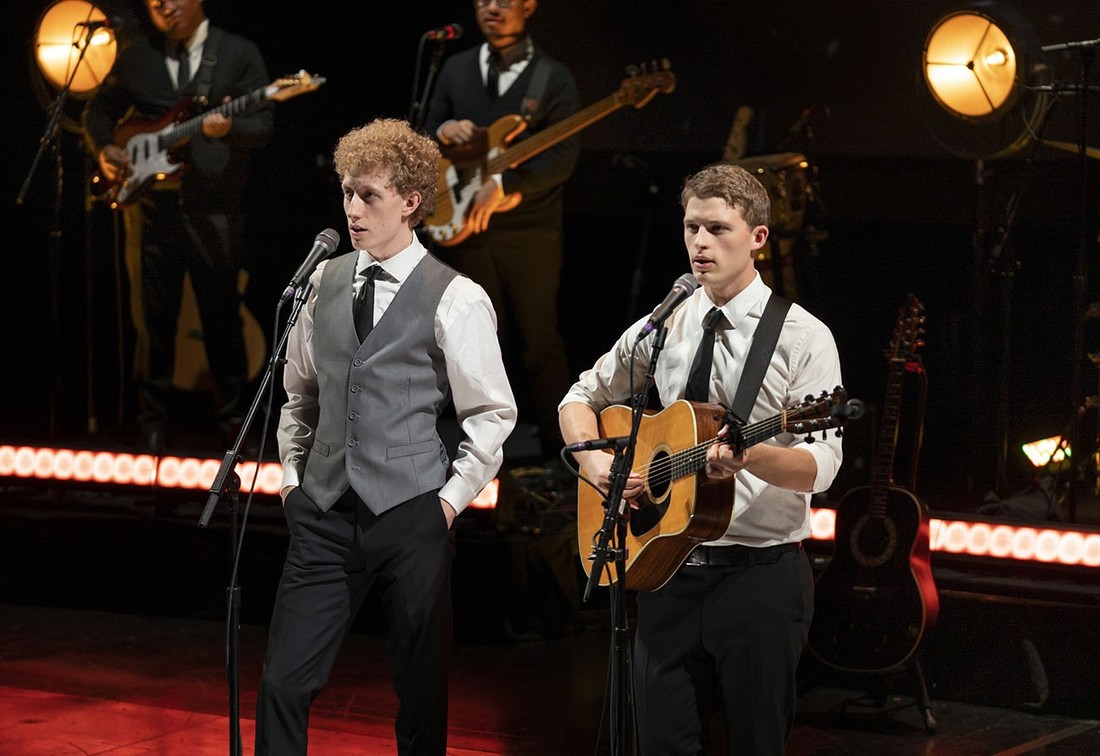 Taylor Bloom and Ben Cooley, S&G Story; credit: Lane Peters
TB: Oh gosh, well you know the amazing thing about the show is it really couldn't be possible without our audience because everyone who comes to see our show has all of these personal experiences and memories that are related to and associated with Simon and Garfunkel's music. And so many of the songs reach out and touch the audience and the cast members; and that is my favorite thing that happens every night. We get to share in this communion of music with a bunch of people for whom it is very personal, you know?
MI: Taylor, I love that description! It's like you're literally performing history every night for the fans in the audience.
TB: Exactly!
MI: What was the biggest challenge of reproducing every note and harmony of the original duo?
TB: Well there is a temptation to want to play a cover of the song; and the thing about playing a cover of a song is that you usually bring some of your own flavor, some of your own spice. You want to change some things around and you want to mess with things - and so the studio recordings are kind of our Bible that we go back to. What do the tracks sound like? Let's make sure that we are doing this as true to form as possible because we want everyone who comes to see the show to have a really wonderful experience.
MI: Right! As for being an accomplished songwriter and musician as well, how tempting is that to switch into personal musician mode and kind of change it around?
TB: It is kind of tempting. There are just a couple of songs in the show where that's not only possible, but where that is sort of a good thing. 
The one that is coming to mind for me most is a Paul Simon solo song called Cathy's Song that is on their album The Sounds of Silence and it is just Paul Simon and guitar and while of course I play the song the way Paul Simon played it, one of the most important things about that song is bringing the truth and honesty and emotion of yourself as a performer to that song. And so I will say there is a variation every night as to how that song comes out and I think it is just, that is a song that in the way it is written, one of the key things is the delivery. The audience will be able to tell if I am faking it. It has to be a truthful thing. So that is a song where maybe even the notes, maybe the rhythm changes a little bit in order to keep the heart in the right place.
MI: Exactly. Exactly. So let's continue this path of songs here. Which of the Simon and Garfunkel songs do you love performing the most and why?
TB: It is hard to choose because there are so many good ones. I think probably one of my favorites is Keep The Customer Satisfied, which is kind of a buck over Bridge Over Troubled Water and just, it's a confluence of things in our show, it comes at a point where the audience is really excited and it is an amazing moment where the band as a group, can all shine together on stage and we really have a lot of fun with it. So that is one of my favorites.
MI: Are there any things that you have to religiously do before a performance for luck?
TB: I'm usually always the first one dressed. I kind of get a little anxious if I am not fully in costume and have my in ear monitors about an hour before curtain. I always do yoga at some point throughout the day to sort of keep centered on the road, because being on tour you have to maintain some sort of habit. 
And the other thing we sort of do before a show is the whole band will come together and we will sing, a capella, some of the group harmonies that we do in the show; and that is a really, really fun thing to do and it sort of gets us on the same page before the start of the show.
We have a couple of geniuses in our midst and they like to change a major harmony and make it a minor harmony, so that can be pretty fun too.
MI: That is pretty awesome. So take us back a little bit, how did you get involved in performing and music? I read that you caught the bug when you were just 11, so was there a mentor who inspired you?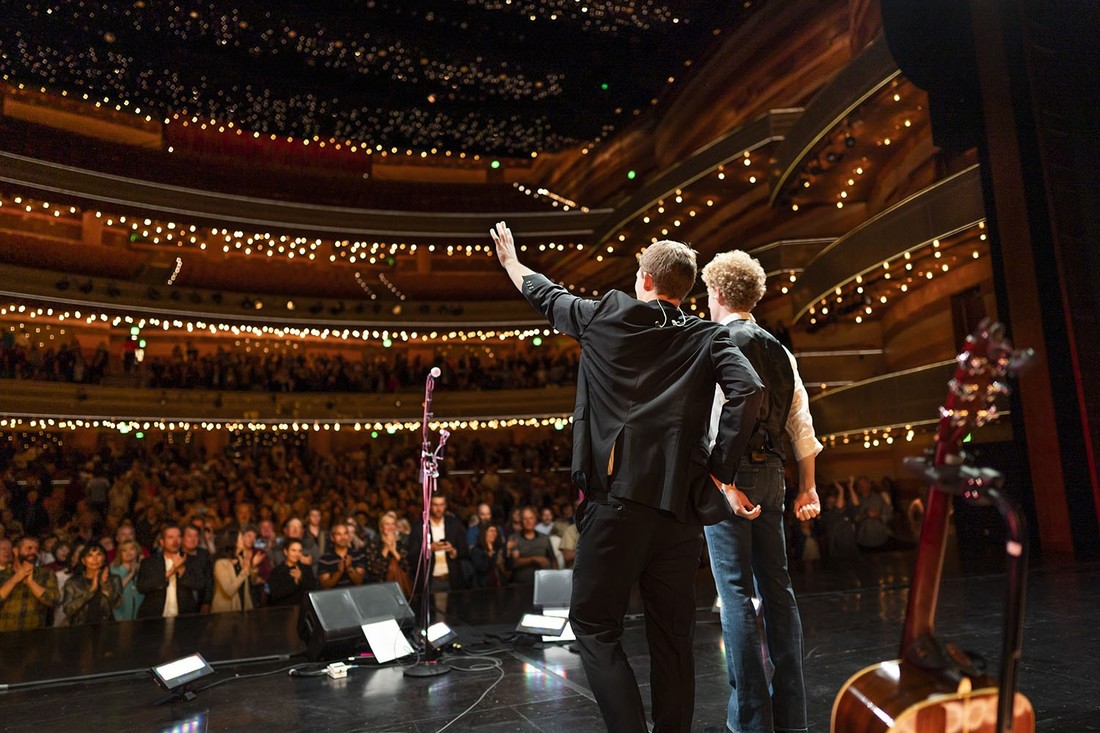 Taylor Bloom and Ben Cooley, S&G Story; credit: Lane Peters
TB: Yeah absolutely. So I am the youngest of 5 brothers and all of my older brothers played music growing up. I played a number of musical instruments, from guitar as a younger person, but my older brother Joe taught me to play and he sort of taught me about music theory and structure and opened a whole world about music that sort of helped me to really stick with it on guitar.
MI: Yeah. So what has been your favorite musical role to date?
TB: Well, you know, I do have to say that playing Paul Simon has been a tremendous amount of fun, in that being able to tour around the country and see all of these beautiful venues and beautiful cities and towns with our band has been a real privilege. I wouldn't trade it for anything.
MI: I think it would be pretty hard to top that, but I thought I read somewhere that you also played Frankenfurter in a theatrical production of The Rocky Horror Picture Show?
TB: I did, oh man.
MI: So how was life in fishnets and stilettos?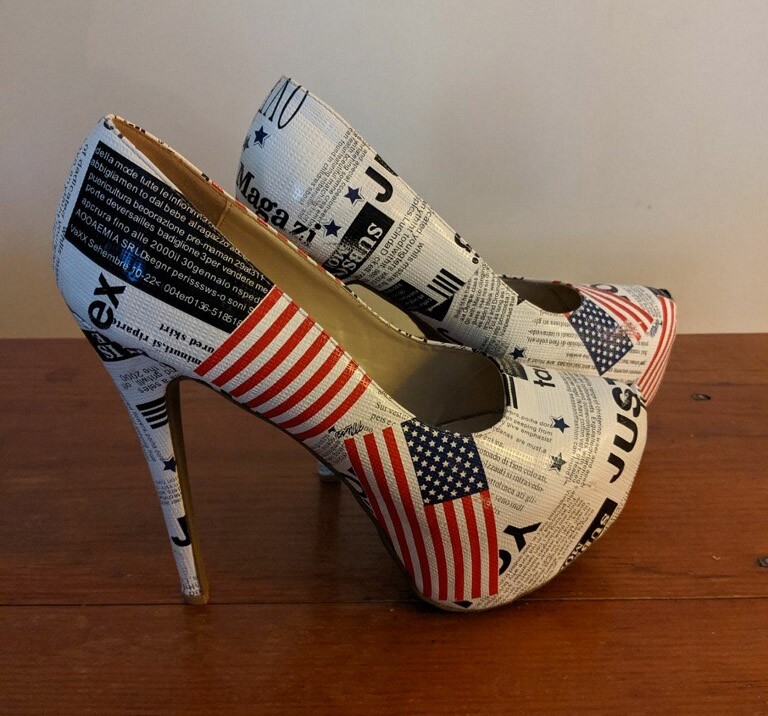 Bloom's stilettos from the Rocky Horror Picture Show production
TB: You know that was a pretty untoppable moment as well. I feel so fortunate that I have had a lot of peaks in my life on stage, but the moment in complete transvestite and you get revealed and you are wearing your corset and fishnets... I am literally, I have the heels. I am looking at them right now. Six and a half inch platform stilettos. There is just nothing quite as exciting! I am getting chills just thinking about it, that may be top right there.
MI: (Laughing) I want to talk a little about your songwriting.
TB: Sure absolutely. That is sort of the thing that has kept me tied to music since I learned to play guitar. The instruments I learned before I started playing guitar; I started on piano and then I played clarinet and
saxophone and I kept quitting all of these instruments and I realized it was because I didn't want to play music that other people had written, I would go into my lessons and would always play whatever I wanted to play. 
So the reason I settled on guitar was because I could write songs on it with a lot more ease. It is really hard to write a song on a clarinet if you want to sing at the same time. So, that has sort of just continued with me throughout my life. It is just a practice I kept on doing just a few songs here and there every few months. Something would just come up and it is a very therapeutic way to express yourself.
MI: Yeah, definitely! So this season for the 2019/2020 national tour just kicked off about a month ago. Since then you have already performed in 19 cities, but Chicago is going to be your first sit-down on the tour where you will actually be with us for three full weeks. Are you super excited about that?
TB: Absolutely! I have never been to Chicago. I have family there with whom I will be able to spend Thanksgiving, so I am excited to tour around the place. I hear it is like a cleaner New York, and I am excited to see what that might be like.
MI: That's so awesome that you get to spend time with your family while on tour during the holiday season. Have you thought about what you'll be doing in Chicago in your spare time? Maybe the top three?
TB: Well there is a theatre group out there called the Neofuturists and I am very excited to go see what they have done. They have a branch here in New York, where I live, but it has done some different things kind of an offshoot and it has kind of moved away from what they originally started doing, so I am excited to go see a show of there's. 
It is actually run by a guy named Greg Allen, who I have the pleasure of knowing, so I am going to reach out to him and see if I can get some tickets. 
I also, me and my friend Ben – who plays Garfunkel in the show – have recently gotten into rock climbing so we have plans to check out a rock climbing gym somewhere in Chicago while we are there. I also am going to see if I can take in a concert by the Chicago Symphony. I'm not sure if they happen to be playing any time soon, but if they happen to be playing on a night when I am not playing I am definitely going to check that out.
I have heard amazing things about the Christmas markets that you guys have in Chicago. I am absolutely going to check those out. 
MI: Well that sounds like three amazing things to do! Just make sure you bring some warm clothing and you will be just fine. Since you're near the Broadway Playhouse, you'll just be minutes away from the market too.
MI: So, name something you can't live without.
TB: I want to be clever and say water, but instead I think I will say olive oil.
MI: Favorite guilty pleasure? TV show, dessert of whatever.
TB: Friends
MI: Who would play you if your life story ended up on the big screen?
TB: I hope that I would be played by Shia LeBoeuf, maybe.
MI: And what would that story be titled?
TB: It would be called, that is a hard one. I feel like, Mama's Boy.
MI: I was about to say that was the last question, but you are going to have to explain that a little bit.
TB: I think all of my strange things and idiosyncrasies all go back to the stuff I learned from my mom. So it would definitely be a story about me and my mom, for sure!
MI: Taylor, thanks for taking the time out of your busy schedule! We can't wait to have you here in Chicago and we're all looking forward to seeing the show!
If you're looking for a perfect way to spend time with friends and family over the Thanksgiving holiday, check out the show and immerse yourself in the beautiful music, smoothly and soulfully performed by Bloom and his stage partner Ben Cooley (Art Garfunkel), that inspired and defined an era.
The Simon & Garfunkel Story is playing at the Broadway Playhouse (Water Tower Place, 175 E. Chestnut) November 19 through December 8, 2019. Projection, photos and original film footage, accompanies a full live band performing all of their hits, including 'Mrs. Robinson' (featured in the 1967 film The Graduate), 'Cecilia', 'Bridge Over Troubled Water', 'Homeward Bound' and many more. The show chronicles the amazing journey shared by the folk-rock duo, Paul Simon and Art Garfunkel. It tells the story from their humble beginnings as Tom & Jerry to their incredible success as one of the best-selling music groups of the '60s to their dramatic split in 1970. Their story culminated with the famous "The Concert in Central Park" reunion in 1981 with more than half a million fans in attendance. With more than 100 million album sales since 1965, Simon & Garfunkel's perfect harmonies and songs that poignantly captured the times made them one of the most successful folk-rock duos of all time. Over the years, the duo won 10 Grammy Awards and were inducted into the Rock and Roll Hall of Fame in 1990.
More information about The Simon & Garfunkel Story can be found here.
Tickets for The Simon & Garfunkel Story range in price from $35-$100 with a select number of premium tickets available. Individual tickets will are available by calling the Broadway In Chicago Ticketline at (800) 775-2000 or by visiting BroadwayInChicago.com. Tickets are available now for groups of 10 or more by calling Broadway In Chicago Group Sales at (312)977-1710.