A GoPride Interview
Colton Ford
Colton Ford interview with ChicagoPride.com
Mon. August 3, 2009 by GoPride.com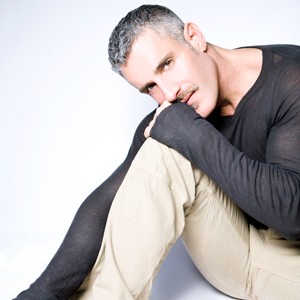 colton ford's new album out august 4
Under the covers. Three words that, when taken together, can—depending on one's own proclivities—conjure up opposing images in the mind: naughty or nice, salacious or modest, dangerous or safe. Now, take these same three words and make them the title of the new album by singer/turned porn star/turned singer Colton Ford, and the brain activity intensifies. Under the Covers is the second full-length album from Ford, following his 2008 debut, Tug of War. Sure, the title winkingly refers to Ford's adult film past. But it's also an apt reference to the album's main focus: songs made famous by others.

Ford has recorded a collection of songs that sound, at once wholly familiar and wonderfully fresh. Musically, Under the Covers spans myriad genres and multiple decades. At 32-years-old, Fleetwood Mac's "Dreams" (re-imagined here as an interlude) is the oldest song in the collection. It is seamlessly situated between R.E.M.'s alternative rock hit "Losing My Religion" and Babyface's R&B charttopper "It's no Crime." Elsewhere, Ford takes on Britney Spears' "Trouble," Sade's "By Your Side," Alicia Keys' "No One" and Nirvana's "Lithium."

Ford's lifelong fondness for words and melodies led him to begin a career in music while still in college, working as a performer in dinner theater revues. By the late-'80s, Ford had signed a production deal with the company co-owned by hit-making songwriter Denise Rich. In the early-'90s, Ford was confirmed to be the featured male vocalist on Frankie Knuckles' second studio album, 1995's Welcome to the Real World. In the end, conflicts at the label (Virgin Records) prevented this from happening. Virgin then offered Ford a solo deal, but the album never saw the light of day.

In 2002, filming began for the documentary Naked Fame, which follows Ford's transition from porn star to singer. Ford's dance track, "Everything," anchored the film, offering viewers the ins and outs of a one-time porn star making the jump—or in Ford's case, returning—to the world of music. Ford's single with Pepper MaShay, "Signed, Sealed, Delivered," also became a Billboard Top 10 hit. Ford's non-X rated acting skills also made their way to TV. Playing the role of Sheriff Trout, Ford appears in all three seasons of here! TV's on-going campy gay vampire show, "The Lair."

Here, the singer talks to GoPride.com about the joys of song, the virtues of the flesh, and the thick skin that comes from being a gay icon.

Q: How did you end up choosing the songs for UNDER THE COVERS?

CF: (Colton Ford) I had a couple of ideas going into it, and my manager, Bill Coleman, fed me a lot of great songs, some of which I was familiar with and some not. But they all spoke to me. Working with songs that were not part of my musical background enabled me to get in there and bring my own musical stylings to them.

Q: Why did you choose to record covers instead of original songs this time out?

CF: People have an immediate familiarity and connection with these songs, yet, I'm able to bring a different character with my voice that people wouldn't expect. It's a nice way for people to become more familiar with me as a singer and to bring my music to a broader audience.

Q: Was it ever daunting covering classic songs by artists like R.E.M., Nirvana, and Sade?

CF: No, I didn't feel any pressure. As long as I feel a song, I'm going to go in there and do my own thing. I love the way "Losing My Religion" turned out---I throw in some ad libs, some riffs, and a little bit of church and make it my own. I actually got a very nice email from Michael Stipe saying how flattered he was and how much he liked my version of the song.

Q: The video for "Losing My Religion" is anguished but still very sexy.

CF: My last video was a big production with dancers and a lot of different setups. I wanted to go back to the basics with this one. There's a lot of conflict in the song. What's being conveyed is that someone is exposing himself. We wanted to do that literally and figuratively, so you see me both armored up in this futuristic look with my eyes covered, and then you see me exposed and naked—well almost.

Q: And in between, you have that striking black mesh outfit on—it's halfway between covered up and naked.

CF: Yeah, that's my Black Party outfit [laughs]. I'm joking--it's definitely not a Black Party outfit, although I did see a couple of people wearing the same outfit at the Black Party this year, so what do I know? Both that outfit and the metallic one where given to me by David Mason of slickitup.com. They really do up these great fantasy type outfits, so if you want to get your sexy superhero fantasy groove on, you know where to go. Hey, at 46, I'm not sure how much longer I'm going to be able to pull off something like that, so I better take advantage of it now!

Q: Do you think that gay male singers have to show off their bodies to get attention for their music?

CF: I don't think it's an automatic, but there's a sexual component in almost all marketing in the entertainment world. For me, I've always been provocative by nature, so I enjoy being sexy like that. It's not a result of my porn experience--it's just something that moves me. But some people are always going to have issues with me showing off my body. I could be wearing a suit onstage, and some people are still going to be seeing a porn star. But the idea that you can't be a credible artist if you're showing some skin is total bullshit.

Q: Has it been difficult to get people to look beyond your experience in porn to focus on your music?

CF: Well, people are going to think what they want. One of the things that I didn't figure in doing porn was that people were going to have such vehemently negative feelings about it. I've gotten emails from people saying that it's abhorrent and that it goes against what's right and normal. And these are people in my own community. You know, I still think we're dealing with a lot of shame in our community. There are people who really get into porn and then lash out against guys who do the films. I guess they don't feel entitled to enjoy that sexual part of themselves. I will say, however, that there are plenty of people who are more than able to look beyond that part of my career to see what else I have to offer. Those are the people I'm looking to reach.

Q: Well, I think many people probably have an ambivalent relationship with pornography. Maybe they protect themselves from their shame by denigrating you.

CF: Well, some people think that if you've done porn, you're a lost tragic soul who doesn't have any direction or anything else to offer. And they think, "You did porn, how dare you try to do anything else?" How could I possibly think I have the ability, or the right, to have a singing career? Hey, you don't have to like my music, but also you don't have to come at me with such venom. It's not that serious! They think I'm using my music to run away from my past. If that were true, I wouldn't be using the name Colton Ford. I wouldn't have done a documentary detailing my move from adult films to singing. I'm not running away from anything. I'm using it all.

Q: Well, you didn't just come out of the woodwork as a singer. You've been doing this for a long time.

CF: I've been doing this for 27 years. When I got out of high school, I went right into dinner theater, performing show tunes. I've done jingles; I sang with a jazz quartet; I've opened for people like David Brenner; and I sang a couple of tracks on Frankie Knuckles second album that were never released. I've also been signed to a couple of my own deals that didn't work out. There's been a lot of turmoil, but there's definitely been a continuum.

Q: So, you've paid your dues in the music business. I don't think most people know that.

CF: The experience of being in the music business can be heinous, but you know what? All of my trials and tribulations have never made me doubt my abilities. I'm still putting myself out there, and I'm still following my dream.
Interviewed by GoPride.com
Serving the Chicago gay, lesbian, bisexual and transgender communities. ©Copyright 2019 GoPride Networks. All rights reserved.