A GoPride Interview
Kevin Beverley
Kevin Beverley Shapes Up Volta
Volta is about self discovery and accepting who you are.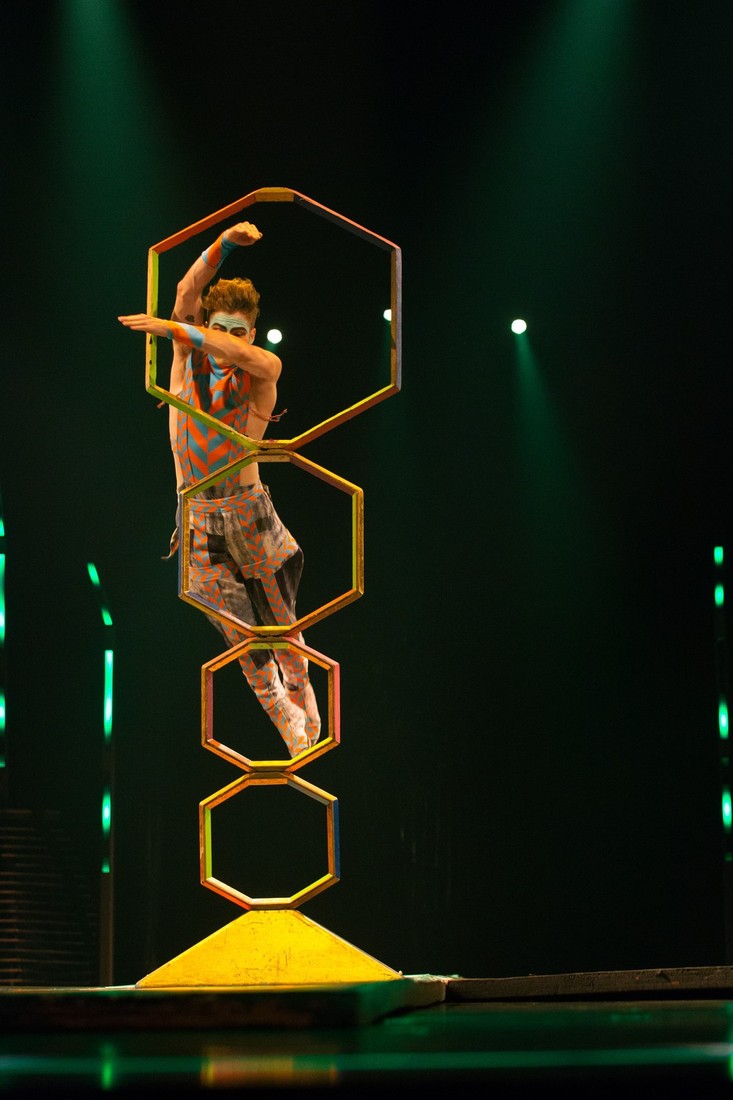 photo credit // joe mac creative
New Cirque show Volta heads to Chicago this summer
Cirque du Soleil is bringing its 41st production to Chicago this summer in the name of Volta. This time out the troupe is exploring the culture of street sports with signature acrobatic work.  
Grayslake native Kevin Beverley is part of the cast and is an experienced aerialist. He sat down at the Chicago Academy for the Arts to talk about his journey to the circus. 
JN: (Jerry Nunn) Did you grow up dancing?
KB: (Kevin Beverley) I started with gymnastics then I switched to dance and the circus. I am very lucky that way to have a dance background. 
JN: you are not gay, but are there gay cast members in the show?
KB: Yes, there are a couple. I am one hundred percent an ally. All my mentors were gay. 
JN: There are more straight dancers than people think. 
KB: It has gotten better. When I was a kid I was so scared to tell my dad that I was dancing. I told my mom not to tell him. He sat me down and asked why I wouldn't tell him. He said he was so proud of me. 
JN; So you came out in your own way?
KB: Exactly. Now with social media you are cool if you dance. 
JN: When did you first start with Cirque?
KB: In October 2016 is when we started creation and we opened it April 2017. 
JN: You weren't in previous Cirque shows?
KB: No. I was in other companies The 7 Fingers. I did three shows with them. This is my first Cirque show. 
JN: What do you do in Volta?
KB: I am in a hoop diving act, which they call shape diving in Volta. I am also the backup for the main character. Twice a week I go in to play Waz, the main character of Volta. He is primarily a dancer. I do my hoop diving act as the main character then in the final wrap up of the show I do a beautiful three and a half minute acrobatic solo. 
JN: What is a shape diver exactly?
KB: A shape diver or hoop diver are acrobats that tumble through hoops. It is all about precision. Creatively we do different shapes and tricks without hitting it. 
JN: If you hit the hoop is it okay?
KB: What a love about hoop diving is I get to redo it if I hit the hoop. There are many routines where if you mess up you hide it. With hoop diving the hoops fall on the ground and people will notice. You address it. You look at the audience and wait to see if they are feeling it. They usually are. The guys not doing the trick put the hoops back up for you. You nail the trick the second or third time. 
It's unbelievable to see the audience react. Our idea of a perfect act is one hit. We like hitting the hoop. Especially in America audiences love sporting events. They are on your side. You can feel them want you to succeed. 
JN: Maybe it keeps it for real for them when there's a mistake. They can see there's no gimmick. 
KB: Exactly. People connect with hoop diving because they can see we are human. 
JN: Do you work out or is the show a work out?
KB: No, I work out. I mainly focus on injury prevention and keeping my body good. It is not good on my body to smash it on the floor and jump through hoops so you have to keep it healthy. I do a lot of core and leg exercises. I started lifting recently and it has made my whole show easier.
JN: Do you watch your diet?
KB: No. We eat what we want, but we are very balanced. We have four full time chefs that cook for us. It's amazing.
JN: So you can have Chicago pizza?
KB: Yes. I had it last night! 
JN: What does Volta mean?
KB: In different languages it means different things. In one language it means "stop, turn around and try again." It's a do over basically. The character Waz is not good in himself. He's not self confident and insecure. He has feathers as hair. As a child he was bullied and ridiculed. It's a symbol. It's not just blue hair, but a symbol for what bothers people in the audience, maybe how they can't connect with anybody or feel alone. 
Volta is about self discovery and accepting who you are. It's about changing your life and being a hundred percent accepting of a person. It's a really good message, especially these days. 
JN: What makes Volta different than other Cirque shows?
KB: Volta goes for an extreme sport, action style, but at the same time has a beautiful message. These two contrasting ideas are put together for this show. It surprises people that they see a strong narrative in a Cirque du Soleil show. People think it will be crazy characters and people flying in the air. This show tells a story and touches people. 
JN: So there's no French clowns running around? 
KB: Oh, there's clowns, but they are Russian. 
JN: Neil Patrick Harris came to the show?
KB: He did. I did a show in New York City that he came to a couple of times, so I had met him before. He loves Cirque du Soliel and is a huge fan. 
JN: What will audiences get out of Volta?
KB: They will leave the show feeling moved, not only emotionally but physically. They will want to jump around. The music is composed by Anthony Gonzalez, the main person behind M83. The music has a really contemporary feel to it. 
JN: So not an opera singer like in past in Cirque shows?
KB: There are two singers, a Black guy and a Finnish girl. They are incredible. She is a bit operatic. 
JN: Sounds like a more modern Cirque show. 
KB: It is. They were really trying for a younger crowd. 
JN: Where is the show going after Chicago?
KB: It's going to Washington DC. I am leaving the show after Chicago. I have been with it for two years. I want to try something new. It's been a blessing. 
Volta flips out May 18-July 6 at Soldier Field with tickets at CirqueDuSoleil.com/VOLTA or by phone 877-924-7783.
Interviewed by Jerry Nunn. Jerry Nunn is a contributing writer to the GoPride Network. His work is also featured in Windy City Times, Nightspots Magazine and syndicated nationally. Follow @jerrynunn