A GoPride Interview
Stephen Bieniek
Stephen Bieniek interview with ChicagoPride.com
Wed. June 18, 2008 by Kirk Williamson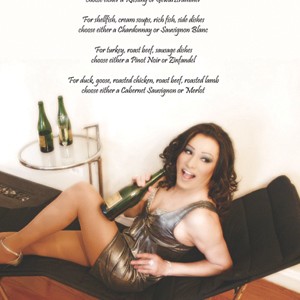 frida lay in cooking doesn't have to be a drag
photo credit // ryan kolodziej
Hungry? Well, put on your eatin' dress and sit down with Nightspots' Kirk Williamson and local author Stephen Bieniek, as they discuss Stephen's new drag cookbook "Cooking Doesn't Have To Be A Drag."
KW:
(Kirk Williamson) Where did the wacky idea for Cooking Doesn't Have To Be A Drag come from?
SB:
(Stephen Bieniek) I love cooking and I love drag queens! Both can be fun to do, easy, sometimes difficult and yummy at the same time. So I thought "How can I fuse the two together?," and came up with the idea for the book.
KW:
It may be obvious, but what, in your opinion, makes a drag queen the perfect person to advise you about entertaining?
SB:
Whether at a bar, restaurant, or at home, drag queens are always welcoming. They are witty and can get out of a sticky situation at the drop of a hat. And, they pay the utmost attention to detail!
KW:
How did you get ANT to do the foreword?
SB:
Well, as my mom always said, "Never hurts to ask!"
KW:
Say I'm meeting my boyfriend's ex, who is still a "good friend," for the first time. What should I make for him that would be welcoming but, at the same time, not TOO welcoming?
SB:
Girl, you don't want to put in too much time, that's for sure. I would go with Jackie Beat's EZ Taco Salad: 12 beef tacos from Taco Bell, a large salad bowl, and a set of salad tongs. Crush all the tacos in the bowl. Serve with tongs!
And if you want to get real fancy serve with salsa packets.
KW:
Do the long nails get in the way of food preparation?
SB:
They don't unless your stuffing a chicken. A nail may fall off here and there but your guests will understand. It makes a great ice breaker!
KW:
What will people read in this book that will really surprise them?
SB:
To be honest, the recipes. They are simple and flavorful. From Frida Lay's corn pudding to Veronica Fake's Chocolate Choker. You will find a dish to take to a BBQ or to prepare when throwing a formal dinner. And don't forget the humor of the drag queens sprinkled throughout the book.
KW:
How can get our hot hands on your new book?
SB:
We will be promoting the book at PrideFest at the AIDS Foundation of Chicago booth. Also, we will be having book launches and signings throughout the US.
Check out
www.cookinqueens.com
to order the book, check out what events we'll be at and find out where you can meet some of the girls.
Article provided in partnership with
Windy City Media Group
and Nightspots Magazine.
Interviewed by Kirk Williamson
Serving the Chicago gay, lesbian, bisexual and transgender communities. ©Copyright 2019 GoPride Networks. All rights reserved.