A GoPride Interview
Jane Lynch
Jane Lynch interview with ChicagoPride.com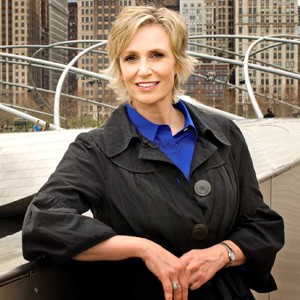 Jane Lynch is best known for her work in the Christopher Guest films 'mockumentaries'
Best In Show, The Mighty Wind
and
For Your Consideration
. Jane, who is originally from Dolton, Illinois and got her start at 'The Second City', is the host of the fantastic PBS documentary,
Out & Proud In Chicago
, which profiles the famous and the unsung, those who chose paths of activism and those who chose to live everyday lives with extraordinary dignity. Jane took some time out of her movie star schedule to sit down with me and tell the ChicagoPride.com family about this groundbreaking project.
MJR:
How did become involved with 'Out & Proud In Chicago'?
JL:
Quite simply, they asked me. I got a call from the producers who described the project to me and I told I would be more then happy be a part of it.
MJR:
I was actually surprised that a compilation like this was not done before. What did you take away from the project?
JL:
Well, it is our own stories; Chicago stories, which I was not at all familiar with at all. Some of the stories we cover go back to the last century. What really moved me was the gay movement in the 1980's when the AIDS crisis was upon us. How so many people stood up and refused not to be counted. All those people who marched, yelled and screamed because this was a problem that the government was choosing not to acknowledge and if they did acknowledge it they did nothing about it. That was really a dramatic moment for me.
MJR:
It seems that sometimes it does take a tragedy to get noticed and things accomplished in this world.
JL:
You are so right about that. As tragic as the AIDS epidemic was, it did put a face on what being a homosexual is and it is a much different culture now then what it used to be.
MJR:
What I also liked about Out & Proud In Chicago are the back stories on some popular and not so popular names that you see and hear all the time living in Chicago. For example, 'Jane Adams Hull House' is a very popular institution; however, I don't think the Chicago public at large knew her history.
JL:
In the documentary, we are careful to say that Jane never said that she was gay. Jane did have what they called at the time a "Boston marriage", where she lived with a partner. The producers of the documentary thought it was a story worth telling as part of our larger story.
MJR:
Being an openly gay actress, how have you seen Hollywood change?
JL:
Well Michael, the industry sure has changed. When I was coming of age as an actress, getting bigger jobs and becoming more well known, I had people like Ellen DeGeneres, Mellissa Etherege and Rosie O'Donnell who were already out and gay and paving the way for people like me.
MJR:
Have you ever not gotten work because of your sexuality?
JL:
Not to my knowledge. If people are discriminating against me, they are doing it behind my back and I don't know about it or at least I certainly haven't noticed it. It is something that hasn't been a factor for me, but I do have my mentors to thank for that.
MJR:
We all have our mentors in one form or another that have taught and paved the way for us. I think 'Out & Proud' is a great homage to them.
JL:
And that is what this documentary is about.
It is a way to thank the people that have come before us. I have to tell you Michael, what I have found so interesting living in Los Angeles is that, as you know California just allowed gay marriage, and the people that were at the celebration rallies after the historic passage were middle aged people like you and me. There were not very many young kids.
MJR:
What do you attribute that to?
JL:
Well, I think there are a lot of young kids who are living as gay people and are not discriminated against like we have seen. They don't realize what came before them. It was funny, the bars were full with the young crowd and the middle age people were out at the rallies celebrating the right to marry. I guess however that is kind of how it should go. We want the gay youth to not have to go through what our predecessors went through and it is nice that they have that expectation that they will not be discriminated against. However, they should be just a 'little' grateful [both laughing].
MJR:
I want to talk a little bit about an upcoming project of yours that I think is fascinating. It is called Julie & Julia. Can you tell our ChicagoPride.com family about it?
JL:
Wow, thanks for asking! It is the story of Julia Child. Meryl Streep is playing Julia and I am playing her sister Dorothy. Nora Ephron wrote the screenplay and is directing it. The story all takes place in France, though I shot my scenes in L.A. The film is going to be absolutely amazing and should be out next year.
MJR:
Thank you for spending some time with me. You are one of my favorite actresses to watch and we as a community thank you for being so open and out and for the brilliant work that you do!
JL:
Thank you Michael for all you do for the Chicago community as well.
Out & Proud in Chicago
: Tuesday, June 3, 7:30 and 9:30 pm; Thursday, June 5, 11:30 pm; Monday, June 9, 8:00 pm; Sunday, June 15, 6:00 pm
More information about Out & Proud In Chicago and all of WTTW's programming is available at
www.wttw.com
.
Interviewed by Michael J. Roberts. Michael J. Roberts is theatre editor for the ChicagoPride.com covering Chicago's diverse arts and entertainment scene.