A GoPride Interview
Trey Gonzales
Trey Gonzales interview with ChicagoPride.com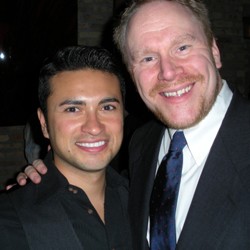 trey gonzales pictured with bill pritchard
"Oprah's Big Give" is the newest reality TV sensation.

The show, which premiered March 2 on ABC, gives contestants cash to turn around the life of a person or an organization in need.

The show has inspired many including Chicagoan Trey Gonzales who recently appeared on The Oprah Winfrey Show where he received $10,000 with the challenge from Oprah to make it grow big.

He is making good on that challenge.

ChicagoPride.com interviewed Gonzales this week; just before his return to "Oprah" for his big reveal.

BP: (Bill Pritchard) How did you hear about Oprah's Big Give?

TG: (Trey Gonzales) Well, I saw a teaser for 'Oprah's Big Give' on television and wanted to find out more about it so, I hopped online and did a little research. I saw a link titled, "Oprah's Big Give: Casting Call". I immediately started working on a video and multi-page application.

After hours of editing, it was finally complete. I went online to confirm the mailing address and at that moment, my heart sank! The due date was February 23, 2007! I had missed the deadline by almost a year! I was mortified! I didn't know whether to laugh or cry.

That was when I had an "AHA!" moment, as Oprah likes to call them.

I realized I didn't have to be on the show to give big; I could do it on my own.

BP: How did you become so passionate about Making A Difference?

TG: I remember as a kid volunteering and being involved in the community, but it wasn't until junior high and high school that I started to take it to the next level. I was in every club imaginable and began organizing numerous volunteer efforts as a result. I guess it's always been in my blood.

I have always been inspired by people that make a difference. I still get the "warm fuzzies" when I see deserving individuals aided by the generosity of complete strangers. There is something about that human connection that truly resonates with me on a very personal level.

BP: Tell us about the day you found out you were getting $10,000.00.

TG: It was a complete surprise! I had no idea that they had already chosen me for this challenge. The producers had me convinced that the audience was full of people inspired by the 'Big Give'. Boy, did they get me good!

I remember feeling so numb while on stage with Oprah and Nate. I kept asking myself, "Wow, is this really happening?" Then my feelings quickly changed to, "Oh my God! This is big! What the hell am I going to do now?"

BP: What was Oprah like?

TG: She was amazing! She had such a powerful presence. During the commercial breaks, she had the audience cracking up. It has always been a dream of mine to meet her and to be on stage was truly a special surprise.

If you know me at all, you know I am an Oprah-holic. She has inspired me in countless ways through her efforts throughout the years. She challenges me to think about life, people and circumstances in ways I'm not accustomed to; that's why I have so much respect for her.

BP: Why did you choose Interfaith House as the recipient of your 'big give'?

TG: On the night of the show, I got a group of friends together to brainstorm and plan the 'Big Give'. Steve Gerschoffer, a key member of our team, recently joined the Board of Interfaith House. He started telling the group about the organization and their needs. We collectively decided that they were the perfect candidate for this effort.

BP: You've had a great team of people helping you out. Who did what?

TG: I've never worked with such an amazing, selfless group of individuals in my life. I am very serious when I say that! They were so incredibly focused and driven.

We had someone working on monetary donations, corporate donations, in kind donations, silent auction items, flowers, music, event details, email blasts, accounting, media relations and the list goes on and on. I always knew they would come through with every task given to them. If a decision had to be made on the spot and I wasn't available, I knew I could trust their judgment.

Special thanks to Steve Gerschoffer, Erik Kolacz, David Kroeger, Cheryl Kras, Lisa Onslow, Curt Kendall, Lisa Tobey, Carolyn Kaiser, Joseph Coston, Mary Arhondini and Maria Andrianos.

BP: What did you think of Nate Berkus?

TG: He was great! I didn't get a chance to talk to him other than our conversation on stage. Hopefully, we'll be able to chat a little more next time! WOW... what a smile!

BP: Can you tell us about the people you've met in doing all of this?

TG: In general, I met countless people from corporations, small businesses, non-profits, restaurants, politicians and celebrities. It's been great!

The Harpo producers were incredible to work with throughout this whirlwind experience. The staff and board of Interfaith House were so appreciative and a delight to help.

I developed lasting relationships with professional contacts willing to assist in future ventures.

A couple of the people on the team were acquaintances, but friendships definitely grew throughout the week. Now, we're all family!

BP: When can we see your "reveal" on Oprah's show?

TG: As far as I know, I should be back on the show around the beginning of April to discuss my 'Big Give'. As soon as I hear from the producers, I will let you know the date.

BP: Can we still help in your fundraising?

TG: Absolutely! If anyone in interested in helping out with future projects, they can contact me directly by email (treylo79@aol.com).

Though we have raised a substantial amount of money, goods and services for Interfaith House, the need is still there. I encourage everyone to volunteer their time if they aren't able to donate resources. We all have something that we can contribute in some way. You can go to www.interfaithhouse.com to find out more.

BP: What's your next big step?

TG: REST!

Then, it's on to planning the next 'Big Give' for April. I've committed to having one a month for the upcoming year. I want to give an opportunity for everyone to get involved. I know we all have crazy schedules, but there is always time if you make time. Hopefully, it will go beyond a year, but I'm trying to start small.

Not a bad start!