A GoPride Interview
Tom Mattingly
A chat with An American in Paris' Tom Mattingly
When I was about 9 is when I found out that you could make a living as a ballet dancer and from then on, I was set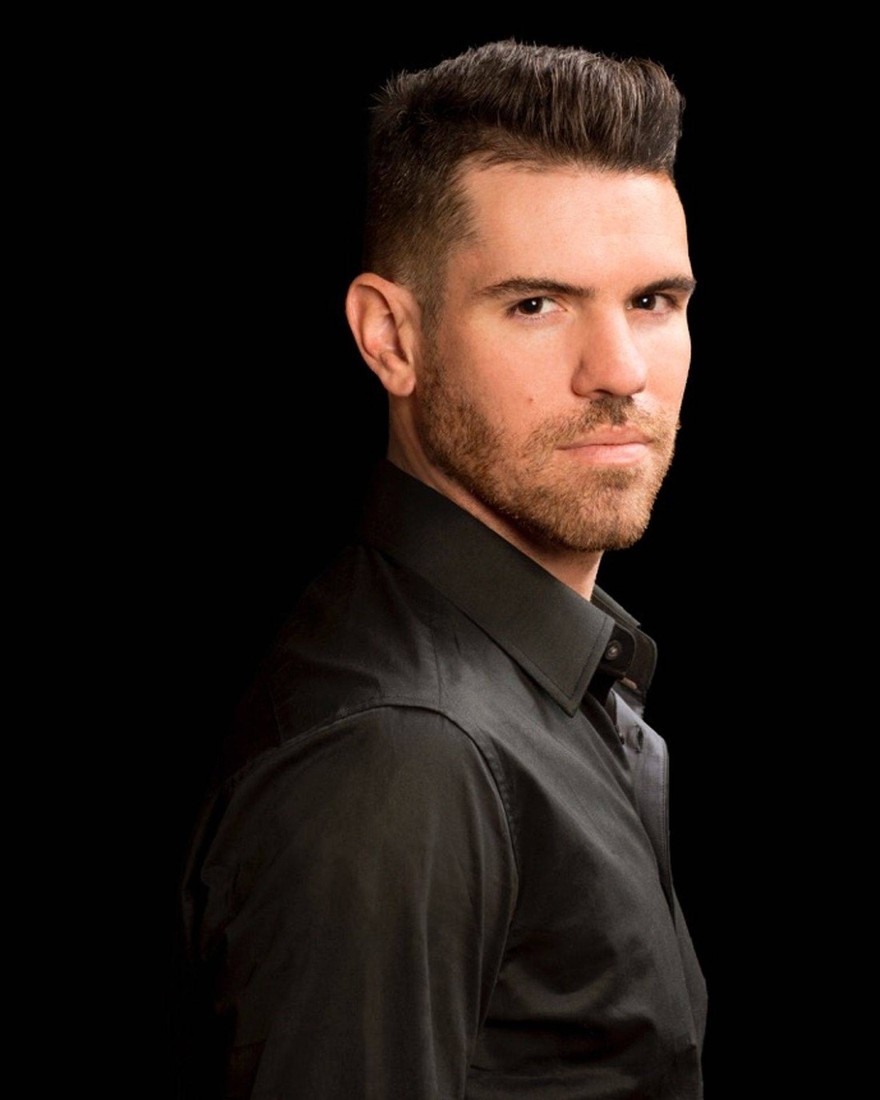 photo credit // http://www.tommattinglydance.com
An American in Paris' Tom Mattingly talks to ChicagoPride.com
AN AMERICAN IN PARIS is currently playing at Broadway In Chicago's Oriental Theatre (24 W. Randolph) for a limited three-week engagement July 25 through August 13, 2017.
Inspired by the Academy-Award winning film, AN AMERICAN IN PARIS is the romantic story about an American soldier, a mysterious French girl and an indomitable European city, each yearning for a new beginning in the aftermath of war.Directed and choreographed by 2015 Tony Award-winner Christopher Wheeldon, the show features the music and lyrics of George Gershwin and Ira Gershwin, and a book by Craig Lucas.
We took a moment to chat with cast swing Tom Mattingly. After dancing with Richmond Ballet and Cincinnati Ballet, Tom became a principal dancer with Ballet West.  In 2014, he joined Visceral Dance Chicago and began his freelance choreographic career.
MI: Hi Tom, thanks for taking the time to chat - and congratulations on the success of the national  tour so far!
TM: Thank you, I appreciate it.
MI: Tell us about the production. What about American in Paris will get people really excited to see  the show here in Chicago?
TM: Well, it's the most nominated show of 2015. It's the winner of 4 Tony Awards, Best Choreography, Best Lighting Design, Best Scenic Design and Best Orchestration. It's a brand-new musical, but it still has the
feel of the old classic American musical theatre.
MI: So, what roles do you play in the production?
TM: I'm a swing, which is kind of like a general understudy. In the production, there are 10 ensemble men, and I have to know all of the parts of five of those men so at any given time I can swing into their, we call
them tracks, swing into their track. So, if someone is on vacation, sick, injured, I can go in for any one of those guys.
MI: OK, so take us through, for those not familiar with the term from a theatre context, take us through the crazy, special skills a swing needs to know to be able to cover all of these parts.
TM: To be a swing, I think one of the most important things, is you have to be able to see the show as a whole. Rather than just focusing on one person, their parts, who they interact with, as a swing you have to know what is going on all over the stage because you never know which part you are going to fill in to and how you affect the people around you with what you are doing.
You also have to really be able to roll with the punches, because a lot of these tracks I may only do once every 2 months or so, whereas the ensemble is doing their same track 8 shows a week and it is just built in. They don't have to think to do it. So, there will be little things that are different, little things that might be a little bit wrong and if you can't move past them then you're just tanked for the show. There are so many moving parts.
MI: So, do you have a memorable swing moment? That one moment when someone just can't show up or you get like a 5-minute notice to get onstage? Is there a moment that stands out for you?
TM: Oh yeah, we were in Los Angeles and at the 15-minute call, our alternate lead had called out sick and our lead had hurt his foot and at the 15-minute call they announced that the understudy was going on and then I was filling in for the understudy in his ensemble track. That was also a track that I had not done in about a month and a half or two months and I really, really wanted to watch, the understudy do the lead because it was his first time.
It was amazing, it was the Paramount downtown, Saturday night in Los Angeles and it was sold out, it was such an amazing opportunity for him and he was a good friend of mine, but I was doing his part and I knew that if I paid too much attention to him that I might do something wrong and ruin what's going on behind him.
MI: And everything went well I assume?
TM: Oh yeah, everything went great… luckily, I don't have a disaster story!
MI: Yes, that's a good thing! So, take us back a little bit. How did you get started in dancing and acting?
TM: Originally my sister started first and I would go with my mom to pick her up from the dance studio. And I was never really interested, but after a few weeks I started watching through the window. It was a ballet class and I would stand up on the chair and hold onto the back of the chair like a ballet bar and I just kind of do what I was seeing all the girls do in the class.
And the teacher saw me and pulled me in and I loved it and the teacher could tell. She talked to my parents. We didn't have a lot of money at that time and my mom basically told her I know he loves it but we can't afford to have two kids in classes and the teacher said that's ok, until you can afford it he can take for free. So, for the first year or so, they let me take classes for free at the studio.
MI: Well that's pretty awesome.
TM: Yeah, from then on, I was pretty much obsessed. When I was about 9 is when I found out that you could make a living as a ballet dancer and from then on, I was set. That's what I wanted to do and I think it was a week after I graduated high school, I think I was still 17, I signed my first contract with a ballet company.
MI: Speaking of classes, it seems that you are paying it forward now. You do a lot of teaching and give a lot of workshops, right?
TM: Yeah, I love teaching, I love choreographing, I love coaching. It's nice knowing you're doing something to help someone else. I think as performers it can often be a little bit selfish what we do. No one becomes a performer because they don't like the attention, and it's nice to give that attention to someone else. When I see a student or a dancer that I am coaching achieve something that they have been struggling with and see how happy it makes them, that is an amazing feeling.
MI: I'm sure you have millions of amazing moments, but can you share one of your favorite teaching moments?
TM: Yeah, I had a young lady, I think she was 17, a senior in high school. She was going through all of that difficult high school-aged stuff – feeling all of the pressure of doing well in school, and getting into a good college, and keeping up with her dance lessons.
She was exhausted and stressed out and during classes anytime she even had the smallest mistake or error it just looked like it crushed her whole world and bringing her down, bringing her down, so after class I talked to her and told her, "I know what you're going through, I know what you are feeling because I went through the same thing. For me, I had to let dance be my escape from all of that. This is your opportunity for the next hour and half to not think about all of those pressures. To not have to think about what you should be doing, how perfect you need to be and just focus on what's happening here right now. What you can control, how you can shape your mind to make this enjoyable for you because that is why you started this in the first place."
And she immediately when I saw her the next week, it was totally different. Just seeing her learn how to make something good for herself was really great.
MI: It's really more than just about dancing and acting. That's an amazing story, thanks for sharing.
TM: Yeah, absolutely.
MI: So, I'm told you have a little bit of a history with Chicago. Can you share a little bit about that?
TM: Yeah, I first came to Chicago on tour. I was with Ballet West in Salt Lake City and we came to Chicago for a Chicago dancing festival and I traveled as an understudy for a piece they were presenting and I got to kind of experience Chicago a little bit more because my responsibilities were less and I fell in love with the city.
We came back again and performed at Auditorium Theatre for their gala and we did Sleeping Beauty and I fell in love with Chicago again. Over time, my job in Salt Lake with the ballet company was amazing. Some of the greatest opportunities I ever had, but outside of work I just wasn't happy. So, I decided to move to Chicago. I hadn't yet found a job, but I ended up getting a company position with Visceral Dance Chicago, the contemporary company. I danced with them for a year and the next year I freelanced. I taught a lot with Ruth Page, I taught at Hubbard Street, at Visceral. I did a lot of choreography,
I did Dance in the Parks. I choreographed with Visceral, I got to work with the Lyric Opera of Chicago. It was amazing and if it wasn't for this tour I'd be back in Chicago doing that right now. It was just too good of an opportunity to say no to.
MI: So, favorite restaurant in Chicago?
TM: Oh geez, oh man, I don't even know the name of it. There is this amazing dim sum place down in Chinatown. It's not Phoenix, its down on like the main drag down there. Oh God, I wish I knew the name of it. If its Asian I'm all about it!
MI: Is it in one of those malls or is it a free standing like outdoor ones there on 22 nd or whatever?
TM: It isn't like in one of the interior malls, it is upstairs on the second floor. I can't remember what it called, but essentially Asian food in general I am all about it.
They kind of make fun of me in the company because I love Asian food.
MI: So, favorite place in Chicago to relax or unwind?
TM: Oh, the Lakeshore.
MI: SO, if there is a dream role in a musical or play what would it be?
TM: Gary, in An American in Paris.
MI: Do you understudy him also in this production?
TM: No, I wish!
MI: Are there any charities or causes that have a personal importance to you?
TM: Yes, the South Davis Community Hospital in Salt Lake City. They are an amazing children's hospital that work with young people with diseases, conditions that require constant care. They are absolutely fantastic. The Utah AIDS Foundation, I am trying to think of some of the organizations I have worked with. I'm blanking on the name. Chicago Dance for Life is amazing, I have gotten to dance once there.
Last year I was part of the promotional material, I did a photo shoot with them and they used my photo on the t-shirt. I was so sad, we were starting rehearsals in New York City for American in Paris and I couldn't go and I was devastated. It is my favorite show in Chicago, I love it.
MI: Anything else you would like to share?
TM: It is a show not to be missed. There is nothing else like it out there in the world right now, that has that balance of singing, dancing, acting. It is not what people are going to expect. Its gonna blow them away.
MI: Thanks Tom. Thanks for taking the time to chat. Hopefully you get to understudy the day I am there at the play and I get to see you perform the day I am there.  Take care! can't wait to see you when you are here in Chicago.
AN AMERICAN IN PARIS will play Broadway In Chicago's Oriental Theatre (24 W. Randolph) for a limited three-week engagement July 25 through August 13, 2017.
 
Inspired by the Academy-Award winning film, AN AMERICAN IN PARIS is the romantic story about an American soldier, a mysterious French girl and an indomitable European city, each yearning for a new beginning in the aftermath of war. Directed and choreographed by 2015 Tony Award-winner Christopher Wheeldon, the show features the music and lyrics of George Gershwin and Ira Gershwin, and a book by Craig Lucas.
The creative team is also comprised of Tony Award-winners Bob Crowley (set and costume designer) and Natasha Katz (lighting designer); Jon Weston (sound designer); 59 Productions (projection designer); Rob Fisher (musical score adaption, arrangement and supervision); Todd Ellison (musical supervisor); David Andrews Rogers (musical director/conductor); Christopher Austin and Bill Elliott (orchestrations); Sam Davis (dance arrangements); Telsey + Company/Rachel Hoffman, C.S.A. (casting); Rick Steiger (production supervisor); Dontee Kiehn (associate director and associate choreographer); and Sean Kelly (associate choreographer and resident director).
 
The score of AN AMERICAN IN PARIS includes the songs "I Got Rhythm," "Liza," "''S Wonderful," "But Not For Me," "I'll Build a Stairway to Paradise," and orchestral music including "Concerto in F," "Second Prelude," "Second Rhapsody/Cuban Overture" and "An American In Paris."
 
The production opened to widespread critical acclaim at the Palace Theatre on Broadway in April 2015 after its world premiere at the Théâtre du Châtelet in Paris. The New York production closed in October, 2016 after playing more than 600 performances.  A West End production of AN AMERICAN IN PARIS opens in March 2017 at the Dominion Theatre.
 
AN AMERICAN IN PARIS won four 2015 Tony Awards, four Drama Desk Awards, four Outer Critics Circle Awards, the Drama League Award for Best Musical, three Fred and Adele Astaire Awards, and two Theatre World Awards. The musical was included on the Year's Best lists of The New York Times, The Wall Street Journal, Entertainment Weekly, The New Yorker, the Associated Press, The Hollywood Reporter, and The Pittsburgh Post-Gazette. The Masterworks Broadway Original Broadway Cast recording of AN AMERICAN IN PARIS was nominated for the Best Musical Theater Album Grammy Award.
Interviewed by Matt Inawat. Ron Matthew Inawat is president of the GoPride Network and contributes to ChicagoPride.com, PrideLA.com and other sites within the GoPride Network. Follow @cpmatthew