DJ Roland Belmares brings international experience to inaugural Boys-T Dance from SKIN Productions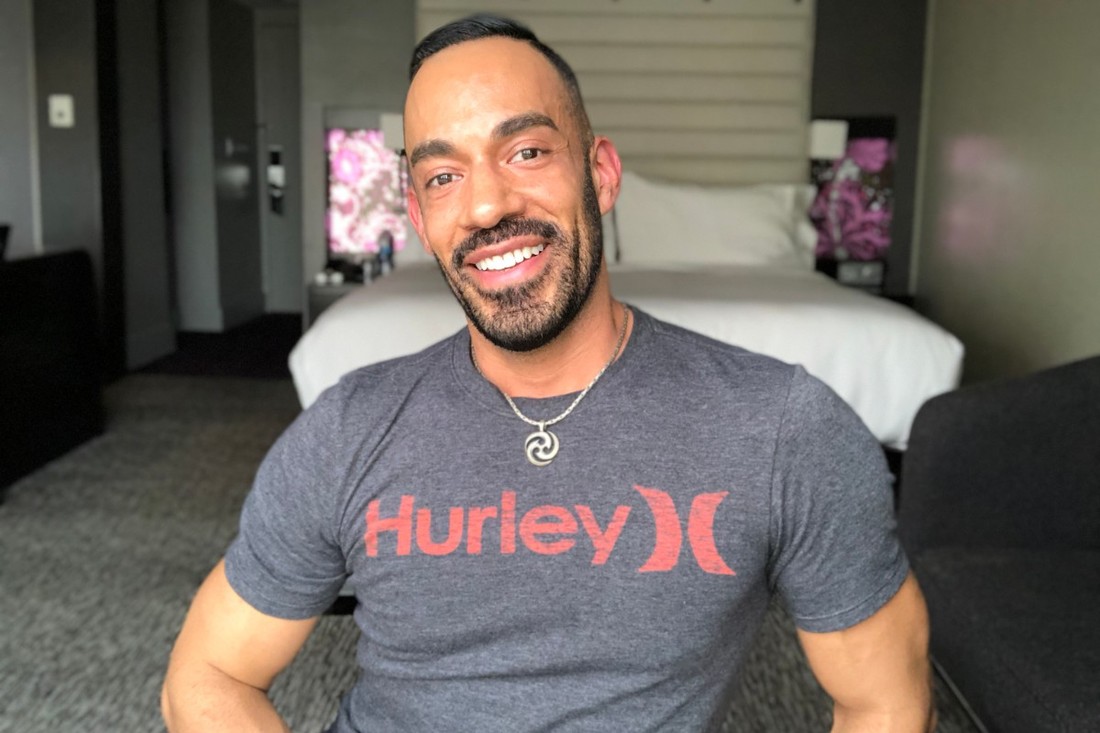 dj roland belmares headlines inaugural boys-t dance
photo credit // dj roland belmares
Five-hour set at Fantasy Nightclub starts at 4 p.m. on Sunday, Sept. 23
Twenty years ago, the promotor for the RIP'D (Main Event) party in Austin, Texas was forced to jockey his DJ schedule due to flight delays.
DJ Roland Belmares was moved from Sunday to the main event, with a packed house of more than 2,000 party-goers, including promotors from Winter Party, White Party, Fireball (Chicago), Pines Party (New York) and elsewhere.
Belmares delivered.
"This event really launched my career," said the 40-something DJ who was born and raised in Austin, and now the resident DJ at The Chapel at The Abbey in West Hollywood, Calif., where he lives.
"Honestly the first word that comes to my mind (when reflecting on my career) is, blessed. When I look back at all I've gotten to do, that this geeky little kid who didn't feel like he fit in anywhere was able to travel the world doing what he loved. Yeah my first thought is that I am truly blessed to have been on this journey. And I have to give special mention to my manager/partner/husband, Ken Harwood, who was the business man behind the music man. I honestly didn't have much business sense in this crazy industry and he was there on the dancefloor and in the booth to network and promote me in a way that no one else would have. I feel blessed to have had him support me along this journey."
DJ Roland Belmares' wild journey comes to Chicago, again, on Sunday, Sept. 23, for the inaugural Boys-T Dance from SKIN Productions, from 4-9 p.m. at Fantasy Nightclub in Boystown.
"I have so many friends in the (Chicago) area; I'm looking forward to catching up with them and hanging out afterwards," Belmares said. "I'm excited to play in a new space for me. I haven't had the chance to play (at) Fantasy, but have heard great things."
Belmares joked that he's DJ'd in Chicago too many times in the past to recall. In fact, he formerly was a resident DJ at Crobar and
Hydrate Nightclub
s. He also has worked CircuitMOM events, Market Days and back when there was a circuit event called Hearts Party/Fireball.
"I love downtown Chicago and Boystown of course ... as long as it's not winter. Every major city has its 'vibe' and it's not something you can always put your finger on, but there is an energy that is unique to Chicago.
"When I travel, I don't usually get to spend time in the cities. I don't often get to see much else than what's close to my hotel. But I do love Millennium Park; I know it's touristy, but who doesn't want their picture (taken) in front of Cloud Gate?!"
Belmares added, "I loved playing at Crobar in Chicago. The original Crobar was seedy, but had great character. It was such a cool venue to spin (at). I also loved getting to play for Market Days. The energy of the (Market Days) crowd is little more edgy than at other times, so as a DJ you can get a little deeper with the mixes and it's always fun for me to play outside my normal boundaries as a DJ."
Now Spinning
DJ Roland Belmares has certainly had an illustrious, memorable career, bringing magical sounds around the world, literally.
Let's see there was the gig in February 2002, when he was the DJ for the first Alegria party. "It was so surreal for me, this little kid from Texas to be playing at the Sound Factory Nightclub in New York," he said. "It was my first time playing a marathon 12-hour set. As you can imagine, it was such a high getting be a part of such a legendary party."
Then in 2003, he was the DJ at Halloween New Orleans (Main Event). "This was pre-Katrina and while this is still a huge event, I was told that we brought in over 8,000 people that night. Again, talk about surreal. I was all nerves knowing that I was playing for so many people. The production was over the top. The theme that year was Moulin Rouge and they replicated a life-size windmill and elephant as well as Paris backdrop on the stage from the movie and even had someone dressed as a fairy on line flying over the crowd. It was just amazing."
Belmares also has worked at Carnaval in Rio for R:Evolution (Main Event). "This was my first time in Brazil and the love they have for dance music is almost unrivaled," he said. "Again, it was just such a high to be flown out and playing for an international crowd. I was worried they wouldn't get my music, but the promoter had heard me in Miami and knew I would be right for her party. Of course, music is truly a universal language."
Speaking of Miami, Belmares was center stage at the Winter Party Miami (Beach Event) in March, 2005. "I actually caught a break with Winter Party in the rising DJ Showcase they used to have sponsored by Tony Moran I believe. I played there in 1998 and had a spot there almost every year until I finally got to play at the main event. I believe I split the set with Tracy Young who, at the time, was one of Madonna's go-to remixers. That again was just so surreal to be at such a legendary party and play to that crowd. It was such an honor and such a high."
Then, of course, there was Songkran in Thailand, which he tagged as "absolutely overwhelming."
"The guys there were so ready for a circuit event," he added. "I mean, the crowd was jumping and screaming at every build up. It was like they were all brand new to the experience, so the energy was just overwhelming at times."
Yep, Belmares has truly had a memorable career, spanning decades and generations of the worldwide LGBT community.
"What stands out the most is how, through performing, I have started to learn to love myself," he said. "I know that sounds corny, but seriously, when I first started and even when I was playing some of the biggest gigs, I never thought I was worthy, or at the same level as the other DJs. I didn't have that belief in myself. But as time has gone on and I've heard people tell me the stories of the positive impact my performances have had on them and as I've become friends with some of the DJs (who) I idolized, I realized that I have put something positive out into the world and that has made me open up and learn to love myself."
After so many gigs, Belmares said he now finally is relaxed when spinning.
And yes, he too enjoys the musical ride.
"Once I get comfortable in my set I can open up to be more creative on the spot and I think that adds another dimension to the performance," he said. "When you are comfortable enough with the crowd you are playing to, you can read what is working and what isn't and adjust accordingly to make that set unique to that crowd. Of course, you want to play the popular songs of the moment, but as I've grown I've become more comfortable with taking a risk and maybe throwing in a track that is unexpected, but so on-point in that moment.
"Those moments are priceless."
Belmares' mom always played upbeat music around the house, which often helped to lighten the mood when doing chores, etc.
"As I got older, I remember hearing extended versions and being blown away by a six- or seven-minute version of a song I (had) heard on the radio. So, I started hunting those down in record stores and starting my collection. In high school I tried my hand as the DJ for a school dance, but the equipment wasn't meant for beat matching. I didn't know you had to have special turntables to do that, so at first I just thought I didn't have it and gave up trying to DJ for a while.
"Then once I came out and made my way to the gay clubs I was hooked all over by the 'house mix' versions of songs I heard on the radio. I started bugging the DJs for the names of mixes and started tracking down the tracks and got my hands on real equipment and started making mixed tapes.
"That led to friends wanting tapes from me for the gym, and trainers at the gym wanting them for classes, to my best friend forcing me to try out as a DJ."
DJ Roland Belmares brings a style that is "Vocal Tech House," he said. "It's definitely more on the house side than trance. I love the Cha Cha drums, but with a good baseline and vocal. I am very versatile as a DJ, meaning, if I play a daytime party, my style will be totally different than at a club or afterhours. No matter what, I have an underlying energy that keeps things unique to me no matter what type of event I'm playing."
Belmares was raised on pop music, so that plays out in his sets. And, being Latin, "I love finding mixes that showcase that side of me."
"The interaction between me and the crowd is what I love most; there's nothing like it. I've done some production work, but sitting in front of a computer creating music is no match to that live interaction with a crowd. Watching people smile when their favorite song drops gets me every time. Hands in the air, jumping up and down like kids ... it's the best kind of high."
The Sounds of DJ Roland BelmaresAll-time Favorite Musician:
Whitney Houston – "She was there through all my stages of love for dance music."
First Concert Attended:
Janet Jackson – "(It) was just so amazing to be in the same room as her. It was the first time I felt that collective energy of a crowd that big. It was so amazing to watch her perform and actually 'feel' the music as she was singing it. It just blew me away."
Most Recent Concert Attended:
Ariana Grande – "(It) was such a fun night. Her opening act was another group I love, Little Mix, which I always thought of as the UK version of Fifth Harmony. It was maybe a little weird being a 40 year-old gay man in a crowd of tweens, but I wasn't the only one."
First DJ Gig:
Was at a new gay nightclub in Austin, called The Forum. "I was originally hired as a barback/back-up DJ, (and was told that) I might get to play when the other two DJs needed a night off or something. But the day of the Grand Opening one DJs got promoted at his current club and backed out, so they called me a few hours before doors opened and said I'd be spinning that night. I was still all on vinyl, so I remember my hand shaking to put the needle on the record. I remember being so scared to look up until I could tell there was a packed dancefloor. But that night, even with a packed floor, I wasn't the 'dancing, lip-syncing, fan-cracking DJ' everyone knows me to be now. I could tell it was where I wanted to be."
If Not A DJ:
"In a perfect world, I would be performing somehow. I loved singing in school and I always wanted to be an actor. But in reality, I'd probably be working behind the scenes as a music producer or at a radio station, or streaming service now, formatting playlists or something. I know I'd be in music in some way. Or maybe a music teacher."
DJ Idols/Role-models:
"When I started, they were Manny Lehman, Abel &
Ralphi Rosario
, Tony Moran and Peter Rauhofer. Today, I love hearing Ivan Gomez and Nacho Chapado, Alex Acosta, Joe Gauthreaux and Grind, as well as Oscar Velasquez. They all have different sounds, but they command the dancefloor with their own unique styles. It gives me inspiration to hear them and gets my creative juices flowing when I get to hear mixes outside of my own."
One Magical Moment:
"My favorite DJ story was getting to play main event at One Mighty Weekend/Gay Days in Orlando with Donna Summer performing right in front of me. I mean, you don't get any more iconic than Donna Summer. And during her performance of MacArthur Park, cue the rain as she was singing 'someone left the cake out in the rain,' her stage manager standing next to her with a white parasol to shield her from the downpour. It was surreal. Then, to top it off, I had a signature mix of Xanadu that I had been known for closing my sets with that was sent to Disney's firework shop in China months before, and when Donna Summer was finished a full choreographed firework show took place on Disney's main street with the castle behind me. I couldn't have imagined a more perfect night."
Finally:
"I'm grateful to still be getting booked to play after all this time. I really do appreciate the love and support. DJing isn't always the glamorous life you think it is, but the smiles and comments I get makes it all worthwhile! So thanks again for being there for me; I look forward to bringing it on the dancefloor."