Illinois Gov. Rauner officiates same-sex marriage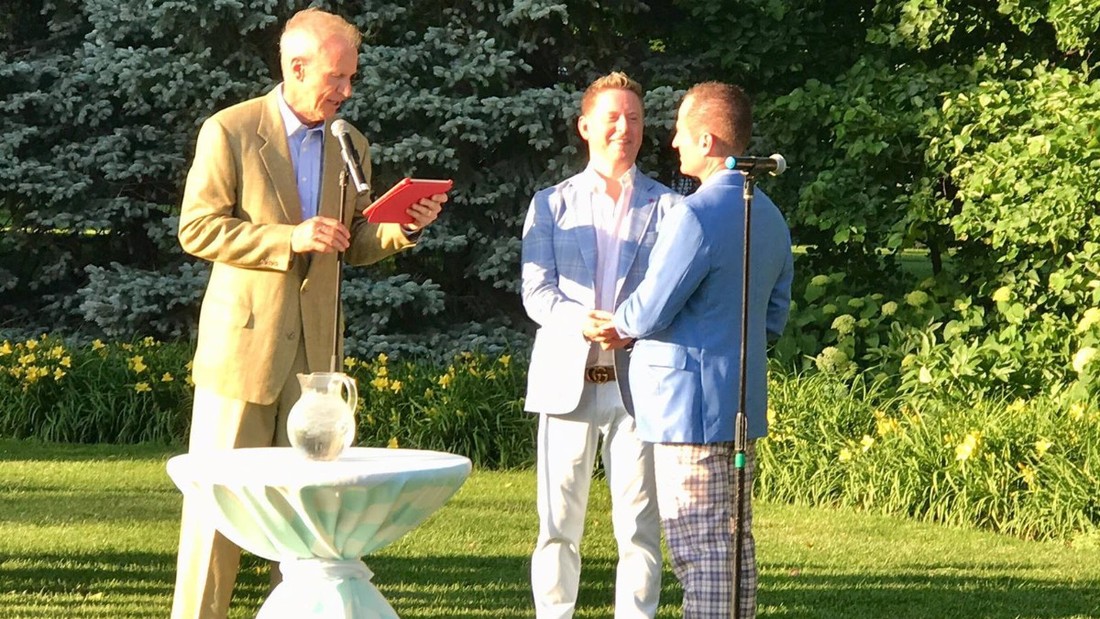 gov. rauner officiates wedding of mark cozzi & james goeke
photo credit // james goeke
Facing aggressive challenge from Democrat J.B. Pritzker, Rauner courts LGBT vote
Chicago, IL - Illinois Gov. Bruce Rauner, a Republican, recently officiated a same-sex marriage in Chicago.
The governor performed the wedding of Mark Cozzi and James Goeke on June 30 at a private club in Chicago, Goeke confirmed to ChicagoPride.com. First Lady Diana Rauner was also in attendance.
Cozzi is a former board member of
Equality Illinois
, the state's largest LGBT civil rights organization. He was appointed by the governor to serve on the State Universities Retirement System Board of Trustees in 2017.
"We congratulate Mark and James on their wedding and wish them a lifetime of happiness," Mike Ziri, Director of Public Policy at Equality Illinois, told ChicagoPride.com.
However, the decision by Rauner, who is seen as a moderate, has sparked outrage from social conservatives after a wedding photo was posted on Cozzi's Instagram account.
"Keep poking social conservatives in the eye Bruce," tweeted David E. Smith, executive director of the Illinois Family Institute. "You are doing a yeoman's job of alienating the base."
Ziri disagreed with Smith's criticism over the governor's participation in the ceremony.
"As chief executive of our state, it is appropriate for Gov. Rauner to administer government-sanctioned functions, including marriage," he said. "There is no license to discriminate in Illinois, as the Illinois Family Institute seems to falsely believe."
Rauner, who is fighting a tough battle for re-election against Democrat J.B. Pritzker, has stepped up public outreach to the LGBT community. He and his wife Diana attended a pride month kick-off hosted by Equality Illinois. Later that month, Rauner marched in Aurora's first Gay Pride parade. The Rauners also joined elected officials and community leaders for a reception before the Chicago Pride Parade.
The Republican has not always supported same-sex marriage. In 2013 when asked about Illinois' new marriage equality law,
Rauner responded
, "If I were governor, I would veto it." Later during the 2014 gubernatorial campaign he said voters should have decided whether same-sex marriage should be legal in the state.
Gay rights advocates, including Equality Illinois, supported Democrat Pat Quinn in the 2014 race.
After taking office,
Rauner met with LGBT leaders
in what was described as a "first of its kind meeting." Rauner committed his administration to strict enforcement of non-discrimination laws and suggested an openness to new initiatives to protect Illinoisans who experience unequal treatment.
During his first term, Rauner drew ire from social conservatives when he signed a measure that expanded taxpayer-funding of abortion. He also
signed a bill
that allowed transgender and intersex individuals to change the gender listed on their birth certificates.
Rauner barely won renomination in the March primary against Rep. Jeanne Ives (R-Wheaton), a social conservative.
The governor's campaign did not immediately respond to a request for comment.
The 2018 Illinois gubenatorial election is November 6.
Update:
(7/13/2018) Rauner also officiated a same-sex wedding in December 2017,
according to ABC Chicago
.