Chicago's Joe Lewis among 14 set to compete in the annual Stoli Key West Cocktail Classic, June 5-11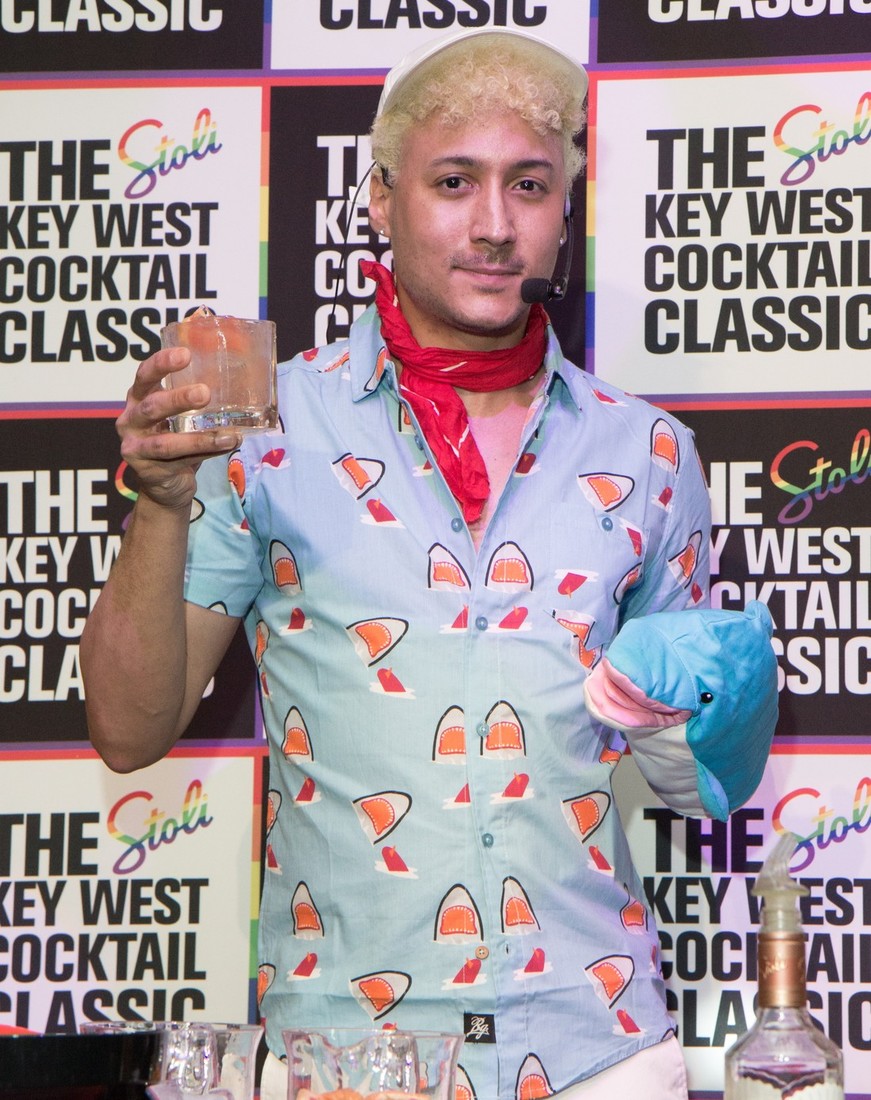 joe's winning cocktail is the 'stoli vodka shark bite'
photo credit // ross forman
There will be plenty of sun, but Joe Lewis is heading to Key West in early-June to be the won, literally.
Lewis, a bartender at Berlin Nightclub, is the Chicago representative in the 5th annual Stoli Key West Cocktail Classic – and one of 14 Bar Stars who have won regional competitions across the U.S. and Canada to compete for the prestigious title June 5-11. The winner claims a portion of $20,000 for charity, title of Honorary Grand Marshal of the 2018 Key West Pride Parade, a victory party at their home bar, a trophy, sash, and a trip for two to Vancouver or San Diego Pride.
"Year 5 has been the most adventurous yet with our 2018 (Regional) Champions having truly raised the bar for this annual event," said Patrik Gallineaux, the North American LGBT Ambassador and Manager for Stoli Group. "We have expanded the week so that each elimination event gets its own day, (whereas), in the past, we did these events back to back on Friday. This means all three events, including the finale, will be more fabulous than ever."
The list of guest judges, hosts and performers includes Bruce Vilanch, Jai Rodriguez, LaToya London, LeeAnne Locken, and for the very first time, hit recording artist Debby Holiday, who will be presenting a special concert live on Duval Street during the finale on June 9.
Gallineaux said the long-running competition has evolved from a smaller number of cities and a three-day finale to now the largest LGBT event of its kind in the world. "I could not be prouder of everyone at Stoli and my amazing support team, (including) production manager Skye Paterson, who helps ensure its growth and success," Gallineaux said.
Gallineaux, 47, who lives in San Francisco, was at
Sidetrack
in April for the Chicago finals, where Lewis edged out six local challengers.
"Sidetrack (is) a dream to work with as host," said Gallineaux, who co-hosted the Chicago finals with Dixie Lynn Cartwright.
"(Lewis) not only is an amazing bartender, but an awesome, authentic human being; and wonderfully colorful to boot," Gallineaux said of the Chicago champion.
Lewis is now focused on finishing first and bringing the title home from Florida.
But, as Gallineaux noted, "it is more than (just) making an incredible Stoli cocktail."
The 14 finalists must mesh creativity, knowledge of the LGBT community, Stoli, and Key West.
Gallineaux said one of his favorite moments during the multi-day adventure in Key West is, the Sunset Cruise of Champions aboard the Fury, with DJ Neil Chamberlin.
Gallineaux has plenty of stories from Key West, including some that can be repeated.
For instance, he woke up one day in Key West with laryngitis – on the day of the finale, no less. He relinquished his co-hosting duties to Jai Rodriguez, but thankfully was cured an hour before the show by the amazing team at Hangover Hospital. "I went onstage with the IV in my arm in case my voice started failing again," Gallineaux said, laughing.
Related:
Key West: A sunny, entertainment-filled getaway – only three hours from Chicago