Cheers, Scarlet – Popular Boystown bar celebrates 10-year anniversary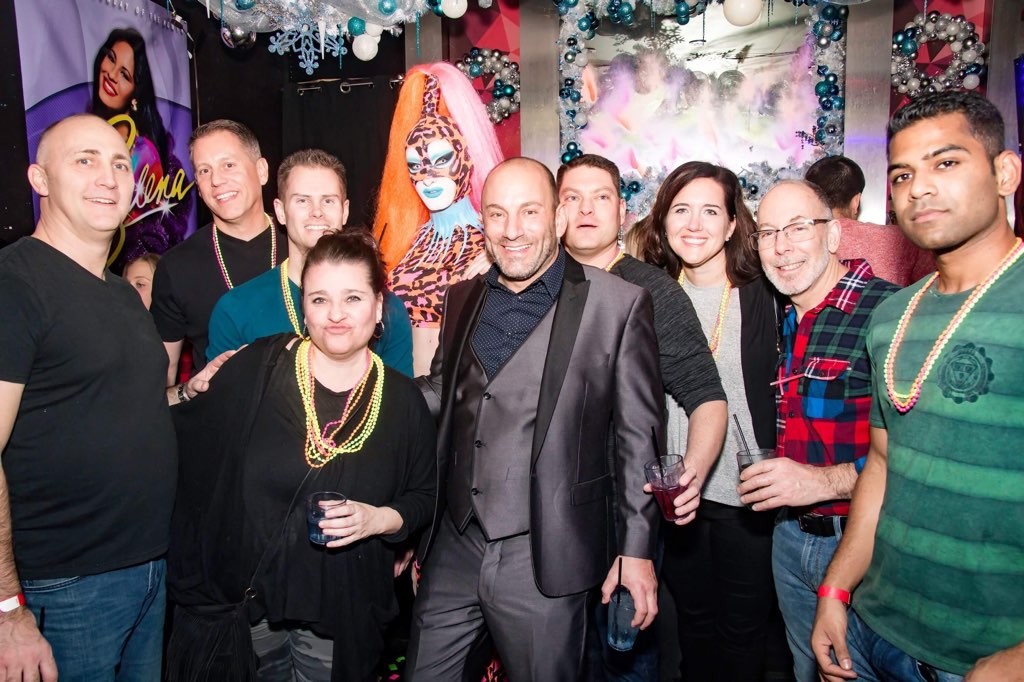 paul cannella (center) celebrates 10 years with scarlet
photo credit // scarlet bar
To say it's been a roller-coaster ride for
Scarlet Bar
over the past 10 years would be an understatement. So, when the Boystown bar officially celebrated its 10-year anniversary on Saturday, Dec. 9, glasses were all full and the music rang out throughout the neighborhood, like usual.
The ride started in 2007, when Paul Cannella acquired the former Gentry on Halsted, including its infamous piano, though Cannella actually started the process to buy the bar in 2005. The Scarlet grand opening was on Dec. 7, 2007.
But then nightmare struck in February, 2009, when a fire in the apartments above Scarlet destroyed the bar and building. Over 100 firefighters battled the extra-alarm blaze in the three-story building that housed Scarlet in the 3300 block of North Halsted Street.
The fire, Cannella admitted, is "one of the legendary nights of Scarlet."
Scarlet had water and smoke damage, and the entire building was frozen in crystal clear ice on the upper levels. No one was injured, though.
Seven months later, Scarlet was reborn.
"That which does not kill you, makes you stronger," Cannella said about the fire. "After finding out that everyone was safe, I focused on helping people get jobs and working to get the bar opened again. I looked to my (years of playing) rugby (and) getting knocked down – (first) get to a knee, then stand, walk, run and sprint to the action.
"That pretty much sums up those seven months and the following nine years."
When Scarlet first opened, it was more of a pub than a club. That changed when it reopened after the fire. Scarlet became a nightclub that the community has embraced, especially the younger generation, which certainly was not the case when it was Gentry.
"I had a blast (at the anniversary party) and think everyone attending did, too," Cannella said. "I loved seeing so many former employees and customers. At the end of the day, they are the heart and soul of any business."
Cannella, 47, said it truly has been "amazing" to reflect on Scarlet's 10-year run. "I always love hearing, 'OMG, I remember this one time at Scarlet,' and then you know you're in for a good laugh."
AJ Miranda is now the general manager at Scarlet, who Cannella tagged as, "a great leader (who) has built a great team."
"I'm always amazed at their creativity for events, music, marketing, and more," he added.
Cannella confirmed that Scarlet will be adding more lights and other improvements to help "keep Scarlet fun," he said.
"We're in the business of selling fun, so if we can keep people smiling and dancing, the rest all kind of falls into place," Cannella said.
Scarlet has 10 full-time employees and five part-timers.
The No. 1 drink served at Scarlet is, anything mixed with vodka.
"I think what has always made Scarlet unique is our customers and employees," Cannella said. "Scarlet is a bit of a state of mind in that you step inside to party. People are there to check their baggage at the door and have fun. It doesn't matter your age, your ethnicity, or whatever, it's just always been a melting pot of like-minded people ready to have a good time.
"We tend to skew a bit younger, but another thing I love to hear is, I can only do Scarlet on occasion, but I tell everyone coming into town, they have to go there."
Some of the most memorable nights at Scarlet over the first 10 years include the 5-year anniversary party, celebrating St. Patrick's Day one year with the temperature in the 70s, and a Halloween that fell on a Saturday. That, of course, doesn't count the annual madness during Pride and Market Days.
Scarlet also has established a franchise night, so to speak, with its FratNight on Thursdays. Liquid Brunches have long been popular on Sundays, though dreaded on Mondays.
"We've recently added TRIX to the Sunday lineup, along with Takeover where a specific musical artist is featured," Cannella said. "Another standout for a single night is our Dance Off Pants Off that we have throughout the year. We've been told that underwear sales spike at CRAM the week before a #DOPO event."
Scarlet is energy, electricity and just fun. "It takes a ton of work behind the scenes, but the staff does it week in and week out," Cannella said. "They're the core that allows people to come in and cut loose. When you walk into the bar, you can just see the smiles and the hands go in the air."
Yep, it's been a wild 10 years at Scarlet, and the train doesn't appear to be stopping, or even slowing.