Greg Federspiel: On Metal, Automobiles and the Timoteo Look at the Beach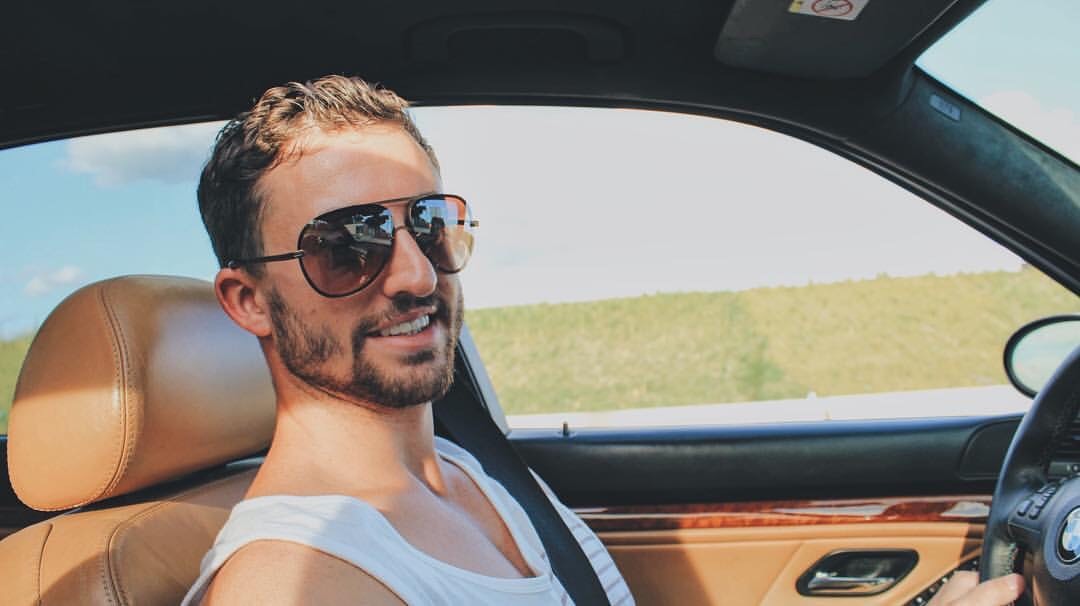 Greg Federspiel flew from Chicago to Spokane, Wash., earlier this year – just for a car, a 1988 Lincoln Mark VII.
Federspiel, you see, is a hobby mechanic, thus he spends hours upgrading, modifying and customizing cars. He has, after all, owned more than a dozen vehicles, ranging from turbocharged Mazda products, BMWs, muscle cars and a series of hotrod Lincolns.
He frequently searches for vehicles on the West Coast because there is no salt on the roads, thus eliminating rust and allowing cars to remain in great condition.
"I plan to do numerous upgrades, (then will) decide to keep it or move on to my next project," said Federspiel, whose first car he owned was a 1989 Lincoln Mark VII, and he's now owned three of them. "These are, by far, my favorite cars to work on because the drivetrain is the same used in a Cobra Mustang of that year, so they have the potential for serious power and for the car to be a total sleeper. There are thousands of tech articles and forums and the parts are easy to find and very inexpensive.
"Whatever I want to do to the car, it has already been done and posted online."
Federspiel, 30, who lives in Edgewater, has called Chicago home for the past four years. He is originally from West Bend, Wisc., and his dream car is a 1932 Ford Model A rat rod fully-built by himself.
Federspiel has worked at Northwestern University for two years as an admissions advisor, assisting individuals who have bachelor's degrees obtain additional credentials for career advancement, complete career changes or preparation for Master's programs through the use of the school's post-baccalaureate certificate programs. He advises for 38 different certificate programs, ranging from CPA accounting, biological sciences to literature.
"On a daily basis, I will work with situations as significant as doctor's looking to switch into administrative roles and vice versa, administration professionals with a passion for medicine looking to make the leap at a later point in their life," he said. "Deciding to devote the next 10 years of your life to the study and practice of medicine is a monumental decision, and I enjoy helping assess whether they are a good fit for a program at Northwestern. I review transcripts, resumes, meet with prospective students, give tours, speak with large group informational sessions and assist them through the application process up to student status. I work on the Chicago campus in Streeterville and enjoy commuting by bike on the lakeshore trail in summer."
At night and on weekends, Federspiel often switches into another passion of his – working as a metal sculptor at his shop in Skokie.
Federspiel owns a metal fabrication business called, Fabulous Metals.
"I enjoy making any and all projects, large and small, ranging from table top decorations, candleholders, furniture up to large sculptures for commercial purposes," he said. "I've been passionate about metal art since my dad bought me an acetylene torch when I was 15. I would mess around in our garage welding car parts together to make abstract sculptures and practical items like coat hangers. I eventually moved into automotive metal work, then found a more artist side. I expanded my tool collection and skills to the point where I recently completed a 6-foot tall sculpture for a gallery show."
Today, he has a 1,500 square-foot shop that he shares with another artist.
"I wouldn't give it up for anything; it's my true passion and I one day hope to become a well-known Chicago metalsmith," Federspiel said. "I'm deciding on going back to school to obtain either an MBA or an MFA in sculpture. My dream would be to own a metal fabrication company using my knowledge from an MBA program and my skills and experience with my current business venture."
Around The Shop With Greg FederspielHobbies:
Snowboarding and running
Favorite musician:
Sharam Jey
Favorite TV show:
Archer
Favorite movie:
There Will Be Blood
Favorite app:
Google Maps
Favorite Chicago bars:
SmartBar
for Queen! Sunday nights or Hydrate for social networking events and cabernet
Little-known fact:
His career as a post-bacc admissions advisor hits close to home, as his HR degree is technically a post-baccalaureate degree program. "I was too busy working on all my project cars and helping out at the local auto body shop in my college town to care about school at the time. It didn't hit me that education mattered until nearing the end of my first degree. I enjoy being able to help others who are in a similar situation that I was once in; it's very fulfilling."
Cap & Gown:
Graduated from University of Wisconsin – Whitewater in 2012 with a BA in speech/organizational communication and a BBA in human resources management.
College Life:
"Whitewater is a college town where the student population was 11,500 and the town was 2,000 people, so mostly all students left the area during breaks and summer. I shared a house with several friends and stayed in the area most of the time, staying busy with work and internships, (including) a telemarketer, selling Comcast cable. I cold-called residential and businesses for more than four years. It was a tough job and yet I enjoyed getting yelled at. You know you're a good salesman when the conversation starts with them screaming at you, and ends with you making the sale. I also worked part time as an HR assistant for the student union on campus. I was active in a student HR group and was also a mentor for students who needed advice, through an organization I helped bring to campus called SPILL, supporting peers in laid back listening."
Chicago summer:
"Hollywood Beach is, of course, my favorite, and my favorite swimwear is Timoteo. I enjoy spending time with my friends in the sun, on the beach and on the boats. I work close to the Ohio Street Beach and enjoy walking there on my lunch breaks to eat."