Same-sex marriage proposal at Chicago Bulls game draws cheers – and a Yes!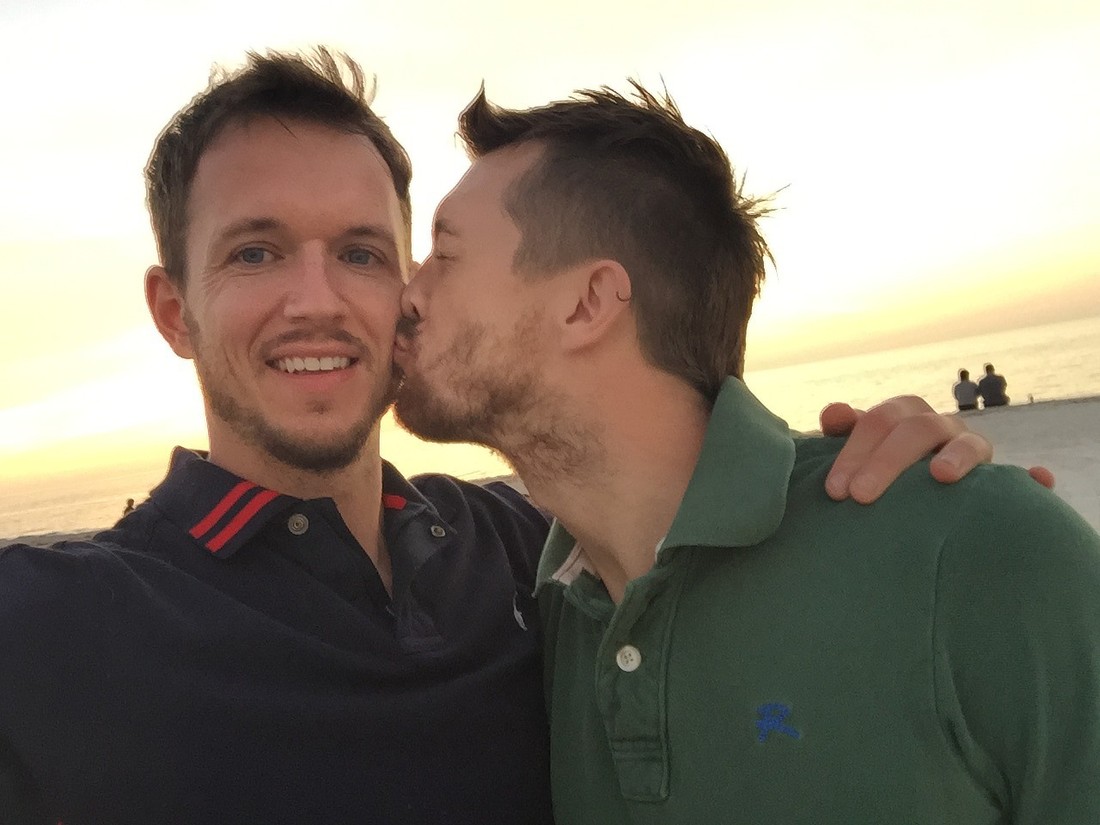 michal holtzman and jake conrad
photo credit // jake conrad
Chicago Bulls go overboard to help Jake Conrad surprise his boyfriend, Michael Holtzman, on Dec. 8
Chicago, IL - Jake Conrad had this grand plan for his marriage proposal at the Chicago Bulls game on Dec. 8, when the team played host to the San Antonio Spurs at the
United Center
, especially since those are the favorite teams of his lover of close to three years, Michael Holtzman.
Conrad just wasn't expecting the over-the-top offer given to him, or, them, by the Bulls.
There were plenty of nervous moments en route to center court, where Conrad ultimately dropped to a knee and handed Holtzman a candy ring-pop, and seconds later, the two hugged.
Holtzman had said, Yes!
Conrad, 29, who played volleyball at Lewis University and Carthage College and was on the USA Volleyball Youth National Team in 2006, submitted an application on the Bulls' website for a fan experience. But he wasn't certain if he had filled out everything appropriately. In late-November, after still not hearing back from the Bulls, he learned the team had remodeled their website. So he filled out another form.
December arrived and Conrad had still not heard from the Bulls, so he turned to Facebook for assistance, looking for someone with a contact at the Bulls. Holtzman wasn't on the social media site at the time, so Conrad wasn't worried about tipping off his plan.
"I just wanted to be certain that I correctly applied for the 'Benny-the-Bull MVP Fan Experience,'" said Conrad, who started considering other proposal sites, including Cloud Gate (The Bean), The Signature Room at the 95
th
, Harold Washington Library, and elsewhere.
"The (Bulls) MVP package would allow us to document the day and get some once-in-a-lifetime pictures," Conrad said.
The Bulls eventually replied – just as Conrad had hoped. The team confirmed their MVP Package.
"I was ecstatic," Conrad said.
Then things got really interesting.
Conrad received a follow-up email stating that some of the higher executives in the Bulls' organization wanted to offer something bigger and better, not just a short pregame proposal.
Within an hour, they put together the entire concept.
"It was some kindred soul or group of incredible people in this amazing organization that clearly supported equality with confidence," Conrad said. "It all happened because of this remarkable organization whose work we have always admired. As I reached rehearsal at 5:30 p.m., I realized people who dedicated their days to make our experience profoundly better surrounded me. They all knew our story. They knew I had been living in Pennsylvania. Words cannot express our thankfulness with the Chicago Bulls. Never ever did I imagine the Chicago Bulls organization going above and beyond, as it did. We are forever grateful.
"I still don't know who at the Chicago Bulls made the (final) decision, but we are so very grateful."
Cyd Zeigler of Outsports.com said that the extra steps the Bulls management took to make sure their engagement was special is yet still another powerful example of how far the sports world has come in acceptance of gay people."
"For the vast majority of people in sports, this is not an issue anymore. I'm so glad Jake, Michael and the Bulls showed us the power of acceptance in sports yet again," Zeigler said.
Conrad told Holtzman to dress up for their Thursday night out as they were going to a fancy holiday dinner with family. Holtzman didn't even know they were going to the game – and he is a lifelong Bulls fan who admitted that one of his lifelong goals was to attend his first Bulls game in person at the United Center and see the Michael Jordan statue outside of the arena.
They had 15 minutes to get dressed and get on the road.
"I still didn't have anywhere to distract Michael while I attended rehearsal at 5:30," Conrad said. "My best friend of 14 years, Brittany Watkins, called to let me know she was available if I needed anything. While driving in the car with Michael from Milwaukee to Chicago, she and I managed to put together our plan of attack to distract him."
Conrad and Holtzman sat in prime courtside seats, which were gifts from Jake's dad, Jerry.
Conrad knew it was going down in the second quarter, and that his life would change forever during a timeout in the game.
Conrad, though, was a bit nervous that Holtzman might freeze when the team's mascot, Benny the Bull, was going to approach them – and ask Holtzman to get out of his seat. So, Conrad asked Holtzman, 'What if they pick you to shoot a half-court shot for a million dollars?"'
Holtzman said he thought it was "strange" that they were getting dressed up to go to Chicago, "but life with Jake is always go, go, go," he added. "On our way to Chicago, I never suspected that we would be going to the Chicago Bulls game. Then, when Jake dropped me off the 'go find parking' with his best friend Brittany Watkins, she and her boyfriend were wearing Chicago Bulls gear. They said they were going on a date, but I did think maybe we were going.
"Jake and I have joked about the proposal for a long time; he has even pretended to stage a proposal before, almost to test me. At home, on Friday after the (proposal), I told Jake that I always thought he was going to propose with the Bleachers, a band that sings a song we bonded over. One of our first dates, we saw them live.
"Honestly, I never imagined court side seats, let alone, a center court proposal."
But that's exactly what happened.
Benny the Bull grabbed Holtzman out of the crowd, taking him from his seat onto the court while the team's cheerleaders, known as the Luvabulls, danced.
Conrad sneaked around to the other side of the court.
Benny the Bull played around with Holtzman, first showing him the moves of the Luvabulls, then playfully combing Holtzman's hair, knowing what was about to go down.
He turned Holtzman around and the Luvabulls had lined a path between Conrad and Holtzman.
Conrad walked over, dropped to a knee, presented the candy ring-pop, and the two hugged with joy.
The Luvabulls cheered the two.
Benny the Bull cheered the two.
The crowd of 21,489 fans cheered the two.
"It was incredible," Conrad said. "After the proposal, it felt like we couldn't even chat with friends and family because so many people would come say congratulations and give us a hug or a high-five."
BEFORE THE BULLS
Conrad and Holtzman met on Grindr. Yes, on Grindr, the No. 1 social network app.
"Apparently we like to defy stereotypes," Conrad said.
The chatted regularly for a year before Conrad could convince Holtzman to meet him.
"On our first date, Michael asked me to pick him up because he didn't like to drive on the highway," Conrad said. "Being from Chicago, I found this to be slightly strange. After picking him up, I stopped to get gas quickly. Being that it was October and cold, I didn't want to keep squeezing the trigger, so I propped the grip open with the metal flappy thing on the trigger of the pump. Michael was blown away by this magic. He had no idea how it worked. He literally asked me how I did that. In 15 years of filling up cars, he had never once seen this.
"As time went by, I became more and more ravishingly attracted to Michael's innocent and quiet demure. Dinner was absolutely incredible."
It was love at first site, they said.
"The first time we met was at a random dog park that Michael had told me about," Conrad said. "I was absolutely stunned that he was real. He knew I took my pup to the park everyday around noon, and he recommended one by him. It was October and there was definitely an autumn breeze. We met around noon, and we were still chatting at the park around 6 p.m. The sun had started to go down and Michael, wearing just a t-shirt, had begun to shiver. We walked over to my car and chatted there for another hour."
Holtzman, 34, attended high school in Oak Creek, Wisc., and is now taking classes at the University of Wisconsin-Milwaukee. He is hooked on hoops and still plays in leagues.
Holtzman was in the Bulls spotlight earlier this month, at mid-court.
His moment in the spotlight, make that, their moment in this lights is now YouTube lore.
The best part of the proposal and the national spotlight it has brought, Conrad said, "is the way it has reconnected us both to so many people from the many walks of life."