Two dogs, two kids = one loving family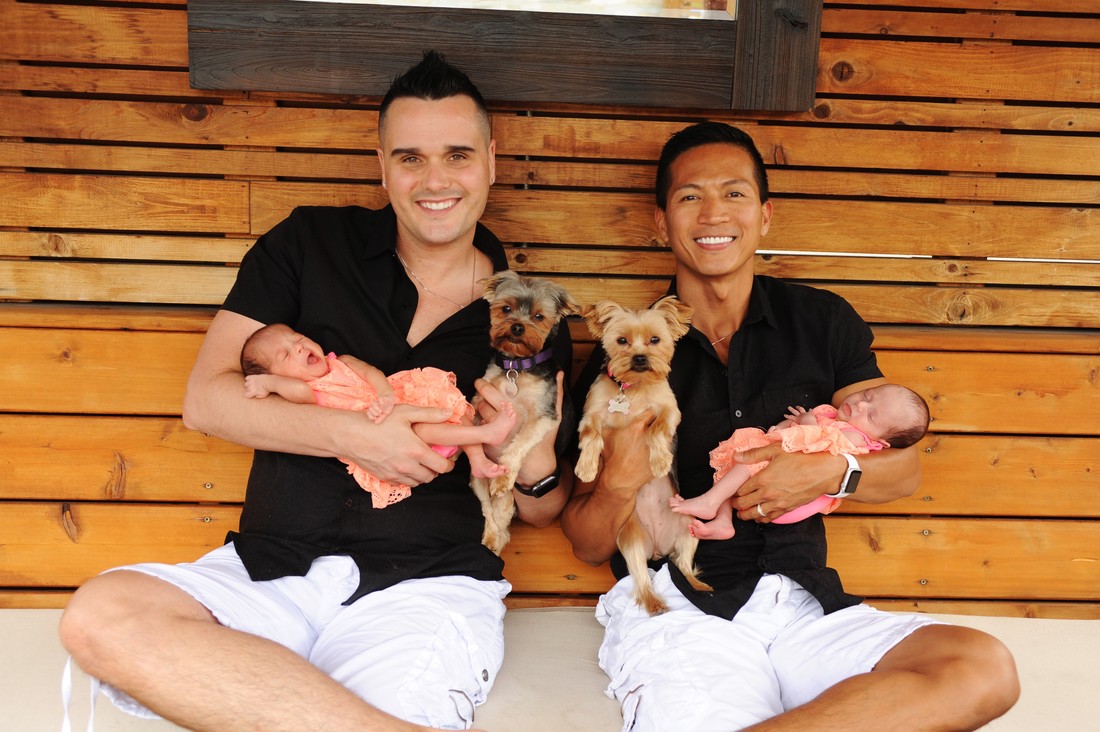 jimmy hyde and benjie rivera hyde
photo credit // jimmy hyde
Chicagoans Jimmy & Benjie Hyde, and their daughters, are spotlighted in new video from Allstate Insurance
Jimmy Hyde was walking along Waikiki Beach back on Dec. 30, 2011, when he passed Benjie Rivera, a muscle-packed Filipino, who was shirtless, with a white towel wrapped around his waist.
Hyde was instantly attracted to Rivera, who was walking with two friends. Hyde said Rivera at that moment "was stunning."
Rivera and his friends stopped and set up shop for some sun. Hyde did the same, not too far away, "which probably was not by accident," Jimmy admitted with a smile.
Moments later, one of Rivera's friends approached Jimmy to come over and take a picture of them, which he did. Hyde told the two others, "It was nice to meet you," then turned to Rivera and said, "It's very nice to meet you."
Flash-forward just a few hours – and their sunny, smile-filled exchange led to their first date, as Hyde and Rivera spent that night talking along the beach into the wee hours of the morning.
Well, their life has been one picturesque sunrise and striking sunset ever since. They began dating immediately, each knowing the other was the one, the perfect partner. They got married on Sept. 9, 2013, and became parents – to two dogs and two daughters, over the past year.
Their gorgeous, multi-level home in Chicago's Lakeview neighborhood is the picture of love. And inside their identical wedding rings, it says: Ku'u Aloha, the Hawaiian phrase that translates to, My Love.
"It felt right," from starting to date to building a family, said Benjie, who is now Benjie Hyde. "I was, and never have been, nervous about anything (in this relationship). I know I'm in the right place. It's all love – from marriage, to the dogs, to the kids, to everything. It's just meant to be."
Jimmy added, "When you find the right person, it's not really work; it just works."
The Hyde family is now the subject of a just-released 3-minute video from Allstate, which also highlights agent Char Schoenbach, whose office is on Halsted Street in the heart of Boystown.
"For (Allstate) to ask us to share our story and, in the process, show that Allstate is supportive of all families and welcoming ... that's huge," said Jimmy, who has known Schoenbach for about 14 years.
The testimonial video was filmed in late-June and shows that, yes, it is a same-sex family ... but most just, a family. (
View the video
)
"We hope that others can look at our family and think, 'Our own dream of starting a family can also come true too'," Jimmy said.
BUILDING THEIR FAMILY
Jimmy admits that he long envisioned a large wedding, probably a destination wedding, and likely in Hawaii; however, given it wasn't legal to marry in either Hawaii or Illinois at the time, they selected Iowa for their wedding, which featured a small intimate outdoor setting with close friends.
Ultimately, the magical day was "perfect," both said.
They had lei's and custom-made rings from Hawaii flown in to bring a small part of the 'Aloha spirit' into the ceremony, which originally brought them together.
"Having the right partner who balances your strengths and weaknesses; that's extremely important to a successful relationship", Jimmy said.
Benjie is the love of the family; he is the stay-at-home dad who anchors the home. Benjie is 38, with an accounting background. Jimmy has assumed more of the provider role and is very career-minded. Jimmy, 39, is the senior vice-president of sales and accounts for Braintree. He is originally from Nebraska and has lived in Chicago for 14 years.
"My only wish for the future is for Jimmy and I to remain strong as a couple, so that we may continue to share and show that love to our kids long into their own future," Benjie said.
Jimmy and Benjie got two dogs – both teacup yorkies, named Pepper and Bela, each weighing about 5 or 6 pounds – during the summer of 2013, shortly before they got married.
EXPANDING THEIR FAMILY
Jimmy and Benjie, in early-2014, wanted to start a family; they wanted kids. But, neither had any idea how to do it.
On April 11, 2014, they went to dinner with a close friend at Trump Tower in downtown Chicago. And that night, they committed to starting their family and finding a path to have children through surrogacy.
Just over a year later, through the support of Dr. Brian Kaplan and the aParent IVF Laboratory – on May 21, 2015 – twin daughters Isabella and Gabriella were born in Moline, Ill., just a few miles from where their surrogate, Tiffany Schneider, was from.
"It's been such a magical journey," Jimmy said.
Izzy and Gabby, as they are known, were born two months premature, and are now happy and healthy. Their parents, too.
"Our friends have been so amazing," with and for the kids, Jimmy said. "(Friends have) totally leaned in, in a way that I wasn't expecting."
And often, Jimmy and Benjie can be seen walking through Boystown, each wearing a baby Bjorn or pushing a pink dual stroller while drawing a crowd of smiling onlookers.
"Life has totally changed. To think ... it was not so long ago that when you accepted yourself as gay, it was to also accept that children would become a sacrifice," Jimmy said. "Now I look at my loving children, listen to their laughter, watch their grandparents shower them with love and joy, and realize that no dream is too big to achieve. We are so very blessed."
The Hyde twins were also so excited to meet their new Daddies, Jimmy said with pride, that they decided to come into the world a few months early being delivered at 31 weeks and 5 days.
On May 20, 2015, Schneider was admitted into the hospital and was told she'd be in there for a few days of observations. So, Jimmy told Benjie to jump on a plane that day to Iowa – to surprise her, and bring a few presents, including flowers, candles and lotion.
He went; he surprised her and Facetimed with Jimmy.
Benjie was getting ready to leave to return home when, her water broke.
Doctors were going to induce the births – in an hour.
And where's Jimmy?
On a train in Chicago, three hours away, heading home from work.
Benjie was ultimately there for the births of Izzy and Gabby, all along holding Schneider's hand, and he even cut their umbilical cords.
"I was so emotional; it was such a magical moment for me and one where time stood still," Benjie said.
Jimmy and Benjie will celebrate their third wedding anniversary on Sept. 9, and are planning to return to the Iowa hotel where they were married, as they did on their first and second anniversaries.
"When I stop and think about it, we've done so many amazing things since our first encounter on the beach in 2011," Jimmy said. "We have two adorable dogs, a happy marriage, two incredible children and a home to host a million more memories as our story turns the next page of this adventure."
So what's their next chapter? Time will tell, but when asked about more kids, Jimmy replied, "We'd be open to it." And Benjie shook his head in agreement.
But first, they might start with a trade-in on the Range Rover for, yes, a mini-van.