YouTube's Davey Wavey is a sex sensation with perfect pecs – and more than 300 million views of his videos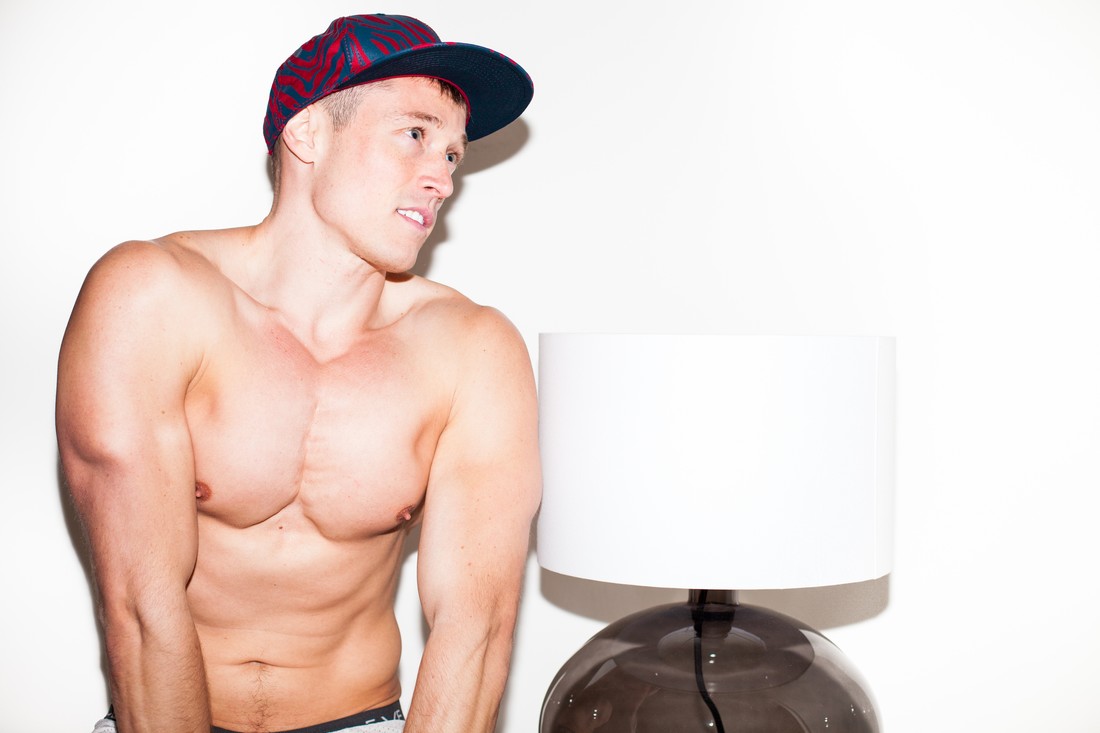 Davey Wavey has expanded into an apparel line, and now new audio/video guides to further the erotic experience
Davey Wavey has been talking sex, absolutely anything and everything sex-related for years. That's his job; it's full-time with a lot of perks and plenty of traveling around the world – all along flaunting his perfectly-sculpted chest for millions, with an overflowing crowd of young gay men in that mix. Add in a splash of his quick-witted humor, an occasional guest or two joining him, and well, Davey Wavey comes to life on video. He is the president of Davey Wavey, Inc., and YouTube has long been his home.
"To be honest, I don't even remember making my first video," he said in an August interview. "At the time, I was moving away from Washington, D.C., and was just experimenting with my new webcam. As I started making more videos, it was never my intention for people to follow along. I was doing it as a personal diary, something that I could look back to in 10 or 20 years."
Well, Davey Wavey has now produced and stared in about 800 videos, primarily geared for the LGBT community – and they have received more than 300 million views.
"My videos have changed in a lot of ways (over the years), the most obvious of which is quality," he said. "Not that I'm an expert, but I've done my best to transition from webcam videos to something a bit more polished. Sometimes, I even get to work with a production team on my projects.
"Beyond quality, the content is different. I've been doing this for nine years. All along the way, I've made videos about the things that I find interesting. And in nine years, your interests change. I'm also growing up. I'm a grown ass man now, and I like grown ass man things. In the last few months, for example, we've been creating a lot of content around using sex not just as a way to get off, but as a way to connect with yourself, your body, your partner and the world around you. That's what's interesting to me."
Davey Wavey is now 33, lives in Woonsocket, R.I., and has been dating Jake, a 25 year-old college student in California, for 2 ½ years.
The two appear together in a video, released in early-August, from their trip to Stockholm Pride.
"Back in the day, I'd post two videos a week – one on my main (YouTube) channel and one on my second channel. It turns out, 104 videos a year is pretty exhausting – and I didn't want to sacrifice quantity for quality," he said. "Now, I just post videos when I have something to say. Sometimes that's twice a week, sometimes that's twice a month."
Most videos are about three minutes long; some push 10 minutes. Almost all show Davey Wavey's nipples, and yet they stand true to his mission: Through juicy and colorful storytelling, Davey Wavey invites men who have sex with men to a playful world of self-celebration and sensual exploration.
Women are part of Davey Wavey videos too, at times. Same for straight and transgender. But there certainly will be a sex tie in.
"A few weeks ago, we uploaded a video called 'Orgasm Faces in Slow Motion,'" he said. "I think 100,000 of its 800,000 views are me, watching it over and over again. I absolutely love it in all of its beautiful and awkward glory."
Several Davey Wavey videos have more than 5 million views, such as one of favorites – women reacting to penis pictures. "The reason it has done so well, and the reason that so many people have shared it on so many platforms is not just because it's funny, but (rather), because it also has an important message.
"If you can package a good message in engaging content, you really hit the digital video g-spot."
Another memorable Davey Wavey video, from a year or two ago, was titled 'Straight Guy Bottoms For The First Time.' And yes, in the video a straight guy put a sex toy in his butt and then talked about the experience.
Then there was the video from Davey Wavey in which he calls out the younger gay generation for being overly critical and at times offensive to the older generation of gays. That video struck a nerve with tens of thousands.
"As someone who is now in (his) 30s, I find it increasingly frustrating when young gay men disrespect their elders in the community," Davey Wavey said. "The reality is, it's the older gay man who worked so hard to make this world possible, and all of us owe them a tremendous debt of gratitude."
The first weekend that video went live, it received more than 6 million views and 50,000 shares on Facebook. Most of the feedback was supportive of Davey Wavey's stance, though some criticized him for mainly only having young, white gay men in his videos. But that isn't true at all.
"I go out of my way to create content that is diverse and representative," he said. "The unfortunate reality is that those videos that go viral and that get the most views are the ones featuring young, white gay men."
Davey Wavey said no subject is off-limits in a video and when asked where he sees his videos in, say, five years, he simply said, "I don't know."
After all, "the digital landscape is changing quickly," he noted. "I don't know if YouTube will even be around in 10 years. It could go the way of MySpace. Or it could evolve into something more like Netflix. Regardless of the platform, or form that my content takes, I hope I'm continuing to push boundaries and comfort zones, including my own."
But, Davey Wavey is more than just a pretty face on videos. His brand is ever expanding. In 2014, for instance, he launched DirtyFit Apparel.
"Like many gay men, I love underwear. It helps me feel sexy and desirable, but most underwear is either sexy or comfortable. There's always some sort of compromise. So, I set out to create underwear that doesn't cut corners," he said.
The result is, DirtyFit – and the latest and greatest is ultra-high-quality, available in a galaxy print, "because your ass and balls are out of this world," he said, laughing.
"We're excited about our progress and are looking forward to our next collection," he said.
As for his next venture, well, that's now called, Unlocking Your Erotic Body – a powerful, step-by-step guide for taking your erotic experience to the next level through a mix of audio guides and erotic videos.
Unlocking Your Erotic Body is a journey of erotic pleasure and self-discovery. Davey Wavey teamed with renowned tantric coach Ian Ellington on this project. With Ellington's advice, they address, among other things:
-What are the biggest issues facing men and their sexuality today?
-
What is the role of pleasure?
-
How to make masturbation more pleasurable?
-
What are the strategies for overcoming premature ejaculation?
'Unlocking' is a complete, step-by-step guide, starting with three, 45 to 60 minute audio guides featuring Davey Wavey and Ellington. Next up are two 20-minute erotic instructional videos, featuring Blake Mitchell and Davey Wavey, from award-winning director Travis Matthews.
"Unlocking Your Erotic Body is a program that I created with a team of really knowledgeable and talented professionals in the film and tantra worlds," Davey Wavey said. "It includes three audio guides and two videos. The first video is a guided masturbation and the second is a 'how to' video for full body orgasms. And they are very naked."
Davey Wavey added, "Our bodies are capable of so much pleasure, and yet most of us coast through our sexual experiences. This program was designed to help men tap into pleasure in a whole new way. And it's transforming. Having a full body orgasm changes everything."
** For more information, or to order Unlocking Your Erotic Body, go to: www.daveywavey.tv/eroticbody
More Davey Wavey
Favorite TV show: House of Cards
Favorite app: Surge
Little-known fact: "I have never had a sip of alcohol in my life."
One celebrity who you would most like to meet: "I'm not a big celebrity person, (but), maybe Oprah because ...why not?"
Top five celebs who have appeared in your videos: "Ian McKellen, Ian McKellen, Ian McKellen, Ian McKellen and Ian McKellen."