Chicagoan battling testicular cancer finishes chemo, excited for summer – his favorite season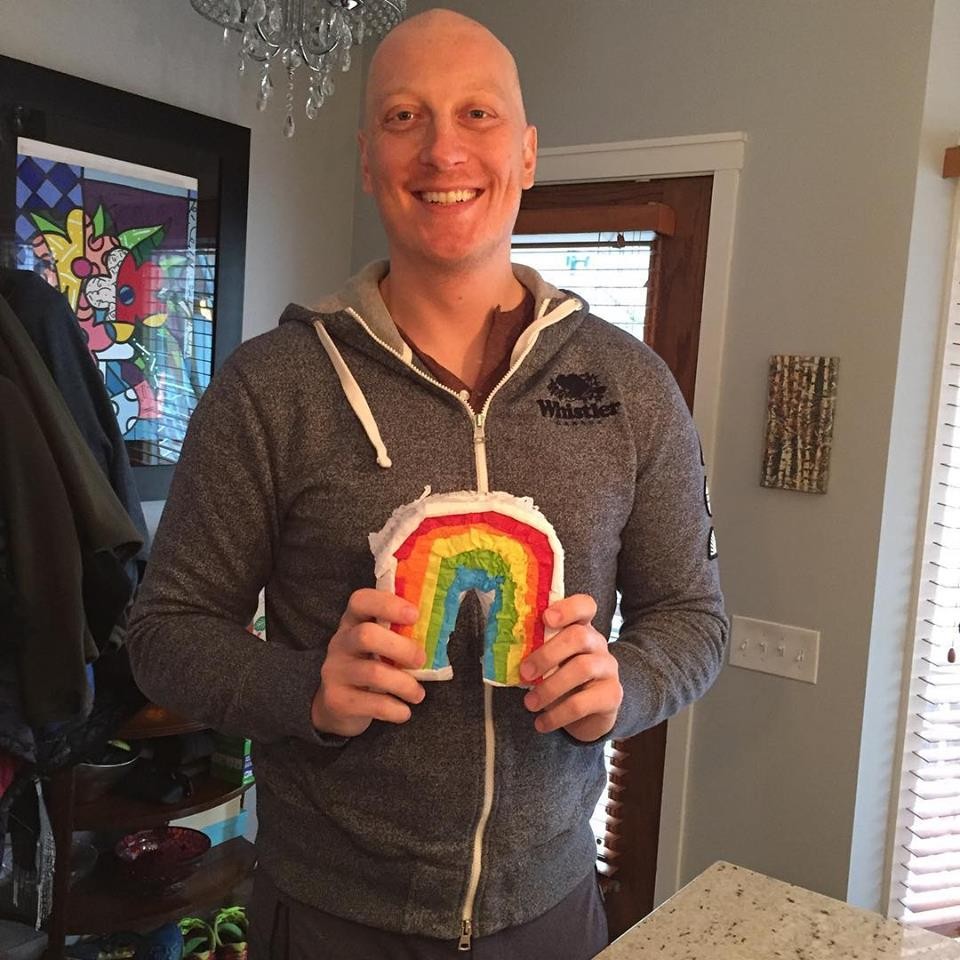 photo credit // anthony cozzi
Anthony Cozzi had a hunch, so he wasn't surprised. But no one ever wants to hear those heartbreaking three words: You Have Cancer.
In late-2014, Cozzi started having sensitivity in his testicles. Certain activities made him feel as if he was "kicked in the balls," he said.
At first, Cozzi didn't think much of it, but the sensitivity became increasingly worse. Soon he felt a lump.
"I (am not) a big fan of going to the doctor, (so) I decided to wait until my annual physical in February 2015," he said.
After an ultrasound and anxiously waiting for the results, Cozzi learned he had testicular cancer.
"It wasn't difficult," hearing the cancer diagnosis, Cozzi said. "In the back of my mind, I had a pretty good inkling that it would turn out to be cancer. From the point that my doctor delivered the news, my focus shifted to how I was going to deliver the news to my loved ones, who I knew were going to take the news much worse."
On March 17, 2015, Cozzi had one testicle removed. "I was told if the cancer came back it would most likely go to my lungs," he said.
Sure enough, last December the cancer came back and it was in his lungs.
On Feb. 29, 2016, Cozzi started aggressive chemo for nine weeks.
His last scan, on May 13, showed that the chemo had done its job and erased the cancer from his lungs.
On June 9, Cozzi had surgery to remove a small piece of his lungs – and he was in the hospital for 24 hours. The doctor is confident that Cozzi is on the road to recovery.
Cozzi, 36, lives in Chicago's Uptown neighborhood and is a Mobile Reliability & Operations Manager for United Airlines. He is originally from the Upper Peninsula of Michigan, and has lived in the Chicago area for 13 years. Cozzi's partner is Michael Erwin, the president of the
Chicago Metropolitan Sports Association
(CMSA), and the two met during flag football and are currently teammates in softball and volleyball. Since February, they have been engaged.
Cozzi has taken time off from work this spring for his chemotherapy cycles, mostly because "my energy and attention span wouldn't have allowed me to concentrate on my work," he said.
All of his doctor visits and treatments were at Northwestern Hospital in downtown Chicago.
"Chemo was rough," Cozzi said. "My chemo regimen consisted of three cycles. Each cycle lasted three weeks. The first week was everyday Monday through Friday. I arrived around 8 a.m. and was usually done around 1:30 p.m. The remaining two weeks in the cycle I only had to go on Mondays. However, the drug I received every Monday was really rough on my body. It was known to cause my temperature to rise, so I had to take precautions to ensure I didn't come down with a fever."
Chemo also cost Cozzi his hair, but that wasn't that big of a deal, he said. "I knew it was coming as the chemo drugs attack fast growing cells, which hair happens to be a perfect example," Cozzi said. "At the first sign of my hair falling out, during the first week, I had my head shaved. I was lucky enough to have one of my dearest friends shave it for me."
Cozzi's long-term prognosis is in the good to intermediate category, he said. "My oncologist has full faith that I will live a long and more-than-likely eventful life," said Cozzi, who knows that doctor-visits and blood-work will become the norm for the rest of his life.
Cozzi said in early-June that he is almost back to feeling "normal." He's back to work full-time, has good energy and was able to make it through a full yoga class recently, though he's not able to run long distances, yet. And he's back on the CMSA softball fields.
Cozzi has always received an outpouring of support from the gay community – starting with Erwin.
"Michael (has been) amazing," Cozzi said. "He took amazing care of me – driving me to all my appointments, making sure I was eating and drinking enough, and staying on top of my doctor's visits and medications. While I admit that, at times, we probably drove each other nuts, (but) I couldn't get mad at him because I knew he was trying his best.
"My family was also a huge support during chemo. My mom flew in from Phoenix to attend all of my weeklong sessions and made me home-cooked meals, cleaned my house, and tried to entertain me. My dad stayed in Phoenix (as) he had the important job of ensuring that my desert pool oasis was built on-time. My sisters, Michael's parents and our friends assisted with meals, chemo visits, and entertainment."
Cozzi added, "I cannot say enough good things about the medical staff at Northwestern, especially the staff at Northwestern Hematology and Oncology. Everyone there made me feel like I was family on each and every visit. My oncologist, Dr. Jain, is simply amazing. She is very smart, young and friendly. She makes it a point to explain every detail and takes the time to answer every question that we have – and Michael and my parents ask tons of questions. She even gives relationship advice and emotional support. While she is awesome, it's definitely the medical staff and nurses who keep the place running. From the warm smiles and laughs of the front desk staff, to the lab technicians who are able to keep a smile on your face while sticking you with needles and taking endless vials of blood, to the medical staff who check your vitals and make sure you are comfortable and laughing, to the nurses who bounce all over the infusion room assisting multiple patients at once, but making you feel as though you are their only patient, to the onsite pharmacists and pharmacy techs who skillfully mix each patients chemo cocktail, to the scheduling crew who ensure you are up to date and informed of the numerous appointments."
Erwin, 44, the Director, Global Corporate Communications and Social Media for CareerBuilder, has documented their entire journey, sharing the good and the bad, which made it easier "because everyone we knew was on the same page and going through the ups and downs with us," he said. "There is no shame in having cancer and by telling Anthony's story, we hope that people think about their health and see a doctor and test themselves to stop cancer in its tracks."
Cozzi said the hardest part of his cancer journey has been the home confinement. "For the most part I enjoy staying active and being around friends," he said. "There were times during chemo treatment where my immune system was too suppressed to be in public places or near groups of people. I had to make sure I was constantly washing and sanitizing my hands. There also were times where I had to wear a mask when I was able to have visitors."
But now that summer is here, Cozzi is ready to enjoy his favorite time of the year, "and I'm so happy that I'm in a physical and mental condition to be able to enjoy it."
Checking For Testicular Cancer:
Testicular cancer can develop in one or both testicles. Most tumors are metastatic, meaning, they have the ability to spread to other organs, such as the lymph system, lungs and brain, leading to serious illness or death.
Testicular cancer is rare, accounting for about 1 percent of all male cancers. However, testicular cancer is the most common form of cancer in men ages 15-35.
Every year in the U.S., an estimated 8,500 men are diagnosed with testicular cancer and 350 die from the disease.
Testicular cancer is one of the most treatable cancers, especially if caught early. If caught at an early stage, before it has spread, the survival rate is almost 100 percent, but if caught at a late stage the rate drops to 74 percent.
For a three-step self-exam, go to:
www.testicularcancersociety.org/testicular-self-exam.html
Tips From Michael Erwin:
Write down questions, and do so before you go to the doctor. A lot of information will get thrown at you and having a list of questions will help you not forgot to ask anything.
Don't keep it a secret – sharing your experience with people will help you get through it. "You will never feel alone."
Keep a journal – it is therapeutic to write down your feelings and is a good way to keep everything organized for doctor's appointments. "When you are going through chemo, every time you see the doctor they will ask you how you are and what changes are you seeing in your everyday life. A journal will help to make sure you don't miss anything."
"If you know someone who is going through chemo, go with them to as many sessions as possible. Support is so important for people with cancer and just sitting with someone for a few hours will make their day a bit easier."