Chicagoan tackles drag, learns in the spotlight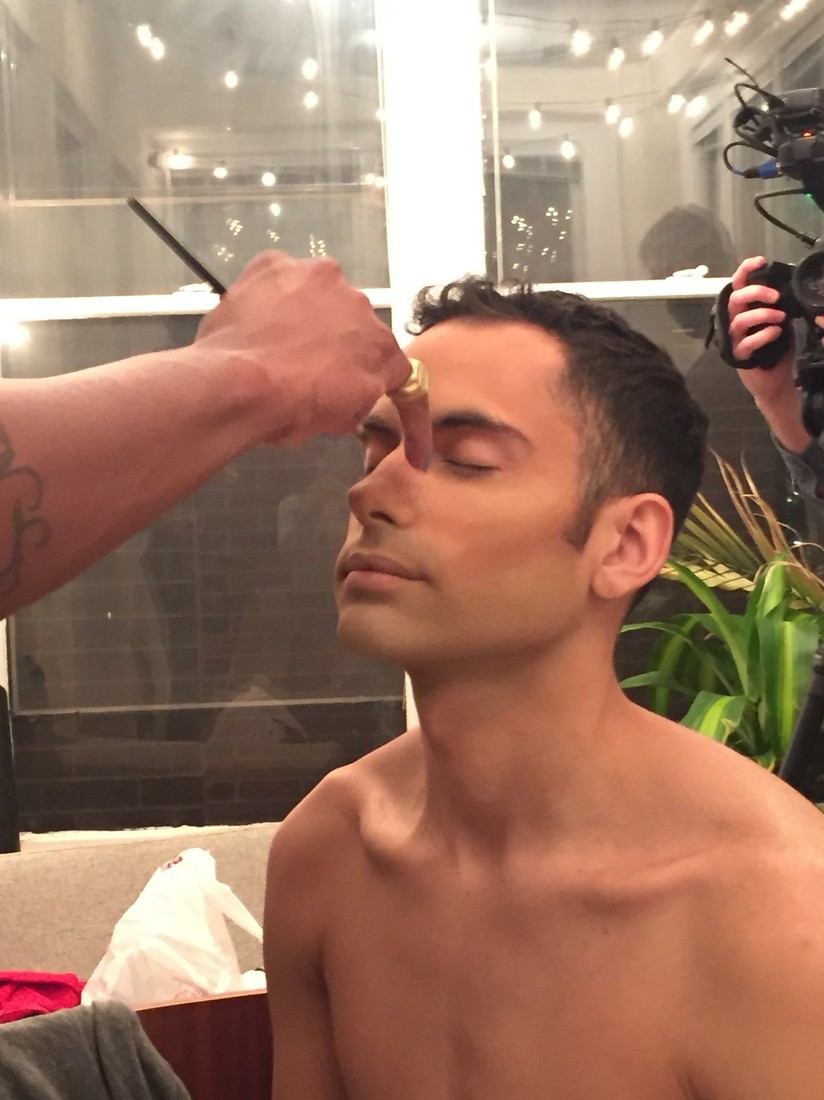 photo credit // michael alexander
During a conversation with a female co-worker, Michael Alexander was told he would "make a beautiful woman."

And so started Alexander's venture into drag, of sorts.

He began research on local drag queens, "realizing early on that drag wasn't exclusively performing," he said. "I wanted to know why individuals in society were drawn to expressing themselves through (female) characters. I then got in touch with Gilbert (Saya Naomi) and asked him to participate in the conversation about drag and what it means to him."

Things took off from there – with a twist.

Alexander, 26, who is openly gay lives in Chicago's Lakeview neighborhood, is a film editor for The Sound. Alexander's move into drag was filmed in The Sound's Chicago office, an apartment, and around Boystown. The launch of The Sound's BLENDER channel, an exploration around modern day gender and the evolution of human identity through Drag Mother, spotlights Alexander.

"Generally speaking, I think drag is trivialized by the mainstream as just a jovial act of entertainment and many times, the deeper societal implications of gender expression and gender fluidity are often overlooked," said Alexander, who admits he rarely watches drag shows.

The preparation for his swing into drag included shaving his body from head to toe, as well as dress/wig/shoe shopping, "and learning as much about drag as I could before I sat down with Gilbert," he said.

"I was very eager with the idea of transforming myself into Brandy. I (also) was very naive on the process, as well as how I would feel once in public."

As Brandy Naomi, Alexander learned that it's hard, a challenge, to put it mildly, "and that like any passion, it takes dedication," he said. "You have to learn how to do makeup, how to walk in heels, keep a shaved body, and fork over a lot of money for clothes and accessories. I also learned that you have to be fearless. There is a lot pressure from society to fit in a gender box, so breaking out of that box and expressing yourself as you desire takes courage."

Alexander chose Saya Naomi as his drag mom, knowing Saya Naomi is "very outspoken."

"She doesn't put up with bullshit and is unapologetic for it, which is also one of the reasons I chose her," Alexander said. "She is real and not afraid to speak what's on her mind. She is fierce and I'm glad she's my drag mother because I wouldn't want to cross her. At the same time, she has a huge heart. She's dedicated not only to drag, but to helping individuals in general find their path and is willing to listen at any moment. Saya Naomi has a ton of love to give and is all around a genuine human being."

Alexander said the best part of doing drag was realizing how similar he and Saya were. "The way our relationship developed felt so organic and raw. I empathized with her struggles and she took me under her wing, knowing I was a bit nervous throughout the process," Alexander said.

The worst was simple, Alexander said: blisters from the heels.

So those heels are now retired, on a closet shelf. "I don't want to say permanently, but I don't have the desire to 'jump in the gig' anytime soon (and) I also don't have the budget for it," Alexander said.

"The toughest, and most unexpected part (of drag), was the mental transition that had to take place," Alexander said. "I wanted to so embody Brandy and express my femininity, but one step into the public, all my insecurity came flooding in. In that moment, I didn't want to be Michael; I wanted to be Brandy, but shedding Michael's insecurities was quite difficult. I wasn't just a gay man now, I was a drag queen. Was I not pretty enough? Did I look stupid? What did people think of me?

"There are two reasons I wanted to do drag and speak with a seasoned drag queen. First, I wanted to understand why people in our society have the desire to express themselves in sometimes hyper-feminine characters and what drag offers to the individual. Gender, sexuality, and identity are commonly lumped together as one in the same, so The Sound Media's Blender channel offers us an opportunity to explore each independently and see where and when they intersect.

"Secondly, I wanted to do drag to fulfill my personal desire to express my gender. As I mention in the video, I was an effeminate child and learned at a young age that expression of femininity in men was frowned upon at a larger societal level. This was an avenue for me to break out of the gender binary norm and embrace an aspect of myself that I was reluctant to express in my day-to-day life as a cisgender gay man."