Artwork of the stars from RuPaul's Drag Race displayed at Sidetrack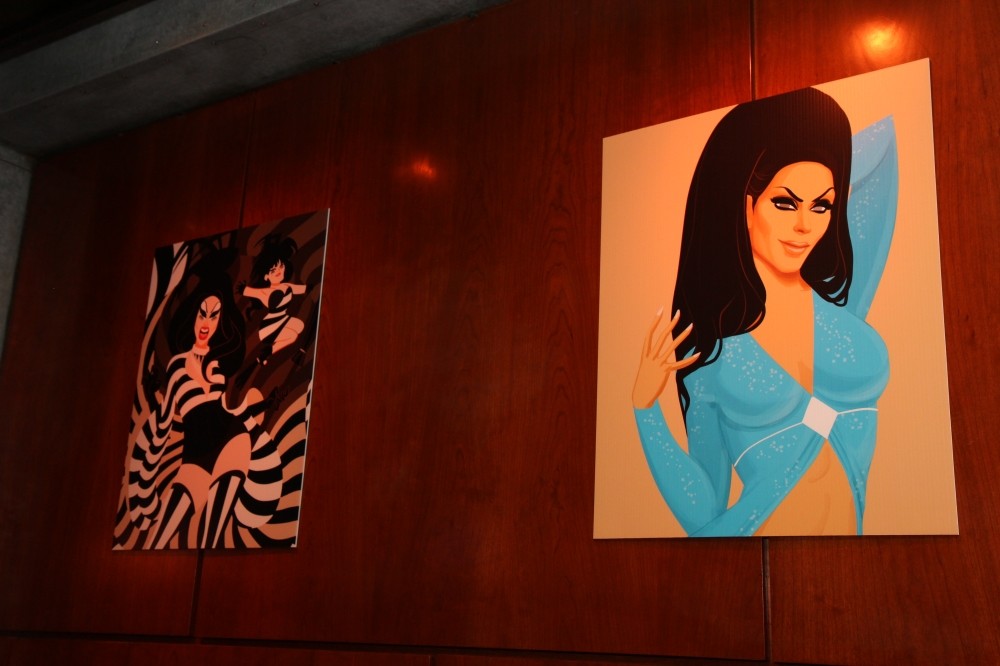 chad sell colorful artwork on display at sidetrack
Boystown bar to celebrate what makes Chicago great – from architecture to artists and beyond
Chad Sell studied filmmaking and fine art in college, yet his true love has long been cartooning. So he started working on a number of his own comic projects and also started drawing his favorite drag queens from RuPaul's Drag Race, starting with Season 3, which began airing in late-January 2011.
"As soon as I saw (eventually season 3 winner) Raja, I was smitten, and I drew her every week of the show," Sell said. "It's continued on since then—I draw my favorite moments and runway looks from each episode of the show and post them online a day or two after it airs."
Sell, 32, who lives in Chicago's Lincoln Square neighborhood and is a self-employed cartoonist and illustrator, uses a clean, colorful style in Drag Race illustrations. "I love the theatricality of the queens' performances, and I'm a sucker for their over-the-top fashion," he said. "I consider queens to be a kind of queer superhero, and I even made a short comic a few years ago featuring some of my favorite Chicago queens as a superhero team."
Sell still draws the Drag Race darlings on a regular basis, including Chicago's own Kim Chi, DiDa Ritz, and Naysha Lopez – and now he's getting a grand, gay setting to showcase his handiwork:
Sidetrack
, the Boystown bar that features fan-filled Monday night viewing parties for RuPaul's Drag Race.
Sidetrack is displaying Sell's jubilant, colorful artwork for several weeks before the bar transitions for Memorial Day/IML and then Pride month in June.
"We are looking to celebrate a lot of great things this summer about Chicago, Sidetrack, and the LGBT community through our décor. Featuring Chad Sell's inspired work is, in a way, the kick-off of summer at Sidetrack," said Sidetrack general manager Brad Balof.
Sell designed a t-shirt for Dixie Lynn Cartwright, who hosts the Sidetrack viewing parties for Drag Race, as well as many other queens from Chicago. "His weekly artwork of the contestants, and local queens is colorful, dramatic and so creative," Balof said.
Sidetrack marketing manager Bryan Smith suggested featuring Sell for this season's finale on May 16, "and from there it was quickly decided to not just feature him at the finale, but to showcase his artwork in the weeks leading (up) to the finale," Balof said.
Sell said he was "really excited" to be approached by Sidetrack. "As a cartoonist and illustrator, I've never really felt comfortable in the fine art scene, and I'm not the kind of artist who seeks out gallery space or exhibitions. But a fabulous gay bar? Yes – that's where my queens belong," Sell said. "Sidetrack has been great to work with, and I couldn't ask for a better venue to showcase my queens."
Sell has drawn eight full seasons of RuPaul's Drag Race (plus All Stars!), thus, it was a "challenge" to narrow down a selection to exhibit at Sidetrack. "But I'm thrilled that we're featuring so many Chicago queens," he said. "I've known Kim Chi from early on in her drag career, and even with her early looks, she was hugely inspiring to me. It's been a constant delight to see her shine so brightly this season on Drag Race and to see her embraced by so many new fans. She'll have one of the biggest and most beautiful portraits at Sidetrack, and justifiably so."
Latrice Royale is another one of Sell's all-time favorites. "Although she inspired a lot of illustrations, my pick for the show was her dazzling lip sync performance from All Stars," Sell said. "Although a lot of my illustrations focus on the fashion or humor from Drag Race, my most powerful depictions often capture their lip sync performances, and it's awfully hard to beat Latrice."
Sell's Sidetrack showing also features his favorite Katya illustrations, "because I couldn't pick just one," he said. "I lived for all the absurd performances, looks, and characters she pulled off last season – I love it when a queen doesn't take herself too seriously."
Sell's Drag Race illustrations are largely drawn digitally on his tablet monitor, and he sends out original postcard sketches every month to his Patreon supporters:
www.patreon.com/chadsell
Sell's work of the queens will be for sale at the Sidetrack viewing party for the finale.
"I've heard from a lot of the Drag Race queens, (who say) that the way I draw them is the way they see themselves, which is exactly what I'm going for," Sell said. "I try not to be shady with my work, to exaggerate a queen's flaws or insecurities – I see my art as a celebration of the creativity and empowerment that's possible in the art of drag."
Dixie Lynn Cartwright will be joined by Chicago favorite Shea Coulee and Season One contestant Jade Sotomayor for the RPDR finale viewing party at Sidetrack on May 16. The celebration will include a performance from hometown favorite DiDa Ritz (season 5).
For more about Chad Sell's artwork, go to:
www.chadsellcomics.com/queenscomic
For more about the Sidetrack, go to the bar's website:
www.sidetrackchicago.com