CMSA spring Kickball Season opens in May, marks final season for Brian Sommer as commissioner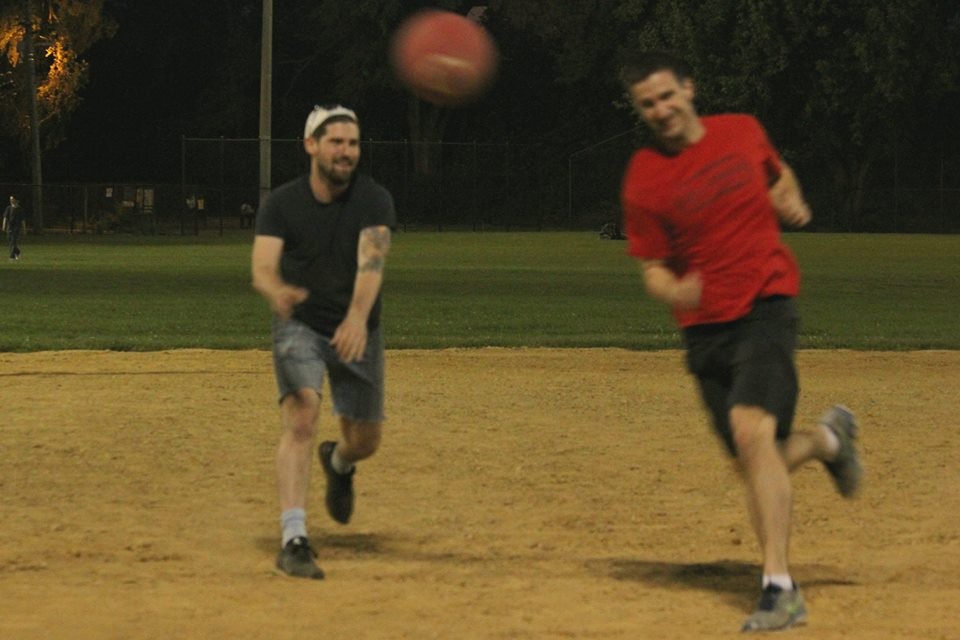 photo credit // brian sommer
Brian Sommer is preparing for the upcoming kickball season, run by the
Chicago Metropolitan Sports Association
(CMSA), which will be his seventh and final season as the league's commissioner.
Sommer, 42, who lives in Rogers Park and is a teacher in Evanston School District 65, is stepping down. He will be replaced by David Rill.
"The highlight for me as commissioner is seeing players coming back season after season," Sommer said. "As for individual stories, what sticks out are the funny moments, like shoes flying off as the ball is kicked, new players laughing when they mess up a play, the teams that dress up for the night, and one team, Bagel Bumpers, that had one of the player's sons dressed up in a mascot's costume."
CMSA co-ed kickball started as an indoor league run by Doug Malm in 2008 at the
Center on Halsted
. After one season, it was moved to Pottawattomie Park as an outdoor league, where it was played for two seasons. The league was suspended in 2011-2012 due to re-grassing and field work. In 2013, kickball was brought back as a spring and fall league, run by Sommer.
CMSA kickball is played at Pottawattomie Park in Rogers Park on Tuesday Nights in May and June, and then Wednesday nights in in September and October. Both seasons start play at 7 p.m.
The league had 10 teams in 2015, and 12 are expected to play this spring. Teams are co-ed and it is truly a recreational sport.
La Cantina DeliciOsos won both the spring and fall leagues last year.
Kickball has one of the highest female ratio of all CMSA co-ed sports. There are straight and gay players in the league. Last spring, out of 150 players, almost 50 were female. Ages of players vary from their early- 20s to mid-50s. Some of the teams/players have been playing since the league was re-booted in 2013, such as Ball Busters and Crew Wong Foo.
Teams are sponsored by local businesses, such as Replay, Crew, and
R Public House
. The league has four referees, including Doug Malm, who started the sport in 2008. He has been a ref every season, and two of the refs are female.
Early registration for the upcoming spring season runs through April with late registration running May 1-15.
The spring season kicks off May 3 and ends June 21. The season ends with a mini-playoff tournament/party. Pizza and cupcakes are ordered for the players and 1
st
-3
rd
place awards are given out. Also, each teams selects two players for MVP awards each season.
The season is seven weeks of regular play, with two games a night per team and the 8
th
week is the playoff tournament.
Each game runs for 30 minutes, for 7 innings.
David Rill's team (La Cantina DeliciOsos, sponsored by la Cantina 1910) is one of the top teams skill-wise. Kayla Cormier's team (Bagel Bumpers, sponsored by R Public House) is always an enjoyable teams to watch; they play the sport to have fun, without question. Kim Shore (from bagel Bumpers) is one of the league's many sportsman-like competitors. "She gives her all every game and is always encouraging others to do their best," Sommer said.
The most athletic team is Fireballers, led by Kevin O'hara and sponsored by The
Lucky Horseshoe
.
"When I started the rebooted league in 2013, I struggled to get 100 players or 8 teams," Sommer said. "Now the league usually consisted of 10 or more teams and 180 players. The majority of teams/players come back season after season because of their enjoyment of the sport.
"I am so glad the players are there to enjoy themselves and socialize with the other teams/players. CMSA surveys its members each year and kickball is one of the top-rated sports due to the fact that the players are having fun and enjoy themselves."
Kickball fun is, though, often impacted by Mother Nature. Quite simply, Chicago's weather is unpredictable.
"Some seasons the weather has been beautiful from week 1 through week 8. Other seasons, players have been bundled up in winter coats with hats and gloves in May or playing with umbrellas over their heads," Sommer said. "In 2014 there were so many weeks with misty rain that I bought all of the coaches' umbrellas at the end of the season as a thank-you gift for putting up with the weather."
Kickball is a flashback for most to their school days, especially at the start of each season. "The first week of each season is a blast to watch," Sommer said. "The new players always comment on how this brings back memories and (they) spend the majority of the games laughing at missing the ball when they kick or dropping a catch. I think the refs and I look forward to the first week most of all because of the pure joy the new players have."
This spring's season includes a new Commissioner Award, as Sommer said he wants to "acknowledge players who have positively contributed to the past 7 seasons of kickball."
Despite stepping down as commissioner, Sommer isn't leaving the sport; he will resume playing. "As commissioner I decided not to play or coach since I wanted all players to feel I was there for them with any questions and concerns," he said. "This decision has led to me spending my time each night of games going to all the teams and getting to know them, which I am very grateful for since I made plenty of new friends. Now I want to get back into playing the game, relaxing and enjoying myself.
"The nicest part of announcing I was stepping down was the number of teams that came up to me and said they wanted me to join their team as a player in the fall."
For more about CMSA's Kickball League, go to https://www.facebook.com/cmsakickball