Let's Get Soaking Wet: New Pride Splash outdoor waterpark party comes to Chicago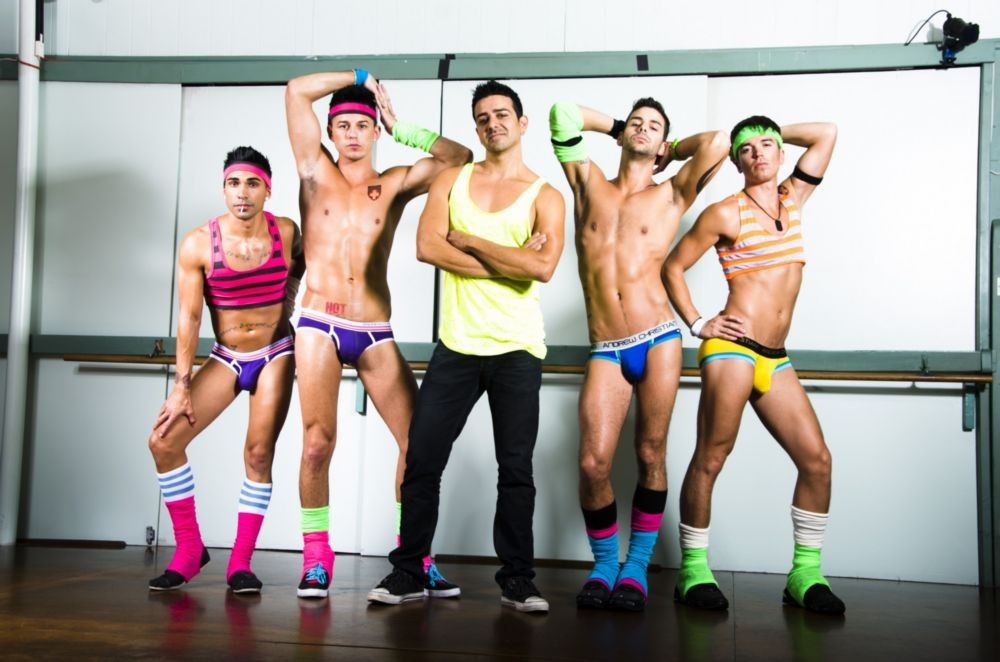 andrew christian brings it to pride splash
The Best Gay Cities duo behind Out in The Park and Heatwave bring a new event to Chicago Pride Week
Chicago, IL -
Update: Six Flags has canceled Pride Splash due to the impending severe weather. The Pride Splash Party with Andrew Christian and DJ Jalil Z continues Monday night at

Scarlet Bar

, 3320 N. Halsted. (Read more)
When the
Northalsted Business Alliance
split the yearly Pride Fest from the popular Chicago Pride Parade they did so for many reasons, including the creation of a "Pride Week" to attract even more tourists to the Midwest's largest Pride celebration. Now in its third such year, Chicago Pride Week is expanding even further with a host of new events, including an exclusive outdoor waterpark party at
Six Flags Great America
's Hurricane Harbor on the Monday after Pride Fest.
"Everyone loved the Heatwave event last November at Key Lime Cove and people were asking why we did not do a summer event at Six Flags main park or waterpark," Michael Snell, one half of the Best Gay Chicago duo responsible for both the Out in the Park and recent Heatwave parties, told ChicagoPride.com.
The problem was that Six Flags' waterpark, Hurricane Harbor, attracts between 7,000-10,000 people a day, plus an additional 15,000-25,000 folks in the main park. For this reason, no corporate or private events are held in in the summer and must instead come after Labor Day when things slow down.
"Six Flags Great America has never allowed anyone to use the waterpark for a private event," Derrick Sorles, Best Gay Chicago's other half, said. "So after several meetings and lots of phone calls with corporate people, and considering we had a track record with them and they saw the success of Heatwave, they were willing to take a chance and offered us the waterpark on a Monday or Tuesday evening in June...So we opted for Monday, the day after Pride Fest ends."
Back before Best Gay Chicago's takeover of Out in the Park, Six Flag's "gay day" was held on the Monday after Pride, which made it easy for industry folks who worked all weekend to come be part of the event. Since the takeover changed Out in the Park into a private event, it was shifted after Labor Day, but Six Flags is willing to give "Pride Splash" a chance.
"So we're bringing back the Monday gay day," Sorles continued. "This is not a 'mix in.' It will be exclusive to us... Since this is the day after Chicago's three day Pride Fest, it'll be a great way to relax and unwind... well... a little!"
Pride Splash (also referred to as Out in the Harbor) ticket holders gain exclusive access to Six Flags Great America's Hurricane Harbor waterpark from 5 p.m. until 10 p.m. on Monday, June 22. Unfortunately, Six Flags can't staff the entire water park for a smaller private party, but a large portion of Hurricane Harbor will be open including waterslides like Wipeout, Dive Bomber and Mega Wedgie, the huge Hurricane Bay and Monsoon Lagoon pools for those more inclined to hang in the sun and even the Surf Rider surfing simulator.
"When the park was built, they never dreamed to be open at night, so hardly any lights at all were put in," Snell said. "The first two to three hours -- depending on where and how the sun sets -- will be about the waterpark things. Once we are under full sunset, we expect the dance area to really be hopping."
The dance takes place in what is described as "Chicagoland's biggest sandbox... 5000 square feet of Hawaiian Tiki Fun." Food and drinks will be available for purchase while the crowd dances to some truly awesome beats. The DJs of Scarlet will open the night, followed by Miami's DJ Jalil Z, a native of Casablanca, Morocco who the Best Gay Chicago duo first heard at one of Chicago's Neverland parties and has also spun at Gay Days, Kingdom and Winter Party. Anthony DiFiore and Martin Luna of Neverland are also involved, supplying go-go gods and their costumes for the evening.
Andrew Christian, the foremost authority on men's underwear, will be on hand hosting the evening "so expect lots of giveaways from him," the duo added.
"We have booked a hot Andrew Christian model and social media personality that is about to make his singing debut soon," the duo gave away when prompted about special surprises and teasers for Pride Splash. "And a very famous New York personality and singer with a full functioning vagina will also perform that evening!"
They also plan to have a drone flying overhead to capture the evening.
Tickets cost only $33, including free parking for the event (but do not include access to Six Flags Great America next door). Links for purchasing can be found at pridesplashchicago.com. You can also purchase your Out in the Park ticket in advance and get both events for a total of $70. The Northalsted Business Alliance is this year's beneficiary.
"We joined Northalsted Business Alliance two years ago and really embrace their vision of making Chicago and Boystown a true destination for Pride Week," Snell said. "We want to help make that happen and want to give money back to the community itself for Pride Splash Out in the Harbor and September's Out in the Park."
Transportation is being offered by A List/Midwest Limo & Transportation for $30 round trip. Interested parties will be picked up in front of Scarlet Bar between 3 and 3:30 p.m. and leave Gurnee for Boystown at 10:15 p.m. after the event ends.
The duo also stressed that Six Flags is essentially taking a chance on this event, so the community needs to get together and turn out if Pride Splash is going to become a regular, yearly event. However, seeing as the first Out in the Park saw over 3,000 tickets sold, it's clear that Chicago's gay community is into this kind of exclusive LGBT takeover event.
"We need 1,501 people to come out and support the event - otherwise it probably will not happen after this," Sorles told ChicagoPride.com. "This is a rare opportunity they have given us, to give it a try."
So don't miss your chance to drink, dance and get all wet at the first ever Pride Splash.