Robbie Ross, wife Brittany, say Christians should love gays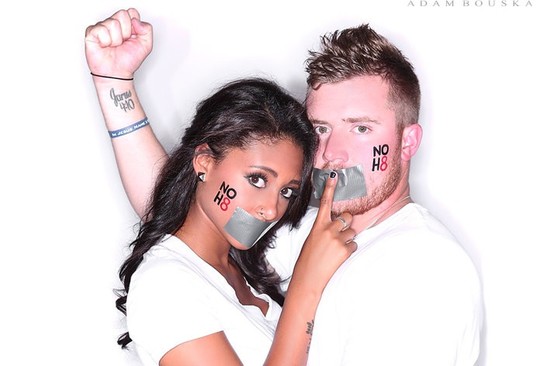 texas rangers pitcher robbie ross with wife brittany
photo credit // noh8campaign.com
Houston, TX - Texas Rangers pitcher Robbie Ross and his wife Brittany have posed for the NOH8 Campaign, which raises awareness for gay rights causes, including marriage equality.
In their photo, the couple showcases their Christianity; Robbie displays two tattoos featuring Bible verses: Mark 9:23, which reads "All things are possible to him who believes," and James 4:10, which reads "Humble yourselves before the Lord, and he will lift you up."
"My wife Brittany and I are Christians," Robbie told
gay sports blog Outsports
, "and we believe we as Christians should love everyone and show everyone love, and if this is the best way to do it, then we want to support them."
Brittany said that using religion to justify discrimination "genuinely breaks my heart."
"We're all human, and we can all take things from the Bible and twist them however we want. ... And I think the world is saying that gay people in the community are OK. Jesus came to love people. He never persecuted anybody. There are a lot of confusing things in the Bible, and I think if anything is confusing and it promotes hate, then you're taking it the wrong way."
She added: "Being gay shouldn't just be tolerated, it should be celebrated that people can embody who they truly are."