Marriage vote put off until session's final day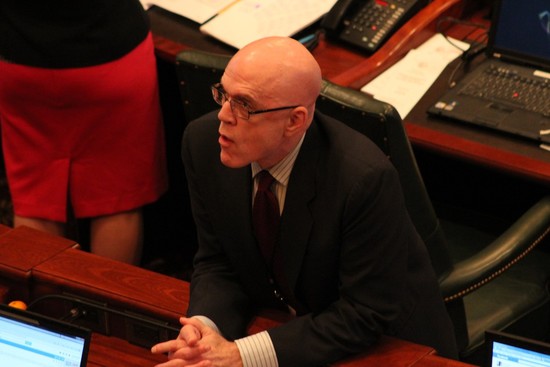 state rep. greg harris (d-chicago), may 30
photo credit // chicagopride.com
Springfield, IL - Advocates spent a long day in the Illinois State Capitol Thursday, but a vote on SB10, which would bring same-sex marriage to Illinois, had yet to transpire by the end of the day.
The bill's sponsor, Rep. Greg Harris (D-Chicago), promised supporters that the legislation would come up for a vote by May 31, the last day of the session. If it is not voted on by then, supporters will have to start over in the next session. Harris and House Speaker Michael Madigan have remained tight-lipped about when the vote is to actually take place.
Members of Illinois Unites for Marriage, the coalition lobbying on behalf of the bill, and other supporters gathered in the late morning at the capital Thursday. But by mid-afternoon, a number of unsubstantiated rumors began circulating about when the vote would actually take place. Coalition members gathered in front of Madigan's office for an impromptu press conference.
"We have less than 32 hours for lawmakers to keep their promise to call the bill," said James Bennett of Lambda Legal. "There are thousands—thousands—of Illinois families around the state who are denied dignity, vital protections and equality every single day. We need the freedom to marry and we need it now."
Bennett was flanked by a number of activists who've worked on behalf of the legislation, among them James Darby and Patrick Bova, and Andy Thayer of
Gay Liberation Network
.
Rick Garcia of
The Civil Rights Agenda
later said the waiting game was par for the course in Springfield politics. "We're moving on the speaker's schedule around here."
But Bennett said the advocates were getting increasingly frustrated with the lack of communication about the vote time. "The fact is, we think it should be called as soon as possible—this has been debated and debated, and they know how their constituents feel by now."
"People are right to be impatient and frustrated with this," added Bernard Cherkasov, CEO of
Equality Illinois
. "This is something many people have been working very hard for."
Bennett was unmoved by the amount of work the House had to do as the session winded down. "We don't have patience for inequality. When they put it off a day, that's a day that a vote they need could be sick or something else could happen. The clock is ticking, and there's real lives at stake."
"We elect lawmakers to address multiple issues at the same time, and marriage should be at the top of the list," Cherkasov said.
ChicagoPride.com will provide coverage Friday. Follow us on Facebook and Twitter.