Illinois families visit Capitol to urge passage of gay marriage bill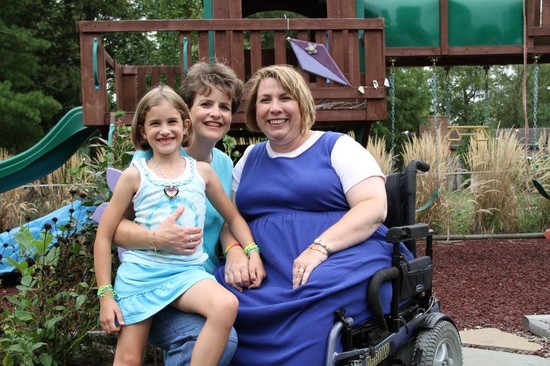 michelle franke and michelle chapell
photo credit // equality illinois
Anti-gay groups hold rally against marriage equality
Springfield, IL - Gay and lesbian couples and their families gathered in Springfield Wednesday to meet with State Representatives and urge them to pass the Religious Freedom and Marriage Fairness Act.
"This legislation is about simple fairness for the thousands of loving families across Illinois," said Rick Wade, standing next to his partner Tim Kee. Wade and Kee have been together for 15 years and live in Marion, in a house built on land that was Rick's great-great-grandparents' homestead. "We are here to have a real conversation with our representatives on this issue."
The Illinois Senate passed Senate Bill 10 last Thursday. The legislation that would make gay marriage legal in the state now advances to the Illinois House where opposition is expected to be more formidable. With a number of representatives still undecided on how they will vote, gay rights advocates say it's crucial for supporters to call their lawmakers.
A number of couples from across Illinois participated in "Family Day," including Michelle Franke and Michelle Chapell of Champaign.
"We have been together for 21 years. Two years ago, we entered into a civil union after getting our license at the Champaign County Clerk's office," they said. "We want our daughter Rose to know that our family has the same legal status as any other Champaign family. We're a unit just like any other family."
Illinois Unites for Marriage – a coalition led by
Equality Illinois
, Lambda Legal and the ACLU of Illinois - sponsored "Family Day."
As supporters of gay marriage gathered, the anti-gay Illinois Family Institute held a rally against gay marriage at the Capitol rotunda Wednesday. The "Defend Marriage" lobby was also promoted by the Catholic Conference of Illinois with the Diocese of Peoria and Rockford busing parishioners to Springfield.
Gay rights advocates argue that momentum is on the side of marriage equality. A new poll released Tuesday by Crain's Chicago Business indicates a majority of Illinoisans support the gay marriage bill, with 50 percent in favor and only 29 percent opposed.
If approved, Illinois would become the 10th state to extend marriage rights to gay and lesbian couples.
On the Web:
Find your Representative
Related:
Contention and inspiration mark Illinois gay marriage vote