Historian: Prominent gay man went down with Titanic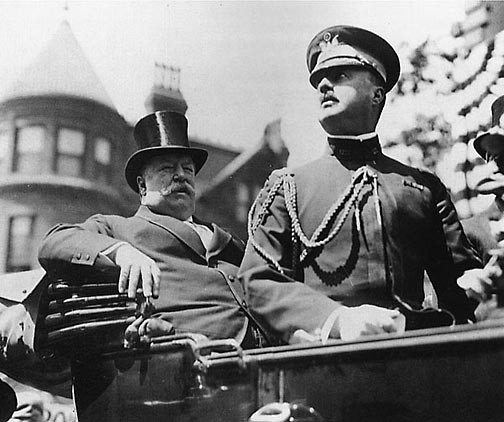 president taft with archibald butt
The North Atlantic - Major Archibald Butt and artist Frank Millet were traveling together on the Titanic and might have been lovers, new research suggests. Both men went down with the ship.
Butt was the unmarried aide-de-camp to President Taft. Millet was a married, Washington-based artist who had at least one documented gay love affair.
"No Damon and Pythias friendship could have been closer than the friendship of Major Butt and Millet," wrote one contemporary whose letter was found by
OutHistory.Org.
"The two kept quarters together and were inseparable when both were in Washington. They lived near the Metropolitan Club, Butt being, as is well known, a bachelor [my italics], and Mr. Millet's family being quartered at his home in England . . . . Among all of us who knew of the close friendship of Major Butt and Mr. Millet there has been the tensest of feeling since the news of disaster to the Titanic reached us."
During this time, "Damon/Pythias" was code for a gay relationship.
OutHistory.org said they couldn't find any direct evidence in any of Butt's correspondence to indicate that he was gay. However, they did cite his unwillingness to get serious with women, his interest in antiques, his many close male friendships (including his friendship with Millet, who actually roomed with him), and his "dandy" behavior as possible indicators.