Baim, Murray reissue call for Cardinal George to resign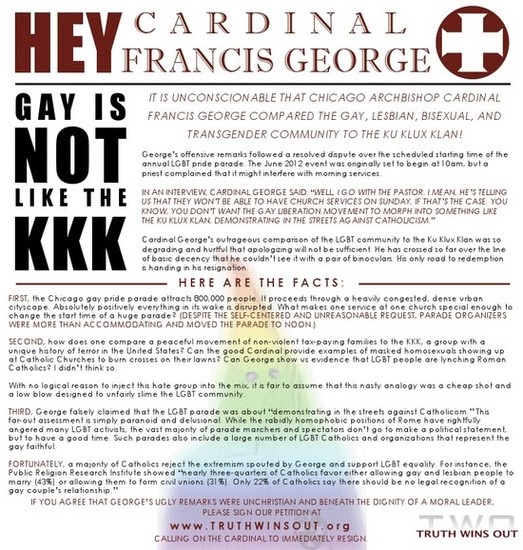 full page ad that appeared in sunday's chicago tribune
photo credit // truth wins out
Tracy Baim: "The Catholic church should not be allowed, tax free, to lobby against my rights."
Chicago, IL - Cardinal Francis George, the head of the Catholic Conference of Illinois and the Archbishop of Chicago, remains under increased pressure to resign as he has yet to apologize for his comments likening gay activists with the KKK.
Truth Wins Out (TWO), a non-profit advocacy group, stepped up its campaign against George with a
full-page ad
in Sunday's
Chicago Tribune
headlined, "Hey, Cardinal Francis George, Gay is not like the KKK."
The ad slams the Cardinal for his comments first made on Dec. 21 during a pre-recorded
interview
with
Fox Chicago Sunday
and televised on Christmas morning.
"It seems the sin of pride is keeping George from saying he is sorry," TWO executive director Wayne Besen said in a released statement. "At this point, the only road to redemption is his resignation."
George further stocked the controversy last week when he again asserted his KKK analogy in a
statement posted
Dec. 27 on the Archdiocese of Chicago website. The Cardinal said organizers of Chicago's gay pride parade "invited" those analogies.
In response to the statement,
The Civil Rights Agenda
not only renewed its call for Cardinal George to issue an apology, but the gay rights group
called for him to resign
.
An editorial published Dec. 30 in the
Tribune
called the Cardinal's analogy "bizarre."
Appearing on
Fox Chicago Sunday
this week, Joe Murray, executive director of the Rainbow Sash Movement (RSM) and
Windy City Times
publisher and executive editor Tracy Baim reissued calls for George to apologize and to step down.
"I do believe that the comments were way out of line, but it's also a continuation of other comments he's made over the years against gay rights issues," said Baim. "This is the end of a long line of anti-gay comments."
Baim, who first called for George to resign in an
editorial
posted on Dec. 23, said if religious leaders lobby government officials on political issues, including gay rights, their churches should pay taxes.
"The Catholic church should not be allowed, tax free, to lobby against my rights," said Baim. "If they want to pay taxes just as secular people do, that's awesome."
Cardinal George and the Archdiocese of Chicago have most-recently clashed with the LGBT community over the passage and implementation of civil unions in the state.
Meanwhile an
online petition
calling for George to resign has garnered over 5,000 signatures since it was launched last week by TWO.