Bull's Noah fined $50,000 for using gay slur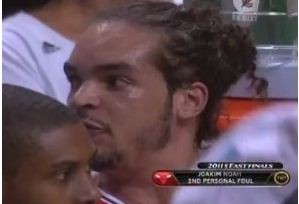 Chicago, IL - Chicago Bulls center Joakim Noah was fined $50,000 Monday by the NBA for directing an anti-gay slur toward a fan during the first quarter of Sunday's Game 3 of the Eastern Conference finals.
About six minutes into the game, Noah committed his second foul of the night.
He sat down on the bench and turned to a fan, saying: "F*** you, f*****t."
The NBA office announced Monday that Noah was fined for "using a derogatory and offensive term from the bench."
"I got caught up, Noah said after the game. "A fan said something. And I said something back. I apologize. I don't mean no disrespect to anybody. I just got caught up."
The Gay & Lesbian Alliance Against Defamation (GLAAD) Chicago Leadership Council Co-Chair Kevin Boyer told ChicagoPride.com, "The NBA has a responsibility to create a safe environment for fans, employees and players and, yes, even fans of opposing teams who heckle players. Noah's non-apology, excusing his behavior by blaming 'frustration,' shows that he doesn't really understand that these kinds of slurs aren't ever acceptable."
The NBA is trying to maintain a no-tolerance policy on anti-gay rhetoric. Earlier this season, Kobe Bryant was fined $100,000 for using the same slur.
On Monday morning GLAAD reached out
to the NBA and the Chicago Bulls to discuss next steps.
"Last month the NBA sent an important message about how such slurs fuel a climate of intolerance and are unacceptable," said GLAAD President Jarrett Barrios. "These anti-gay remarks, coming so soon after, demonstrate how much needs to be done."