Married gay man facing deportation gets reprieve thanks to Obama Administration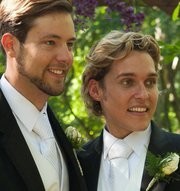 josh vandiver and henry velandia
Newark, NJ - An immigration judge has kept a gay married couple together -- for now -- citing the actions of the Obama administration in a different case involving two gay married men.
Princeton graduate student Josh Vandiver married Venezuelan dancer Henry Velandia in Connecticut last year.
But, the Immigration and Naturalization Service was going forward with Velandia's deportation because the marriage is not recognized by the federal government, and thus he doesn't have a legal reason to stay.
However on Friday, a judge in Newark put a stop to the proceedings because U.S. Attorney General Eric Holder intervened in a case involving a gay American man married to an Irish man on Thursday.
The New York Times
said that Velandia's deportation is now delayed until December while the courts work things out.
House Judiciary Committee Chairman Rep. Lamar Smith (R-Texas) told the New York Times he was furious.
The Obama administration is "coming dangerously close to giving the impression they don't care what the law says," Smith said.