Wisconsin GOP Lt. Governor candidate Rebecca Kleefisch: Gay marriage like 'marrying dogs'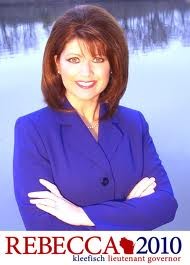 rebecca kleefisch, republican for wis. lt. governor
Madison, Wis. - Rebecca Kleefisch, the Republican candidate for Lieutenant Governor of Wisconsin, said on Thursday she's sorry for comparing gay marriage to marriages with dogs, tables or clocks.
Months ago, during an interview with a Christian radio station, Kleefisch said the state should not give benefits to state employees' domestic partners.
"[The State of Wisconsin] can't at this point afford to just be handing out money to anyone," she said. "This is a slippery slope. At what point are we going to OK marrying inanimate objects? Can I marry this table, or this, you know, clock? Can we marry dogs? This is ridiculous."
On Thursday, after being targeted by protesters at UW-Waukesha, she issued a new statement.
"My comments were meant to relay my concern with redefining marriage," the statement read. "I never intended to sound insensitive and have the utmost respect for all people. I apologize for my poor choice of words."
Kleefisch is a former morning anchor for WISN-TV in Milwaukee.
Her gay uncle, Chris Pfauser, told the
Milwaukee Journal-Sentinel
that Kleefisch had been friendly with him until she got political aspirations.
"I don't feel she is qualified - even less qualified than Sarah Palin would have been for the VP role," Pfauser told the Journal-Sentinel. "At least Sarah had some government experience. Becky has been a journalist and to my knowledge never managed a person in her life, needless to say a state and thousands of state workers."