Chicago's Jaime Adrian is back at the mic delivering a catchy message to haters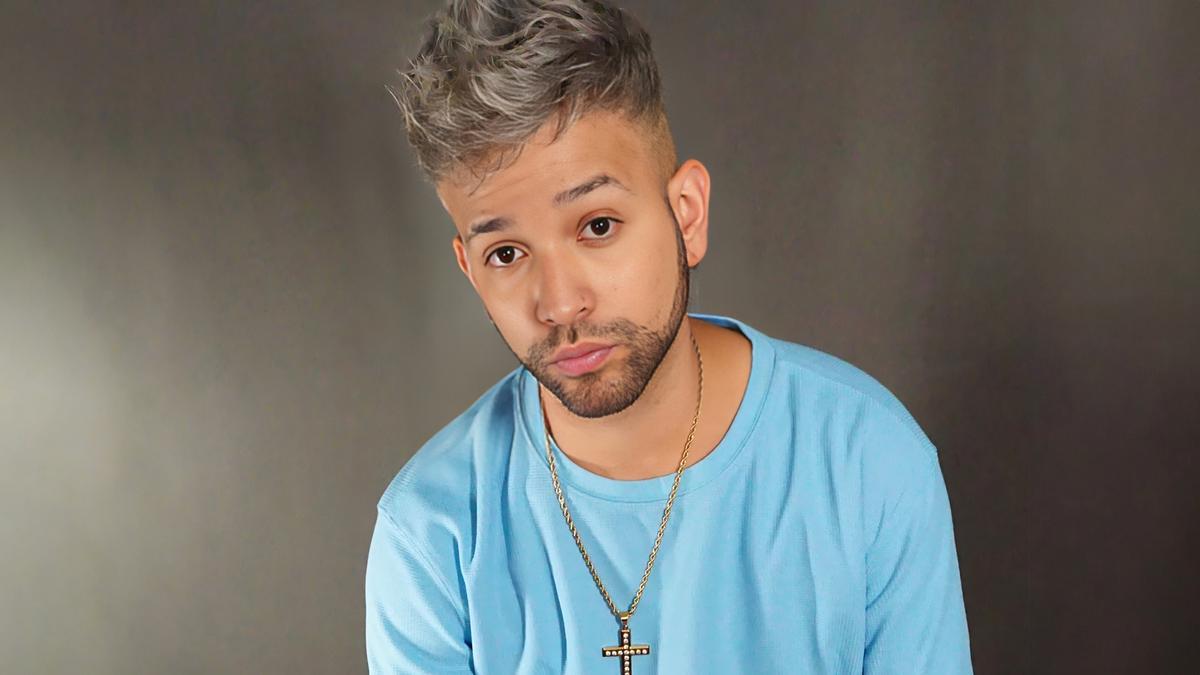 photo credit // francisco lopez
'…anyone who thinks they can silence us can suck it,' Jaime Adrian says of his latest single 'Lollipop'
Jaime Adrian is back, microphone in hand, bringing his distinctive style and sound – with a very direct message.
"Lollipop" is the first single release from Adrian's upcoming album as the out, Chicago-based artist claps back at haters who have long tried to silence him, including The X Factor judge L.A. Reid who called Adrian's performance on the FOX-TV show "horrible karaoke."
Adrian long, trying journey started long before The X Factor, though.
"A lot of the bullying that impacted me happened in school," said Adrian, who grew up on the east side of Chicago and went to high school in Whiting, Indiana, before graduating in 2005. "If you didn't blend in, you were picked on. I 100 percent didn't blend in. I was a boy who hated sports, didn't smoke or misbehave, listened to pop music and wanted to dance all the time. All my friends were girls and guys didn't like that, so they found anything and everything to make fun of me. As I got older the bullying got specific to me being gay, (though) I was OK with it by that point because I knew about Boystown and that I there was life outside of high school."
He endured bullying at home, too.
"My lowest points were when certain family members – specifically, one person – made it their mission to make sure that I knew I wasn't welcomed and they didn't want me around," Adrian said. "I didn't care that he hated me; I cared about the scenes he made that made other family members upset. 
"Bullying in the gay scene is also a huge thing people don't really talk about. Back when I cared people always wanted you to choose the box you fit into immediately and to this day I don't fit in a box. I am the weirdest, goofiest person you (will) meet. My friends of over 20 years still get shocked when they find out different things about me. I thought gay only had one certain way, but luckily, I'm a stubborn person and didn't give into any of it. Not from school, family, or other LGBTQ people."
Now 36, Adrian lives in East Lakeview, aka, Boystown and for four years has been a bartender at
Sidetrack
. "Lollipop" is Adrian's catchy, upbeat sound that, he hopes, will inspire others. "No one is alone; we're in this together.  And anyone who thinks they can silence us can suck it," he said. 
With its dark Latin/reggaeton pop beat, "Lollipop" has a different energy and vibe than Adrian's previous records. "Lollipop" is in-your-face, period. "It's a different kind of anthem that it is meant to make everyone wanna go right up to their bully and snap their fingers and sway their hips," he said.
"People are just mean for no reason, like going out of their way to make sure they talk bad about you until someone agrees. I was over it. I work extremely hard to make this music career happen, so I wasn't going to tolerate the hate anymore. There was a specific day when the negativity became too much, and I called my sister; her kids were screaming and I mentioned something along the line of giving them a lollipop so they could shut up and stop being annoying.
"That's how the song writing process began.
"Velvet Code created this cool Latin beat for me to write to. It was slower and had a chill sexy vibe to it. I really wanted the sound to be something that slips off the tongue. I wanted it to feel cool, like unbothered by the people who hate on you, kind of like when you know you're right and you're telling them with confidence."
Adrian added: "My singing style is different. I am influenced by so many genres of music, from Euro pop to Latin pop to country pop. My (upcoming) album goes into even more genres of dance pop. I've also learned to embrace the quirks of my singing style. The stuff people made fun of me for is what got my label's attention." 
Adrian flew to Kansas City for The X Factor and was the first person in line for season two auditions of the televised competition show. He arrived with a blue mohawk, claiming to be the male Britney Spears. A few weeks after performing for the preliminary judges, he learned he had made it to the live show auditions. "When I got to the arena, I was told by a producer to speak only to Britney and serenade her with one of her own songs," Adrian said.
He sang a signature Spears song, though out of vocal register.  
L.A. Reid called Adrian's performance horrible karaoke.  
Music manager Louis Walsh questioned why he would dare insult Britney by obliterating one of her songs. Demi Lovato was the only judge to come to Adrian's defense, telling him that he was a good singer but that it was the wrong song for his voice, which he knew … but he only attempted it because the show's producer told him he had to.
"I learned that day that competition shows like The X Factor aren't interested in making my dreams come true, they're about making good TV for viewers," said Adrian, tricked by the producer into making a fool of myself for a funny soundbite. 
He spent the rest of the day crying in his hotel room from embarrassment.
He stopped singing after that. "Once again, I allowed bullies to silence my voice," Adrian said.
It wasn't until 2020 when he moved back to Chicago, met producer Velvet Code, and signed with the music label, So Fierce Music, that Adrian began to find his voice again. "With Velvet's help, I have been able to discover the kind of artist I want to and can be. I've become comfortable with who I am and what I have to offer," Adrian said.
My Kind Of Town
Adrian was a regular at Sidetrack before he joined as a bartender.
Sidetrack is a perfect fit for Adrian.
"Knowing the way (Sidetrack) owners feel about our community and what they do makes my love for that bar even stronger," Adrian said of Art Johnston and José Pepe Peña. "They have paved the way for us to succeed as a community."
Adrian also visits such local bars as
Cell Block
, Replay and Roscoe's.
"I think the Chicago LGBT scene is the absolute best," he said. "I've been to many places, but Chicago is the most carefree and diverse. Yes, you get your typical entitled person here and there, but that's everywhere. Good thing about Boystown and the industry is that we don't tolerate any kind of hate."
Singing Sensation
The X Factor is still Adrian's favorite singing show.
"I wish I had the confidence and knowledge I have now. I'm not mad (at the show) anymore," Adrian said. "Even though it didn't go the way I hoped, it was an experience not many people will ever have. I got to sing a Britney Spears song to Britney Spears."
Admittedly, though, Adrian was "a mess" after his X Factor disaster.
"I thought I really was a bad singer and that everything people told me was true," he said. "I didn't want to do it anymore and if I did sing here and there and people complimented me, I instantly got defensive and thought they were making fun of me or just lying to make me feel better. I developed a weird complex toward compliments."
Adrian was certain his singing career was done.
"I was getting older and didn't have the drive I had when I was younger. Life is already hard, I didn't want to put myself in a situation where people were going to tell me I wasn't good enough," he said. "During (the pandemic), we all had some time on our hands and I discovered this singer I saw on Eurovision. I looked up his music and found a male artist who did the kind of music I wanted to do. From his style to performances on stage, that really woke me up to the thought that I could do this. I started recording demos and that's when I crossed paths with Velvet Code."
Adrian is now driven to complete his album and plan a tour. "My long-term goal is to become a well-known international artist who has a platform to affect people in a positive way," he said. "Before music I wanted to be a social worker, but I think (through singing I) will be able to reach more people than I can possibly imagine."
Adrian is very direct when talking to others who have been bullied or wronged: you are not alone, he said.
"If you need help, ask for it and don't stop because one person doesn't care," he said. "I didn't have anyone to reach out to with most of my issues, so I reached out to myself. I did my own research and tried very hard to solve my own problems, but that's me and that's how I did it. I know it's easier said than done, but just ignore the BS."
Adrian will perform at Greater Palm Springs Pride, Nov. 2-5
Jaime Adrian's "Lollipop" is being distributed by So Fierce Music/The Orchard/Sony Music Entertainment and is available on Apple Music, Spotify, and 
all digital platforms
. 
Visit 
https://linktr.ee/jaimeadrian
.