Chicago regular DJ X-tasy spinning for the sixth time at Market Days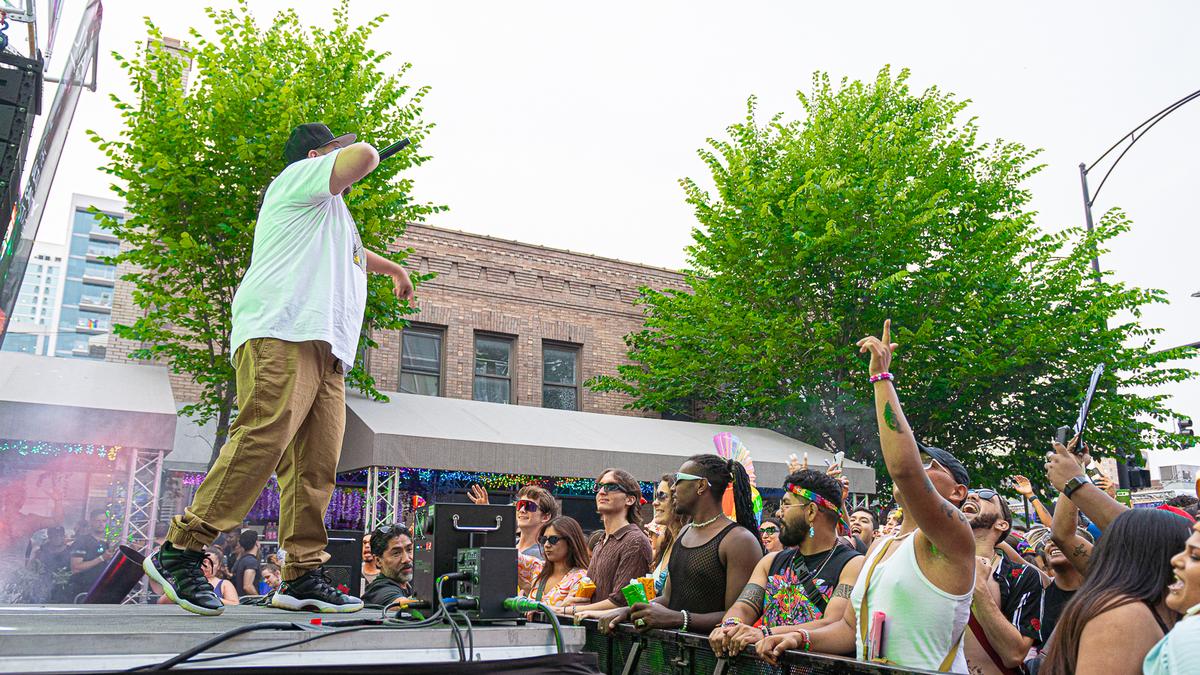 dj x-tasy at chicago pride fest 2023
photo credit // christina cortez
'What stands out about Chicago parties is, the energy and the vibe,' says DJ X-tasy
Julio Gomez, aka DJ X-tasy, a regular spinning at multiple clubs year-round in Chicago, is set for his sixth set at Northalsted Market Days. He kicks off the sounds Saturday, August 12
th
at 12noon on the Nissan Partners of Progress Stage in the heart of Boystown, at Halsted & Roscoe Streets.
"I'm excited and nervous," Gomez said.
DJ X-tasy, 36, has more than 20 years of experience, having started as a mobile DJ.
"My older siblings were mobile DJs and I was 8 or 9 years old when I first saw DJ equipment … I was amazed," he said. "I would go to their room right after school and play with (their DJ Equipment). I would have 90 minutes to use it before one of them would arrive from work."
His first DJ gig was at Sangria for Wild Thursdays, which was the biggest 18+ LGBTQ+ night in Chicago. "I was extremely nervous because I knew how big this party was and in the past I tried and tried to guest DJ at all these straight clubs, but I wouldn't get the opportunity to showcase my talent," he said. "Once the opportunity was available, I took it and did the best to impress the crowd."
Flash forward to 2023 and DJ X-tasy is ever-present in Lakeview. Just consider where his sounds can be heard:
- Wednesdays at
Progress Bar
for Snatched.
- Thursdays, he promotes his own night at Progress called "Flow," an urban/Latin party. 
- Friday nights, he promotes another party called Efecto at Fantasy Nightclub.
- The first Fridays of a month, he plays in Indianapolis.
- The second Fridays of a month, he's at Replay for Freestyle Fridays, dedicated to freestyle, house, new wave, disco and more.
- Saturdays, there are multiple clubs he may be at.
- Sundays, he's starting an after-brunch party at Replay called Sindustry Sundays, dedicated to industry service people who want to party and have a drink after a busy Sunday brunch.
- Sunday nights, he's at Charlie's Chicago for Latin Night.
Chicago's LGBTQ calendar is on GoPride.com
"My favorite past Chicago gig has to be this past Pride Fest. The way I got out of my comfort zone and went straight to stage and had people sing-along with me was an experience like no other," X-tasy said. "What stands out about Chicago parties is, the energy and the vibe. In fact, when I'm DJing in Indianapolis and they mention where I'm from, the people get super excited."
X-tasy said his memory bank of Chicago parties is overflowing. For instance, the first time he DJ'd at
Hydrate Nightclub
– "that was the first bar in the neighborhood that saw me grow into the DJ that I am today." He also recalls his Market Days debut, especially meeting some of the iconic performers.
"I have so many (memories), but when Lil Nas X came to my party at Progress Bar … he was so humble and kept complimenting my DJ skills," X-tasy said. "Every party that I DJ has a different vibe. I love music and it shows when I DJ. You can expect a day/night to remember. My style is very open format. I could rock almost any crowd, no matter the age or genre of music."
NOW SPINNING … DJ X-tasyInspiration:
"My kids and my parents play a big role here. The people who support me also give me a reason to keep pushing myself. Most importantly, me. I am my biggest critic and every time I DJ, I think like it is the last gig of my life, so I give it my all. 
Favorite DJs:
"I have a lot of favorites, but some who I always see making some noise are DJ Meg and DJ Martin, to name a few." 
Three DJs To Watch:
DJ Martin, DJ Ca$hera and Miss Toto.
A Good DJ:
"What makes a good DJ is someone who can control a crowd. Having the hottest new music, remixes, edits, etc. doesn't make you a good DJ. Being able to blend or scratch perfectly doesn't make you a good DJ. All those things are just tools that can help you perform better. If you can't keep a crowd on the dance floor, then you need to try and figure out what you're doing wrong. A DJ can make, or ruin, your party." 
Fond Memories:
"One of my all-time favorite gigs has to be Sunday Funday at Hydrate Nightclub. We started this party in 2014 with one bartender, one door person, two go-go dancers, the manager and me as the DJ. Seeing this party evolve was amazing. I was able to bring my creativity; I'm proud of that."
Drinking In The DJ Booth:
"My go-to is Tito's Soda and tequila shots."
Favorite TV Show:
That 70s Show
Favorite Movie:
All of the Fast and The Furious editions
Favorite Sport:
Soccer
Hobbies:
"I like to spend time with my kids and loved ones, cook, eat and sleep."
Little-known Fact:
"I love to dance."
If I Wasn't a DJ:
"I would probably be a teacher or a district manager."
Boxers or Briefs:
Boxer-briefs.
Follow DJ X-tasy on Instagram.
Related: 
Meet the DJs bringing the music to Market Days Weekend
Chicago's LGBTQ calendar is on GoPride.com