Chicago's LGBTQ community energized after a month of celebration and reflection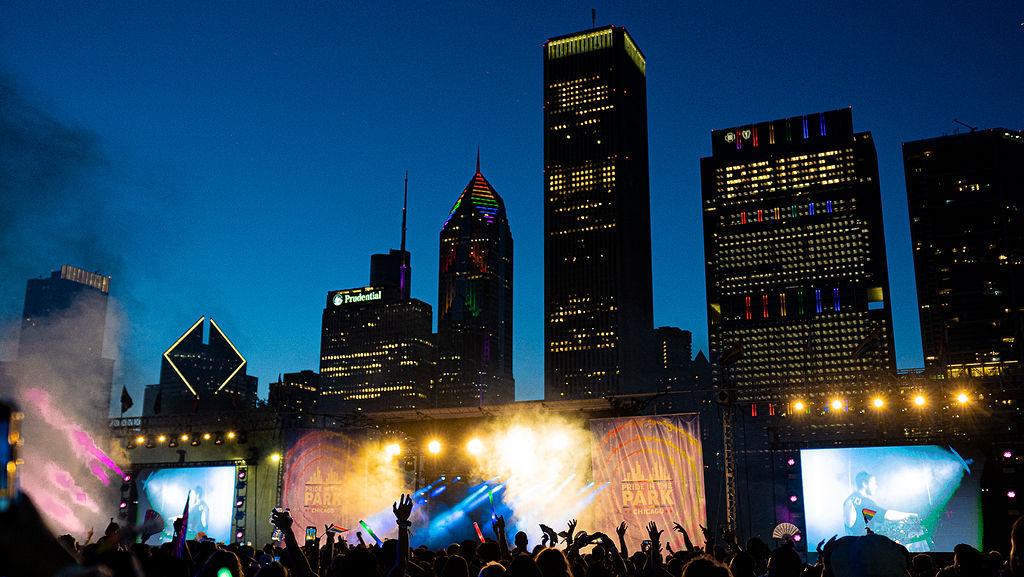 pride in the park chicago, 2023
photo credit // christina cortez
'It was a great chance to galvanize and energize for the battles that our community continues to face…' says Brad Balof of Sidetrack
The 30-day party that is Pride Month wrapped Friday night, so now the local LGBT focus shifts to the 41st Northalsted Market Days (August 12-13), the largest street festival in the Midwest with live music on five stages and thousands of revelers enjoying sunny days and nights on the streets of Lakeview commonly called Boystown.
"Pride Month 2023 was a great celebration all month long, of all of the things that make our community strong," said Brad Balof, general manager of
Sidetrack
. "It was a great chance to galvanize and energize for the battles that our community continues to face throughout the country in the face of anti-LGBTQ, specifically anti-trans, laws. 
"What stood out to me this year was that we needed to return to what Pride was born out of, which was standing up for ourselves and our community in the face of adversaries who wish to take our rights from us."
Balof said his personal Pride Month highlight was celebrating the Art + Pep documentary, which premiered on the streaming service Peacock. He also praised Professionals Do Pride, organized by Dan Ingram. This event raised $19,000 for TPAN. 
"The Chicago Police Department, specifically, the 19th District, did a great job (keeping) the Northalsted District safe during the parade (on Sunday, June 25) and after the parade overnight. I know a lot of officers worked long shifts and overtime to help make this happen; I am grateful for their work."
Paul Cannella of
Scarlet Bar
knows the joy that is Pride Month and its deeper meaning. "It's important to recognize folks who have paved the way (for) a safe environment for others, (particularly those) who live in small towns, or less safe places, (so they have) a chance to celebrate."
He added: "I'm a little shocked how the polarization of America has hit the gay community. While I admit the additions of letters (and numbers) to LGTBQIA2S+ can be a little overwhelming, however someone identifies, they're still in the community. To hear gay people openly distancing themselves from anyone other than LGB is a little sad.
"Be kind … united we stand, divided we fall."
Related: 
View thousands of Pride Month photos
Dusty Carpenter of Dreambrite Presents enjoyed the celebrations that filled the month, particularly the last two weekends, but the overall meaning of Pride was not forgotten.
"The entire LGBTQ+ community is under attack; we are realizing that the gains of our past do not ensure our rights in the future," he said. "The community had so many amazing speakers who helped get people focused on the fight ahead, and the importance of working together. We must remember now more than ever (that) Pride started as a protest. Let's celebrate who we are but remember to 'Party with a Purpose.' We are not celebrating just to have fun and enjoy being our true selves, but also to represent our community and show that we are here to stay, and to give hope to the LGBTQ+ youth of the future."
Personal highlights in June were plentiful for Carpenter, who spearheads the annual Pride in the Park extravaganza.
"It's always a great joy to help curate events that bring national and international talent together on the same stage with some of Chicago's best performers: from DJs to our amazing drag community," Carpenter said. "From Ca$h Era and Diox closing out PrideFest on the Waveland Stage, to our drag performers on stage closing out Pride in the Park with Saweetie, it was a special month of community and celebrating together. If I did have to pick one moment, it would be when Zedd went on stage at Pride in the Park. He is an artist who has been a personal favorite of mine for a long time, and to see him headline Chicago Pride and the crowd have an incredible time, that was special."
Los Angeles-based singer Nick Osin made his debut in Chicago at Pride Fest. He spotted "so much love, unity and energy in the air … my 30-minute set went by so fast; it felt like it was 5 minutes."
Related: 
Nick Osin was all smiles at Chicago Pride Fest: 'So much love'
Osin said his Pride Month highlights were traveling, performing, and more.
"I think it's amazing that with all of the setbacks and peril in the world, our queer community still finds the strength and love to celebrate each other," said noted Los Angeles-based singer David Hernandez. "We show up every single time in more numbers with more tenacity and persistence. It's a reminder that we aren't ever going anywhere. We've always been here and no matter how hard the hate hits, we will always remain. Even with their boots on our necks, our heels cut deeper."
Hernandez was a special guest this year at El Paso Sun City Pride in Texas and at Rhode Island Pride.
"What always stands out to me (about Pride Month) is how the crowds get younger and younger every year. It's another reminder that our youth won't be ignored. They're more aware with every generation and willing to stand and fight for equality," Hernandez said. "The highlight for me (in June) was curating an entirely new show with my two incredible dancers and taking them on the road. It's been so incredible to perform and give back to my community."
Matthew Harvat
, of Chicago-based CircuitMOM Productions, celebrated Pride in three other cities besides his hometown. He also enjoyed the "truly electric" energy in Philadelphia, Indianapolis and Detroit. "All had an amazing sense of community, which I feel is in response to the avalanche of hate-based legislation happening across the country," Harvat said. "We are not going to stand for our basic rights being taken away and I felt that determination at every one of our events."
Harvat said his personal Pride Month highlight was performing for the first time in Philadelphia.
"Getting the legendary duo of DJs Chris Cox and Barry Harris of Thunderpuss to reunite and spin our Love Revolution party here in Chicago … it was a dream come true and they blew up our dance floor with their phenomenal set," Harvat said. 
Brad Gebbia of
Hydrate Nightclub
was working his 17th Pride and this was his 20th Pride.
"Pride Month was here and gone in the blink of an eye, it seemed," Gebbia said. "It came up so fast, and yet we had two of the smoothest weekends. I look forward to helping book some of the best drag entertainers for Pride Fest and then the team we have at Hydrate has been nothing but the best team through Pride month.
"We all need to remember why we celebrate Pride and the history behind it. Keep educating people on history and give credit to the generations before us who fought back and the generations now who are continuing to fight. Pride is just not about drinking, getting to party at all these events, and having a parade. Pride is that we can do these things openly.
"It's that fight that we keep fighting for who we are and taking pride in who we are as a community. Fighting for those who are afraid to speak up. Fighting for those who are unable to fight. We are here and we are not going anywhere because one thing is for sure, most of this world can't live without us."
Chicagoan Michael Snell said Pride in Chicago seems to get bigger every year. "It's so great to be downtown and see all the corporations flying the Pride flags," he said. "Chicago is a great place to be gay."
OUT IN THE PARK, the annual LGBTQ night at
Six Flags Great America
in north suburban Gurnee on September 9th, features a "safe space for everyone to be who they are," Snell said.
Chicago's LGBTQ calendar is on GoPride.com