Chicago Pride Fest announces entertainment lineup for 2023 event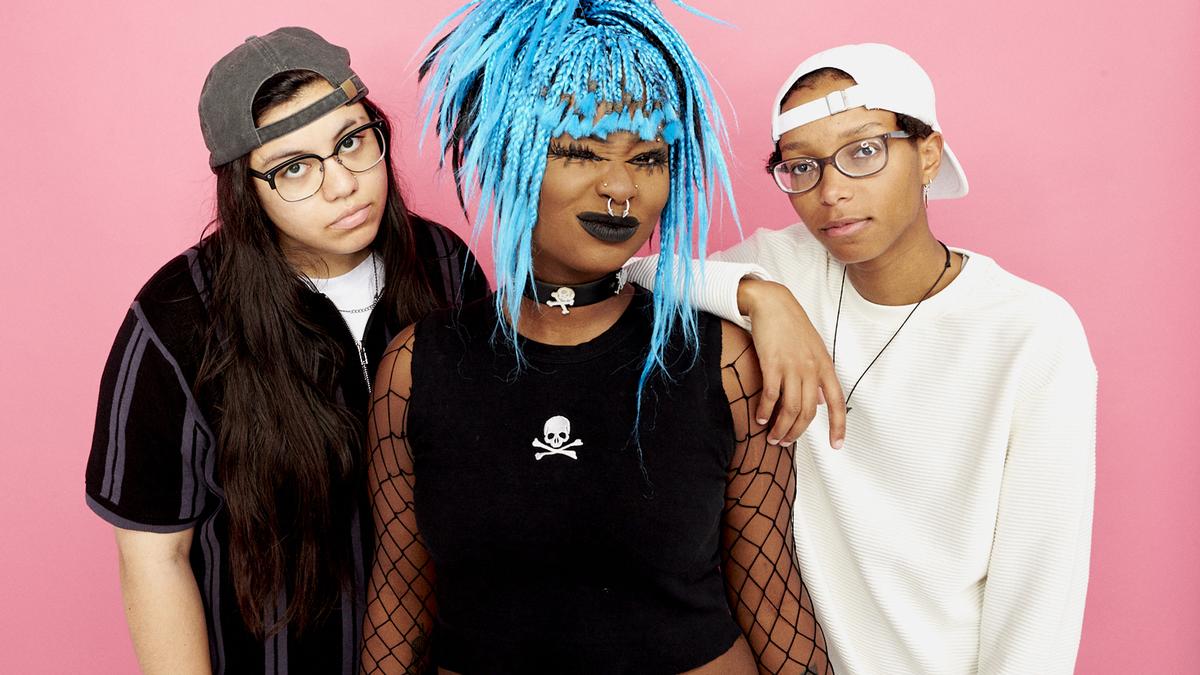 meet me @ the altar headlines 2023 chicago pride fest
photo credit // northalsted.com
The June 2023 lineup includes Heather Small (M People), Slayyyter, Meet Me @ The Altar, JORDY, and Eureka O'Hara (full lineup below)
Nearly 60,000 people will flood North Halsted St. once again for Chicago Pride Fest on June 17 and 18. Organizers Monday announced the official lineup. 
The two-day street festival turns the iconic LGBTQ neighborhood into one enormous pride party with 2 entertainment stages and a dance music stage featuring some of Chicago's favorite DJs and drag queens. 
"We come together in June to celebrate community and uplift each other in the struggle for equality and human rights," said lead event organizer, Mark Liberson. "Despite decades of progress, the need for Pride has not lessened, as outright attacks, especially on transgender and BIPOC members of our community, are ongoing."
Heather Small (M People), Slayyyter, Meet Me @ The Altar, JORDY, and Eureka O'Hara are among this year's headliners organizers confirmed to GoPride.com on Monday. 
Heather Small (M People) went solo in 2000, carving out her own musical triumphs too. Last year, Heather released her first solo LP in 16 years, Colour My Life.
Slayyyter has developed an icon status in gay and "Slay" culture for her sultry, gleeful lyrics over hyperpop production and seamless internet presence - after getting her start on SoundCloud. 
Meet Me @ The Altar is a three-piece high-energy pop-punk band consisting of singer Edith Johnson, guitarist/bassist Téa Campbell, and drummer Ada Juarez.
Viral singing sensation JORDY, who hails from Northbrook, is piling up north of 100 million career streams and earning multiple nominations. Following his sold-out show at the famed Troubadour in December, JORDY is now out on a U.S. tour. JORDY's highly anticipated sophomore album BOY, will be out Friday, April 21. 
Other artists on the Bud Light North Stage include Nick Osin, Shab, Ultra Naté, Ariana and the Rose, Dancing Queen: An ABBA Salute and Ultrabeat.
Chicago Pride Fest's South Stage Saturday lineup showcases local favorites: Sixteen Candles, Too Much Molly, Hello Weekend, and more. Sunday programming by Peach Presents features BbyMutha, Cookiee Kawaii, The Vixen's Black Girl Magic and others.
The Youth Pride Space, which debuted last year,  returns for both days. Programming for attendees age 13-18 will include speakers, entertainment, activities, a dance area, food and beverages, and counseling resources.
The annual pride event is organized by the
Northalsted Business Alliance
, the neighborhood's chamber of commerce, and takes place the weekend before the 53rd annual Chicago Pride Parade on June 25. 
A $15 suggested donation at entry helps pay Chicago Pride Fest performers, event workers, and funds community programs. Generous public donations paid for the Chicago Pride Crosswalks: 14 rainbow-paved neighborhood intersections make up the longest installation of its kind in the world. 
Chicago Pride Fest 2023 Schedule:
Bud Light North Stage
Saturday, June 17, 2023
1:00pm - Pride Fest Drag Show
2:00pm - Eureka O'Hara
2:30pm - Pride Fest Drag Show
3:45pm - Servin' Fysh Dance Co.
4:00pm - Meet Me @ The Altar
5:00pm - Ultrabeat
6:45pm - Pride Fest Drag Show
8:00pm - Shab
8:30pm - Nick Osin
9:15pm - Heather Small (M People)
Sunday, June 18 2023
12:00pm - Proud Pet Parade with
Miss Foozie
1:00pm - Pride Fest Drag Show
2:00pm - Slayyyter
3:00pm - Pride Fest Drag Show
4:00pm - Ultra Nate
5:15pm - Dancing Queen: An ABBA Salute
6:50pm - Pride Fest Drag Show
8:00pm - Ariana and the Rose
8:45pm - JORDY
South Stage
Saturday, June 17, 2023
1:00pm - Chicago Gay Men's Chorus
1:45pm - Chicago Spirit Brigade
2:30pm - Bev Rage & The Drinks
3:30pm - Firebrand
4:00pm - Hello Weekend
6:00pm - Too Much Molly Band
8:00pm - Sixteen Candles
Sunday, June 18 2023
12:30pm - Chicago Spirit Brigade
1:00pm - Proud Pet Parade w/
Miss Foozie
, Awards
1:30pm - Lakeside Pride
Peach Presents:
TBD - AZN INVZN ft. Chess Knight+Supes Base
TBD  - Bonita Appleblunt
TBD  - BbyMutha
TBD - AZN INVZN ft. Chess Knight+Supes Base
TBD - Cookiee Kawaii
TBD - C*nty Meme
TBD - MochaMocha2.0 Presents: The Body Confidence Queens
TBD - The Vixen Presents: Black Girl Magic
Waveland  Stage
Saturday, June 17, 2023
1:00pm - Barker
2:30pm - Miss Toto
4:00pm - Martin
5:30pm - Alexis Tucci
7:00pm - DJ Bryan
8:30pm - Ca$h Era
Host - Sasha Love
Sunday, June 18, 2023
11:00am - Radio Show
1:00pm - Janky
3:30pm - Chomper
5:00pm - Dom Brown
6:30pm - DJ Xtasy
8:00pm - DIOX