Happy 40th Sidetrack! 40 fun facts about Chicago's oldest LGBTQ bar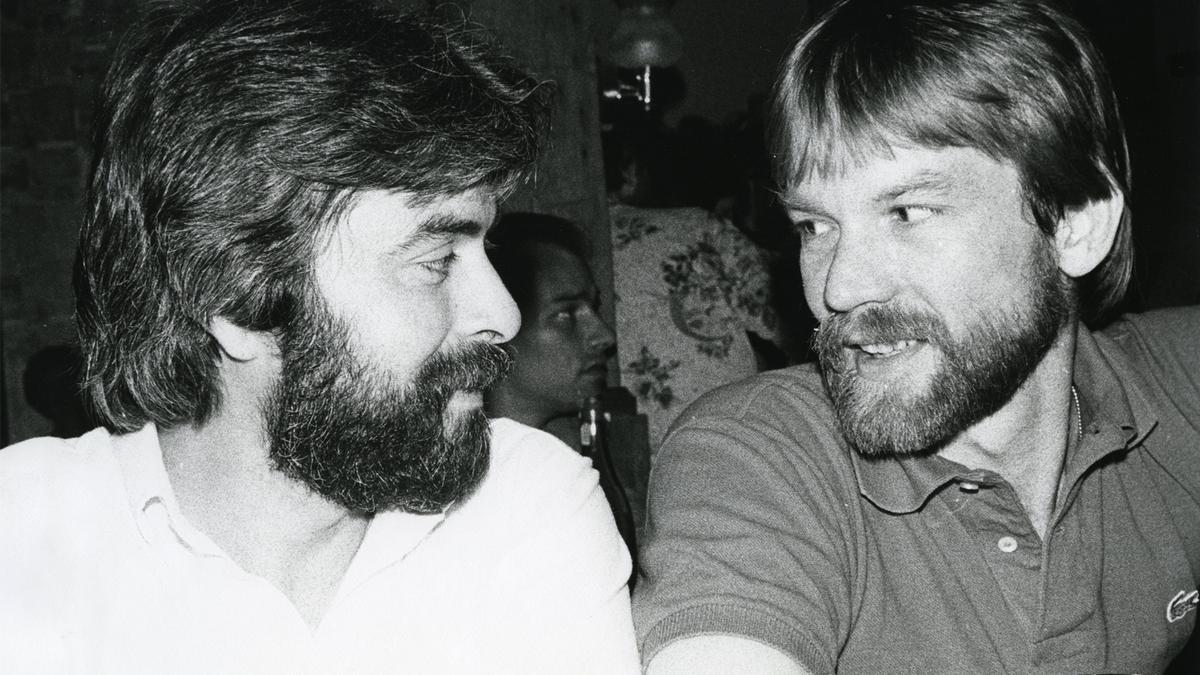 co-owners jose "pepe" pena and art johnston
photo credit // sidetrack
Co-owners Art Johnston, Jose "Pepe" Pena and Team Sidetrack celebrate 40 years on June 16
Raise your glass – obviously filled with any flavored Frozen, the popular drink at
Sidetrack
– it's time to toast the popular Lakeview bar that is the center of Chicago's LGBTQ neighborhood along North Halsted Street, the area commonly called Boystown.
Sidetrack is celebrating its 40th anniversary on Thursday, June 16, from 6 p.m. to 2 a.m.
In addition to cocktails-a-plenty and stories for all, there also will be food served and a wide variety of prizes with Zamora Love and Alex Kay.
There will be special throwback videos celebrating 40 years of serving the Chicago LGBTQ community – and $3 cocktails, beers and Frozens.
Plus, the anniversary party will support
Heartland Alliance
, so attendees are asked to bring a new personal grooming, cleaning product or paper product. Cash donations also will be accepted.
To toast Sidetrack's 40th Anniversary, GoPride.com presents 
40 Fun Facts About Sidetrack
:
1.
Sidetrack officially opened on April 22, 1982. It is now the longest-running bar on North Halsted Street.
2.
When Sidetrack opened, it had no sign and no windows.
3.
The Sidetrack Deck won an international architectural award when it opened in 1995.
4.
The list of stars who have made "official" appearances at Sidetrack include Bea Arthur, Kristin Chenoweth, Margaret Cho, Leslie Jordan, Leona Lewis, Jojo, Cazwell, Kim Petras, and Cyndi Lauper. George Stephanopoulos stood on the main bar to speak in 1996 during the Democratic National Convention; Sidetrack was told it could not take photos.
5.
Some of the stars who have made "unofficial" visits to Sidetrack include Patti Lupone, Ben Platt, Chelsea Handler, Andy Cohen, Anderson Cooper, Tarji P Henson, Alan Cumming, Irish Prime Minister Leo Varadkar, Jonathan Pryce, Jesse Tyler Ferguson, Sean Hayes and Billy Porter.
6.
Sidetrack has five huge walk-in coolers.
7.
Sidetrack co-owner and VJ Jose "Pepe" Pena created the Show Tune Video format in 1983.
8.
Sidetrack has 5 huge icemakers and often still must order extra ice on the busiest of weekends.
9.
Sidetrack has 21 service areas in 8 bars.
10.
Sidetrack has a staff of 60 employees who range in tenure from a few weeks to 40 years.
11.
Sidetrack uses about 10 cases of limes every week for cocktails.
12.
Sidetrack has had more than 30 different Frozen flavors over its 40-year history.  The most popular have been Froze, Cherry Buzz, Krush and Whipsicle.
13.
Sidetrack has an entire suite in the building dedicated to creating and editing its one-of-a-kind videos.
14.
Sidetrack has a huge room that is used to hold over 1,000 coats during the height of the coat-check season. On St. Patrick's Day 2022, Sidetrack checked more than 1,400 coats in one day.
15.
In the early-2000s, a group of employees volunteered once a week at PAWS animal shelter. They coordinated an adoption afternoon event in the front courtyard of Sidetrack and that is how the monthly Dog Days was born.
16.
In 2015, after Cher canceled her Chicago concert date, Sidetrack employees suggested a night of all things Cher. "It was such a success we tried it with other artists. From there, All Things Beyonce, and All Things Gaga become huge monthly events on Wednesday nights," said Sidetrack general manager Brad Balof.
17.
After being taken to a story-telling event by friend David Fink, co-owner Art Johnston was so impressed that he immediately began collaborating with Fink and Kim Hunt to create
OUTspoken!
which happens the first Tuesday of every month and celebrates its 9-year anniversary in August.
18.
Décor: 
Matthew Harvat
, aka, CircuitMOM and his team at CircuitMOM Productions have been a staple of Sidetrack décor for nearly 20 years. "Their amazing installations have included Roman Greek Gods, replicas of iconic Chicago landmarks, a full rainforest make-over of Back Bar, and they are also responsible for all of the beautiful plants and flowers in both the inside and outside spaces at Sidetrack," Balof said.
19.
There are 40 screens in Sidetrack, including one huge projector in Main Bar.
20.
During Show Tunes, you will hear unique funny lines that customers shout back at the screen during certain show tunes. These are 100 percent customer-created. "There is no written record of these callbacks, " Balof said. "People learn them over time attending Show Tunes at Sidetrack."
21.
Sidetrack's architect for all renovations and expansions since 1992 has been Richard Gibbons.
22.
When Sidetrack first opened there was not enough room to store beer in the back of house, so cases of beer lined one of the walls in the bar and people sat on beer cases while watching videos.
23.
During the 2016 Presidential Debate Watch Parties, a guest host from Indiana came over to speak to the audience. He was the out gay mayor of South Bend and future Presidential candidate Pete Buttigieg.
24.
Sidetrack has expanded over the years. The newest remodeled space is the North Bar, which opened in February 2020.
25.
During the COVID-19 pandemic, Sidetrack operated primarily out of a tent built in its front courtyard and by selling pizzas to provide food for customers. The pizzas were a hit and are still missed by many of the customers who continued to patronize the business during the period of seated cocktail service in 2020 and 2021.
26.
Sidetrack serves 41 different types of vodka.
27.
The official names for Sidetrack's bars are: Main Bar, Cherry Bar, Back Bar, Glass Bar, Deck Bar, Upper Deck Bar, Side Bar, and North Bar.
28.
Sidetrack was a founding member of the North Halsted Business Alliance.
29.
Sidetrack co-owner Art Johnston was a founding member of the
Illinois Federation for Human Rights
, which later changed its name to
Equality Illinois
.
30.
Sidetrack has been listed as the No. 1 Lyft drop-off spot in Chicago, and frequently tops "Best Bar" lists in national publications and Yelp.
31.
Sidetrack's cocktail menu is less than 8 years old. One of the most popular cocktails is the Watermelon Sugar High.
32.
Over the years Sidetrack has had many weekly specialty nights including Country Line-Dancing, Comedy Night, Disco Nights and Sunday Night Retro nights.
33.
The hardwood floors in Sidetrack are mopped, waxed and buffed every day.
34.
While there are no official rules, the designated "napkin songs" at Sidetrack are "Don't Cry for Me Argentina" from the musical Evita and "There She Is" from the musical Titanic. During these songs, napkins are tossed in the air.
35.
Sidetrack is a proud partner with the Legacy Walk, the nation's only outdoor LGTBQ+ museum – the commemorative plaques at the base of the rainbow pylons along North Halsted Street.
36.
In the late-1980s, because of the popularity of various Absolut Vodkas in slushy drinks, Sidetrack sold more Absolut Vodka annually than any other bar, restaurant or hotel in the world. The president of Absolut visited Sidetrack to see for himself.
37.
All major local TV affiliates have either filmed a news segment or live remote from Sidetrack, usually during Pride season.
38.
Sidetrack employees range in age from 21 to 78.
39.
In 1983, the Sidetrack softball team won the championship of the Gay Softball World Series, ironically held in Chicago that year.
40.
Sidetrack's night of 100 Drag Queens was in the Guinness Book of World Records (briefly) for the most number of drag queens performing the same number on the same stage at the same time.
(Chicago Pride History Makers: Art Johnston And Pepe Peña, Founders of Sidetrack via WBBM-TV)
Chicago's LGBTQ Calendar is on GoPride.com