CircuitMom Productions is back, bigger than ever after 2 years of COVID-19 restrictions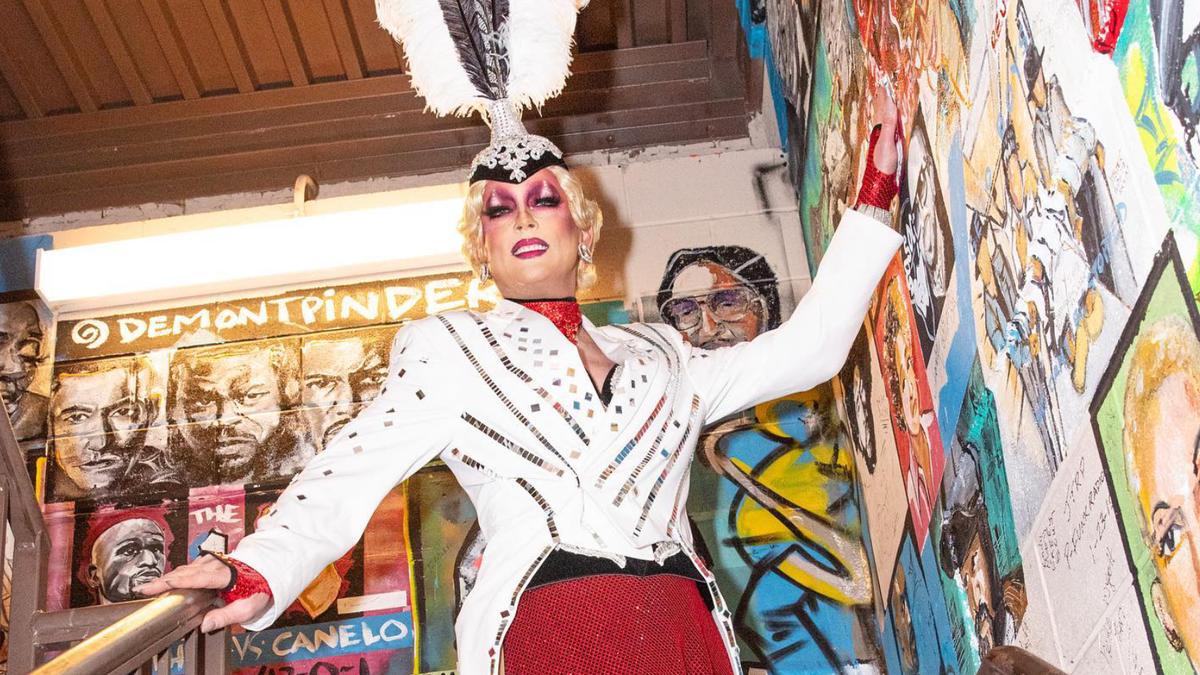 circuitmom at cherry weekend in dc, april 2022
Specialty circuit parties are expanding across the U.S., as CircuitMom parties return to pre-pandemic excitement and energy
Like so many in the nightlife industry, CircuitMom Productions was hit hard by the COVID-19 pandemic. Circuit parties from
Matthew Harvat
, the real-life MOM, went silent about two years ago – and no one knew when they'd be back, in what form or fashion.
Well, they're now back – and 2022 is an incredibly busy time, with dance parties and event-planning nonstop.
"There were so many things we had planned back in 2019 for 2020 and 2021 that all came up as actually possible in 2022. So here we are with a very busy schedule, but so excited for all the new talent, new sounds and new vibes we are bringing to our events," said Harvat, who stayed "very limited" on what could be done for the first seven months of 2021.
Last year's Northalsted Market Days was back, but endured CDC rulings and the City Of Chicago guidelines for indoor events up until Wednesday of Market Days week. "It was very stressful, but it all came together, and our audience was very supportive and followed all the COVID procedures we put in place to do our best to keep people safe," he said.
"For a few years now, we have been trying to branch out to work with new talent, either to the whole scene in general or new to our brand. We won't turn our back on the people who have given their names and time to make our events shine, but we also want to continue to invite more fresh faces to the stage. With so many amazing people out there doing extraordinary shows, costumes, DJ sets and performances, we want to do our part to uplift them if we can and if they want to collaborate with us. That's what is new for the brand. Thanks to CircuitSON and my entire team, what's new for MOM is a renewed sense of energy and purpose to keep going, keep creating and keep trying to make things better. They are my source of energy."
Harvat's calendar is overloaded with new events, exciting brand expansion opportunities and so much more.
Harvat and Co. are making up for lost time during the pandemic, expanding across the U.S.
"We are very excited to be working with some up-and-coming talent this year as well as some very established DJs coming to us for the first time," Harvat said.
Case in point, The Vixen's Black Girl Magic drag concert is set for May 14 at The Globe Theater in Los Angeles, featuring such names as Lucy Stoole, Kerri Colby, Dida Ritz, Heidi N Closet, Olivia Lux and Kornbread, among others. DJ Derek Monterio and DJ Chris Royal are both set to debut for MOM at this event for the afterparty, "Blaque Light."
"Derek is known in L.A. for his underground, warehouse, disco house funk vibe which is not our normal programming. Chris Royal has really been making a name for himself on the scene with his house-infused circuit sound. We cannot wait to pack The Globe Theater and highlight these two talented DJs," Harvat said.
MOM's 2022 slate will include more sounds from DJ Brady Prince, Harvat confirmed. Prince has done both CircuitMOM Takeover events at
Sidetrack
and DJ'd MOM's lobby set at the
Aragon Ballroom
for Market Days 2021. Prince "is really coming into his own, (with) a strong presence," Harvat said. "He's a genuine talent who goes above and beyond for every set he plays, and it shows."
Brazilian DJ Mauro Mozart will be making his CircuitMOM debut during Market Days. Drama At The Rodeo is set for Sunday, August 7, starting at 9 p.m., at the Aragon Ballroom, which also will feature DJ Mohammad. "Bringing back DJ Mohammad for Market Days a second year was a no-brainer. His set last year for 'Mystic Jungle' blew people away, so we know he is going to be bigger and better," Harvat said.
MOM will, naturally, be swamped in August during Market Days. On Friday, August 5, MOM presents HouseGasm, featuring legendary DJ
Ralphi Rosario
and Italy's house legends, The Cube Guys. The event starts at 9 p.m., at the
House of Blues
Chicago. On Saturday, August 6, MOM presents Joystick, featuring DJs Tony Moran and Eddie Martinez at the Aragon Ballroom.
All eyes will be on MOM on Saturday, June 25th for the Love Revolution party at the House of Blues, starting at 9 p.m., featuring Jace M and Guy Scheiman.
CircuitMOM also will have a prominent space at the annual Pride In The Park late-June extravaganza in
Grant Park
.
Harvat has only one, not-easy-to-deliver wish for Pride In The Park: "No rain, tornadoes, floods or emergency evacuations due to weather this year."
Harvat said the wicked weather during PITP 2021 "was a lot to deal with." He added, "Everyone pulled together and did their best to make shows and DJ sets happen. We could not have asked for a better roster of talent and team members who just powered through, adjusting their time slots with ease and still did amazing sets.
"I think this year, barring any COVID setbacks, Chicago's (2022) Pride In The Park will be a stellar success. Dusty Carpenter is working tirelessly to make this two-day event world-class, and we cannot wait to show you what our stage has in store for the attendees."
Harvat confirmed that MOM's presence at PITP "will be a bigger production, bigger sound, and bigger visuals … if the weather cooperates. Plus, once people see the lineup for both stages, their minds will be blown."
Harvat said the Pride weekend party at the House of Blues will be epic, end of story.
"We are ready to tear it up at our home away from home with DJs Jace and Guy Scheiman making their House of Blues debut with us, bringing their signature sounds to life for our 'Love Revolution' event right after Pride In The Park closes at 10pm. We go until 5a.m., so get ready to dance."
There will be dancing and more in Chicago from MOM long before Pride Weekend in late-June. After all, late-May locally is IML weekend. On Sunday, May 29, the IML Victory Party at the House of Blues Chicago, starting at 9 p.m., features Chicago resident Ale Maes and Brady Prince. Then, on Monday, May 30, right back at the House of Blues Chicago, get ready for The Black And Blue Ball, featuring DJs Tom Stephan and Karsten Sollors, spinning from 9 p.m. to 4 a.m.
"Market Days is our premiere series of events, and we are working nonstop to make this year bigger and better than before," Harvat said. "People are very excited about the themes: Joystick for Saturday and Drama at the Rodeo on Sunday, but our Friday night HouseGasm event at House Of Blues will bring together house heads, the queer community and the pure Chicago house sound with production and visuals … that event has really taken off for the community and people are buzzing."
Still Spinning, More from CircuitMOM Productions …Halloween 2022
"Yes, we will be back at the House Of Blues for our annual party, but we also have a really fun project happening on Halsted Street for that month, which people will really like."
Hello, Detroit!
CircuitMOM Takeover Detroit is set for June 10-12, with three nights of star-studded parties, including the sounds of DJs Dan Slater, Joe Gauthreaux and Joe Pacheco, among others.
"Our sub brand, CircuitMOM TakeOVER, is a fun way to bring controlled chaos to venues and cities that may not have a regular dance party with production, costuming, popular DJs, lights and so on," Harvat said. "We have three cities outside (of) Chicago scheduled for 2022 with requests coming in for us to come to other places, too. It is very flattering that people want us to bring our brand to their towns. We hope to add more in the future, but right now, we will focus on the schedule already set."
The three hotspots for 2022 are Indianapolis, Detroit and Los Angeles.
"When DJ Jace, one of our Pride Chicago headliners, approached us about partnering with him for his 3 nights of events for Detroit Pride, we jumped at the chance," Harvat said. "Jace is an excellent DJ and a well-established promoter in that market, so it is a perfect fit. Plus, we have a lot of support for our events from the area.
"The challenge was that it is the same weekend as Indy Pride, so the team (from) CircuitMOM is all going to Detroit on Friday, June 10th to co-produce the opening party with Jace, then half of our team flies to Indy (on) Saturday morning to co-produce Indy Pride while the other half stays in Detroit to co-produce the main event there. Team CircuitMOM then flies back to Detroit on Sunday morning to finish out the weekend with our closing party Tea Dance in Detroit. No pressure!"
The Lights of Los Angeles
CircuitMOM TakeOVER presents Blaque Light,' their first circuit party event in that market, with two new DJs: Derek Monterio and Chris Royal. "Look out, L.A. … we are bringing our best," Harvat said.
The Expansion of CircuitMOM Productions Across America
"Mostly, it has been promoters inviting us to join them in their cities to partner and help create some memorable nights for people in their area," Harvat said. "Clubs and bars really struggled to make it through the last two years, so if we can join forces with a local team to bring some excitement to their gayborhood, let's do it. People message us all the time with club suggestions in their cities, which helps us to do research and see what is possible in places we are not familiar with. It is important to partner with the local establishments, promoters, and talent, so we can lift them up and establish a bigger club family."
For More Information & Event Tickets To All CircuitMOM Production Events
Go to:
circuitmom.com