CircuitMOM Productions Pivots In Times Of Change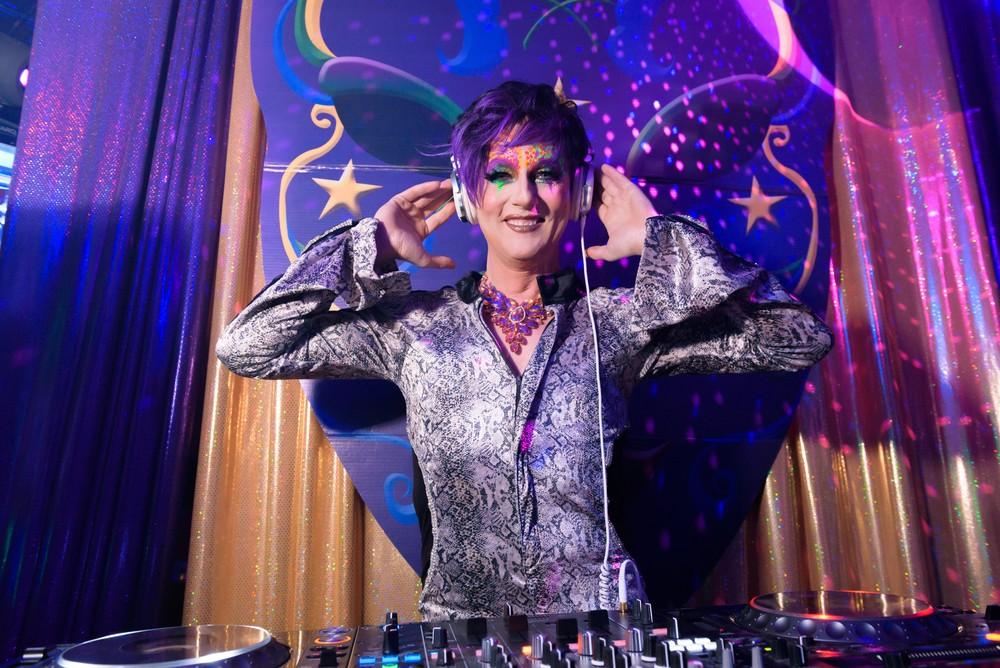 circuitmom mardi gras 2019
photo credit // steve koch
With 24 events cancelled in 2020 due to pandemic, CircuitMOM looks to the future
As Halloween rapidly approaches,
Matthew Harvat
can only think about what might have been, yet again.
Harvat is, of course, the owner of CircuitMOM Productions – and Halloween is usually a happening for this queen of extravagant dance parties. Last October, for instance, CircuitMOM Productions delivered four events in eight days, including return of their "Haunted Hollywood" party at
House of Blues
and the late-October festivities included the Circuit MOM Takeover Party at
Sidetrack
: Into The Upside Down, with DJ Karsten Sollars spinning house music, multiple laser light-filled dance floors, a performance by Claire Voyant and sexy go-go dancers.
This year's Halloween is a trick, no treat, for CircuitMOM and her thousands of loyal supporters from literally around the world, though primarily, obviously, here in Chicago where the company is based and Harvat lives.
CircuitMOM Productions has now had 24 events cancelled due to COVID-19 and the worldwide pandemic.
"It has been a crazy, challenging past six months," Harvat said. "As a small business owner, we have been trying to adjust, realign, reinvent, stay busy and present not only for ourselves, but for our community and the entertainment industry we love so much."
CircuitMOM had its biggest year ever scheduled for 2020, including sold-out events in Indianapolis, Los Angeles and even Columbia for the first time. Plus, MOM had expanded her Chicago Pride, Northalsted Market Days and Halloween-time events this year.
In early-May CircuitMOM realized that every 2020 event would be cancelled.
The mystery of the unknown pushed the cancellations and propelled Harvat to his 2020 low. "Every little cough, sneeze or headache sent me into a minor panic back in March and April – and, I am far from a hypochondriac," he said.
The cancellations and their direct impact on artists and crew that MOM hires "still weighs on my heart," he said.
Edwin Martinez, known as CircuitSON, also has had many low points over the past six or seven months – starting right when everything started shutting down. "It hit me really hard as we had been working nonstop on some fabulous new events that never got to be announced," Martinez said. "The lowest point was not being able to be in the middle of all the chaos that happens the day of our events. For the first time I missed that stress. The sound of people cheering as we opened the doors, or fans clacking, a sound I never thought I would miss.
"At every event there's a moment where I can exhale because the main parts of the event have been executed. I miss being able to exhale," Martinez said.
There have, though, been some positive, uplifting moments during the misery-filled months since March – including one that happened sort of unexpectedly when CircuitMOM decided to sit out on the 'virtual event' market that sprung up out of necessity until MOM was able to produce something "we felt truly reflected our style," Harvat said.
The
Baton Show Lounge
welcomed MOM in early-May to produce a one-hour variety show a la TV variety shows of the 1970s, featuring drag queens, Baton cast members, male burlesque, live rock musicians and two separate one-hour DJ sets from Ale Maes and
Ralphi Rosario
, along with go-go dancers, costumes and choreography.
This was pure CircuitMOM Productions – and it led to Harvat and company partnering with the
Puerto Rican Cultural Center
to co-produce an additional hour of performances and important messaging about that community's struggles and inequalities in general, but extremely magnified during the pandemic.
"We also continued our partnerships with artists deep in the Black Lives Matter movement, such as Miss Toto and The Vixen, to co-produce video content for their messages of empowerment, racial segregation, political chaos, social and economic inequalities," Harvat said.
Also this summer, the ABC-TV affiliate in Chicago recorded part of their Pride programming at the CircuitMOM studio. "(That) was the exact type of energy we needed to continue moving forward and thinking of new ways to expand our business," Martinez said.
"That day went so well, and the ABC channel-7 cast and crew complimented us on how easy and convenient it was to work in our studio; that sparked a new idea for us. We started transforming our space into a studio that many different people can use for their own productions. We invested a little money and did a few upgrades to provide potential studio renters more bang for their buck. Since then, we have had countless people film music videos, (host) photo-shoots, do rehearsals," and more.
But Harvat and Martinez deeply miss performing and producing events.
"Every time I think about all of the DJs, drag artists, dancers, stage crew, lighting designers, costume designers, makeup artists, box office staff, bartenders and everyone else in our industry with no work (over) the last six months, and nothing truly on the horizon for possibly the next 12 months, it crushes my soul," Harvat said. "What I miss most is not seeing all those happy faces on our dance floors, or in our venues coming together for a few hours of fantasy and escapism. The excitement of drafting a production schedule for each event and all the talent that joins us to make our parties come to life. That has been hard."
With the added free-time, Harvat said they have completed many long-overdue projects, such as organizing and labeling their costume and prop departments. They also are looking to 2021 to develop ideas and themes for future events.
And can you imagine what MOM will deliver for that first returning dance party – whenever that is! MOM likely will have Dua Lipa and Cher together to do a remix duet of their greatest hits on-stage at The
Aragon Ballroom
. "I'm totally kidding, but wouldn't that be amazing!
"To be honest, I do not have a clear picture in my head of what that first event will look like, which is exhausting my brain," Harvat said. "Usually, we come up with a theme and – Boom! – all of the elements start to fall into place rather quickly.
"But, right now, all I can picture is safety delays and vaccine setbacks. Once things look to be their safest and venues allow us back in, we will do our best to blow it out of the water."