Anthony Meade documents LGBT history – through photography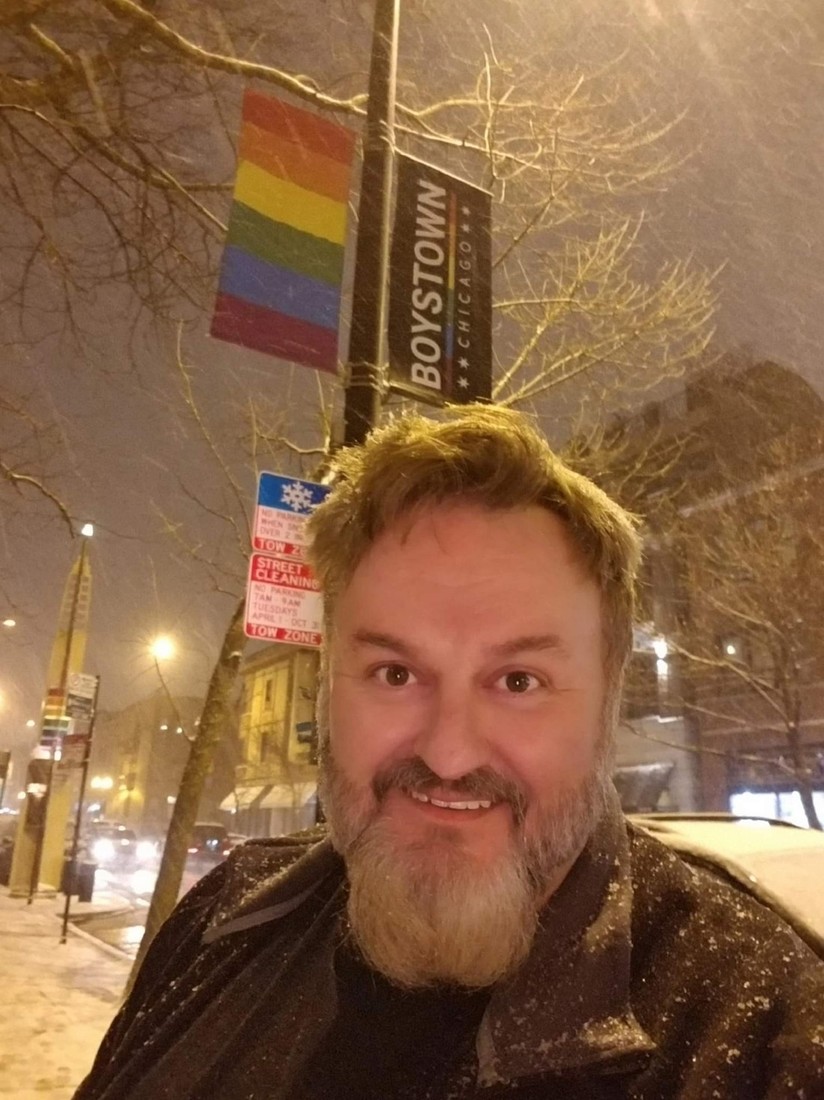 Chicago's 'Out & About' photographer turns 50, recalls 12 years capturing the scene
Anthony Meade
has spent the past 12 years photographing Chicago's LGBT nightlife scene, and with a Flickr account that carries more than 500,000 images, he truly is documenting the communities' history.
"It's been a fun job doing nightlife photography in Boystown," said Meade, whose images have appeared on ChicagoPride.com for the past 10 years, as well as
Nightspots
and
Grab Magazine
. "Doing nightlife photography, there's never a dull moment. You never know what's around the corner or what you're going see. It makes the night fun."
Meade, who turned 50 on Feb. 28, lives in East Lakeview (Boystown), also for the past six years has been a full-time ride-share driver for Uber and Lyft – and has given close to 21,000 rides. He celebrated his milestone birthday with dinner at Tao Chicago with family and friends, then went bar-hopping.
"I love all of the different aspects of our community – the drag queens, the drag kings, leather, kink, fairies, etc. I love meeting people and I've always been a sucker for a good freak show," Meade said. "Over the last 5 years, I've definitely become more familiar with the leather/kink community because of my friend Miguel Torres who won Mr. Chicago Leather (in) 2014. Through Miguel, I have met so many wonderful people that I probably never would have crossed paths with. Miguel has opened a door for me to get familiar, learn and have understanding about a community that I knew nothing about. As with most things with mine and his friendship, he's always (saying), 'You gotta try this.'"
And Meade has a camera handy. In fact, that's how he got started.
He was out one night in 2008 with a friend who was working at the time for Chicagopride.com. Meade had his then-new Nikon D40 camera with him, which he purchased with funds from his tax return.
"I was just playing around, taking photos of people. My friend said I had an eye for capturing people having fun and being in-the-moment," Meade said.
That led to his start shooting for ChicagoPride.com (now GoPride.com).
He now has three more Nikon cameras, plus a Canon Rebel.
Meade said his photography schedule back in year one was "a whirlwind," filled with events, galas and bars. "I'm a very shy person by nature, but the camera definitely opened up new doors for me to come out of my shell," he said.
"Every year it's like a new wave of people in the bars. Some stay for a while and some come and go very quickly and move on to other things. There always (are) new faces to photograph. The one thing (that's) changed about photography is, everyone wants to look at their photo (immediately). There (are) so many filters and apps that people use to look their best. But the camera doesn't lie. I think people are more aware of what's being presented in online apps and platforms and they want control of how their photo looks.
"The funniest thing that people say to me is, 'Don't make me look drunk.' I'm like, 'But you are.'"
Meade saves images from every event he photographs, and naturally he has some favorites, starting with photos of former Illinois governor Pat Quinn signing into law the same-sex marriage bill on November 1, 2014.
"History was made that day and I got to be a part of it," he said with pride.
Another noteworthy image is of Meade's friends, Miguel, David and BJ at Kathy Osterman Beach in 2014. "It was a photograph that really captured a special moment in time of our friendship," he said. "I kind of felt like Carrie Bradshaw for the 4 years that we were able to be together. I got to have those close bonds with three of the most amazing people that I ever met. I will always say 2011-2015 were the happiest years of my life (as we had) a brotherhood that is rarely found anymore. Two of them have moved away, so we don't get to see each other as much anymore.
"Over my 50th birthday weekend, all four of us were (together). It was very special and meant a lot to me to have all three of them here for my celebration."
Meade also spotlighted a photo with his favorite band, The Go-Go's, taken in Detroit. "It was the first time that I was able to get all five of them and myself in a photo. I have followed the band for 39 years ...a groupie, some would (say)."
Meade said the people push a photo, not the places.
That includes celebrities.
Some of his favorite celebrity run-ins have been The Go-Go's, Belinda Carlisle, Cyndi Lauper, The Bangles, Olivia Newton-John, Sheena Easton, Chaka Kahn, Whoopi Goldberg and Demi Moore.
He really wants to add Boy George to that list.
"I've always been a huge fan, but I've never been able to photograph him. I'd love to meet him someday," Meade said.
"Someone who I really would have loved to photograph (was) George Michael. He's another who eluded me over the years. He had this amazing voice and talent that was diminished too soon," Meade said.
Eventually Meade would like to put out coffee table books of Chicago's nightlife.
"The hard part is going back through 12 years, trying to pick out which (photos) to put in," he said.
Meade has just as many ride-share memories.
Take, for instance, the lady he picked up in Uptown for a ride downtown, along Lake Shore Drive.
"All of a sudden something come running up the side of my leg, across my lap and ran back under the passenger front seat. All I saw was fur and a tail," he said. "I was thinking it was a rat that had crawled up in the engine to stay warm and it had come through the dashboard. I was trying to remain calm, (yet) sweating bullets and praying that it would stay under the seat. Then all of a sudden the lady starts screaming. I said, 'I don't know what it is; I didn't see it.'
"She replies, 'I got it! I got it! It's not loose anymore and the other two are concealed.'"
Meade asked what she had, and the lady said she had three ferrets in her coat, and one had gotten loose.
Meade ultimately turned off at the North Avenue exit and the ride ended moments later.
"It wasn't funny as it was happening, but now it makes for a good story to tell in the car and people always laugh at it," he said.
Meade said he usually does not have his camera in his car when ride-sharing. His cell phone camera then does the trick. "I enjoy getting out and taking photos of the different, vibrant neighborhoods that Chicago has to offer," he said. "No two neighborhoods are alike. One of my favorite neighborhoods is Pilsen. They have so many colorful murals which I love to photograph and just look at. There are some really amazing artist and talent in that neighborhood."