RPDR alum Phoenix set to perform at H2O Festival Puerto Vallarta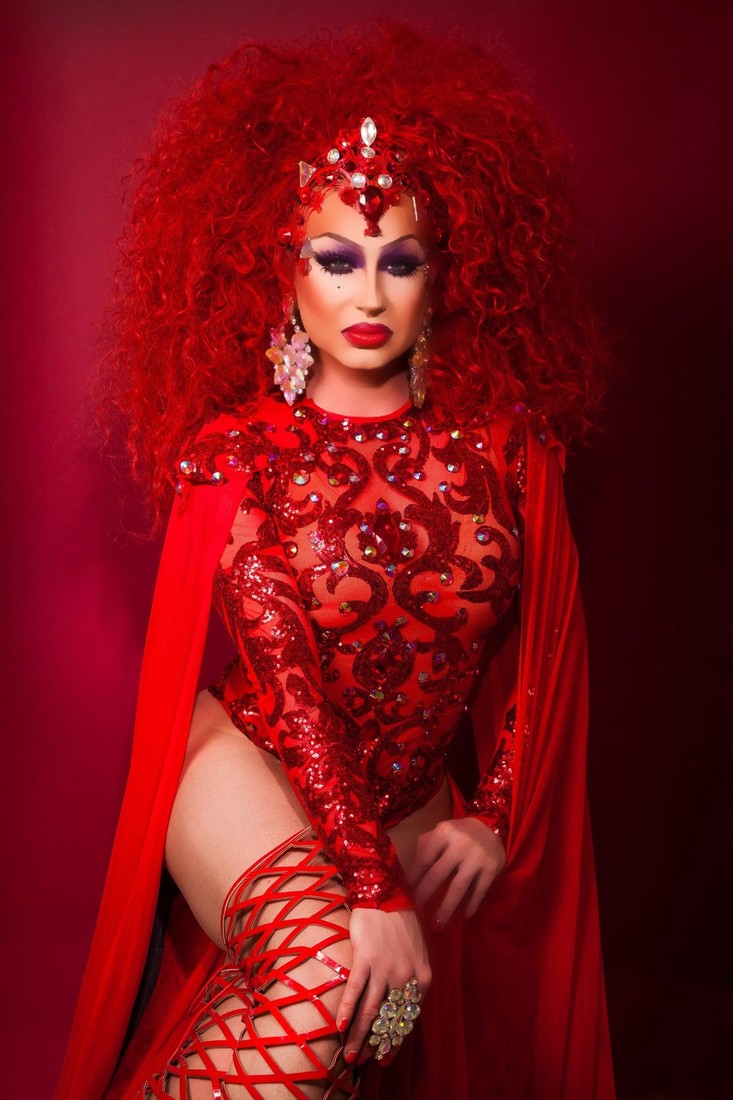 Brian Trapp's entertaining alter-ego, Phoenix, shot to worldwide fame eight years ago – on the third season of RuPaul's Drag Race. Phoenix was among 12 new contestants and one returning contestant in early-2011, all vying for the title of "America's Next Drag Superstar," including a cash prize of $75,000.
Memories are still plentiful for Trapp, who lives in Atlanta. "Season 3 was still such a new experience for us and the world. No one really had a clue what we were getting into, (whereas) today, the queens walk in with somewhat of an idea of what they're getting into.
"It's a TV show and, at the end of the day, the cards are going be played however the producers want."
Phoenix was eliminated 2nd, thus placing 12th overall.
"(It) was an interesting experience, (and I was) grateful to be a part of it," Phoenix said. "I don't and haven't watched my season in years. I've grown and changed so much as a person and artist that I don't even recognize that person. It's an odd feeling."
Phoenix has now been performing for about 20 years.
"I'm an artist. I love to be creative and create (moments) that (makes the) audience smile and forget about whatever is happening in their world," Phoenix said. "I really love and enjoy what I do, and am forever grateful to people who enjoy what I do and allow me to bring it to the stage."
Phoenix will be center-stage at the inaugural H2O Festival Puerto Vallarta, set for March 27-29 in sun-drenched Mexico – with 6 parties, 12 DJs, 3 venues and such renowned scheduled performers as Phoenix, Detox and more.
The H2O Festival Puerto Vallarta is being produced by the team at
Hydrate Nightclub
(Chicago) in conjunction with Matinée Group (Madrid), Reload (Los Angeles), Nocturnal (San Francisco) and Jubileo (Mexico).
"Taking some of the world's best DJs and placing them on the beach in one of the most beautiful places ... what's not to love. This will be a great weekend," Phoenix said. "I'm excited for a lot of things (at the H2O Festival). To start off, I've never been to Puerto Vallarta, so I'm very excited for that. Of course I'm excited to see old friends and meet new ones. Also, I'm so excited to be sharing this weekend with some of my DJ friends and with my extremely close friend, Detox."
Phoenix will shine Saturday, March 28 in The Essence Of Your Summer party, starting at 7 p.m., alongside DJs Nina Flowers, Alex Acosta and Isak Salazar.
"The H2O Festival Puerto Vallarta is a great way to enjoy the circuit (scene with) fantastic music, all while having a vacation on the beaches of Mexico ... sounds like a perfect weekend," Phoenix said. "I am very thankful just being asked to be a part of this event. When (Chicago-based DJ) Cindel first reached out, I was ecstatic, and then when it all was finalized, I was beyond words.
"I can't wait to bring some Atlanta to Puerto Vallarta.
"I've never worked with Isak, but am so excited to meet him. I have a personal and professional relationship with Nina and Alex. Nina and I originally met thru the RuPaul's Drag Race world, and then the circuit scene. Nina is one of the most creative and talented people I've ever met. She also has this fun and positive energy that is so infectious to others around. Alex and I met while he played at my former home bar in Atlanta and we immediately clicked. Alex also has this positive energy about him. You can really tell through the music when a DJ truly loves what (he or she is) doing and is enjoying the moment they're in."
Related:
DJ Nina Flowers brings her worldwide fame to H2O Festival Puerto Vallarta
Phoenix has been performing for about 20 years, though her scheduled has slowed some, on purpose.
"I not only perform, but I also produce and create shows all over Atlanta and throughout the country," Phoenix said. "For over a decade I ran Jungle, and for 6 years ran another club at the same time. Between the two, I had my hands in about 9 shows a week, with around 50 queens under my belt.
"So, a break has been great and needed to recharge my creativity and drive. That will all change soon, though. The week after I return from (Puerto Vallarta), my new endeavor will begin. Atlanta's newest nightclub, Future, will open, a 2-level dance club. The first floor will be the dance club, which will feature some of the biggest DJs from around the world. Upstairs will be a full-service restaurant and drag cabaret. This will be the first full cabaret like this that Atlanta has had in many years, which will feature some of the best drag entertainers Atlanta has. We're all very excited."
So who is Phoenix?
"That's always a tricky question," she answered. "I picked the name Phoenix because, like the mythological bird who rises from the ashes recreated, I'm always recreating my drag. Sometimes I give high glam, sometimes I give shaved head androgyny, and sometimes it's a celebrity illusion. It's part of the fun of drag; I can do whatever I want. I pride myself on being professional and hard-working. Some may say (that I am) a bit of a control freak, but I think of it as knowing exactly what I want and what my vision is."
For more information on the H2O Festival Puerto Vallarta, set for March 27-29, go to: h2ofestival.com
Related:
Hydrate Nightclub is bringing DJ-filled 6-party weekend to Puerto Vallarta: H2O Festival