Molly Pinta named HRC Youth Ambassador, speaks at conference in Washington D.C.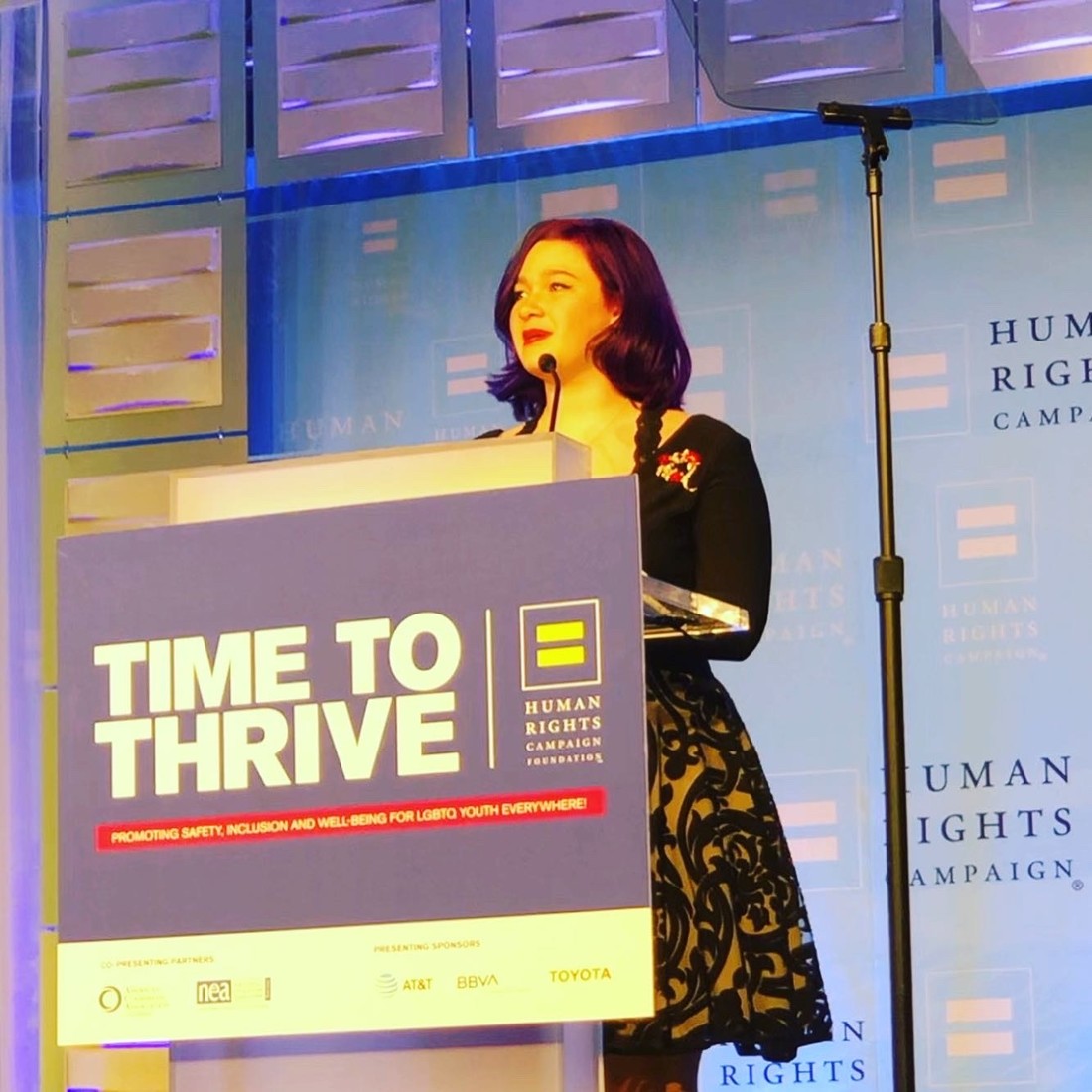 molly pinta speaks at hrc conference in washington, d.c.
Pinta Pride Project hosts several April events leading into 2020 Buffalo Grove Pride
Washington, D.C. - Molly Pinta was filled with emotions after a five-day trip in mid-February to Washington D.C., as one of the 13-member HRC Youth Ambassadors.
These LGBTQ advocates will represent the HRC Foundation, adding their voices and experiences to raise awareness about the most pressing concerns facing LGBTQ youth and HRC's programs that promote well-being for LGBTQ youth.
Pinta, 13, who is an eighth-grader at Twin Groves Middle School in suburban Buffalo Grove, and one of five members who will begin their first year as Youth Ambassadors. She participated in HRC's seventh-annual Time to THRIVE Conference, returning home to Chicago's northwest suburbs on Feb. 16.
"I am so incredibly honored and proud. It meant so much to me to be recognized by such a wonderful organization that does so much work for good," Pinta said. "Every other person I've met from HRC has been so kind and brave and all have incredible stories. It feels unreal to be associated with such a lovely group of people."
Pinta, of course, is the brainchild behind the first-ever Buffalo Grove Pride, held last June. She said the HRC conference was "eye-opening, very educational, and too short."
"It was overwhelming ... in a good way," she said of the experience. "I felt so much love for all the fellow Youth Ambassadors and cried when it was over because I didn't want to leave."
When asked what she learned at the event that she was not expecting, Pinta said, "that white privilege is even more evident in the LGBTQ+ community than I had ever seen before. There were many LGBT people of color and I really got to hear their perspective and fully understand my privilege and learn."
Pinta said the best part of the conference was speaking to a very receptive audience that was supportive and loving, and the new friendships she formed.
"I now realized, even more so, how insanely lucky and privileged we are to have been able to create BG Pride, with so much love and support from the community, as so many of the other Youth Ambassadors do not have this huge support system or a loving hometown," Pinta said. "I am hoping that becoming an Ambassador will help us bring (the) local HRC (chapter and personnel) to our events."
The 2nd annual BG Pride is scheduled for Sunday, June 7, starting at 11 a.m.
There will be a Uniquely Us Festival following the parade.
The Pinta Pride Project, which oversees BG Pride, is holding a family-friendly, Disney-themed Drag Brunch at The Buffalo Restaurant on April 5, starting at 11 a.m. Plus, the LGBTQ True Colors Prom will be held April 25th at The Arboretum Club in Buffalo Grove, starting at 7 p.m.
For tickets, go to:
pintaprideproject.com
.
Pinta said their goals for the 2020 BG Pride will be "to continue creating as many spaces as possible for (the) LGBTQ community in the suburbs to connect, especially youth, to partner with new organizations on events and to continue bringing (the) parade every year."
Pinta said the grand marshal for the 2020 BG Pride will be announced in the next month.
For more information, go to:
pintaprideproject.com
The 51st annaul Chicago Pride Parade is scheduled for Sunday, June 28, starting at Noon