The mustache that has become a social-media sensation has ties to Chicago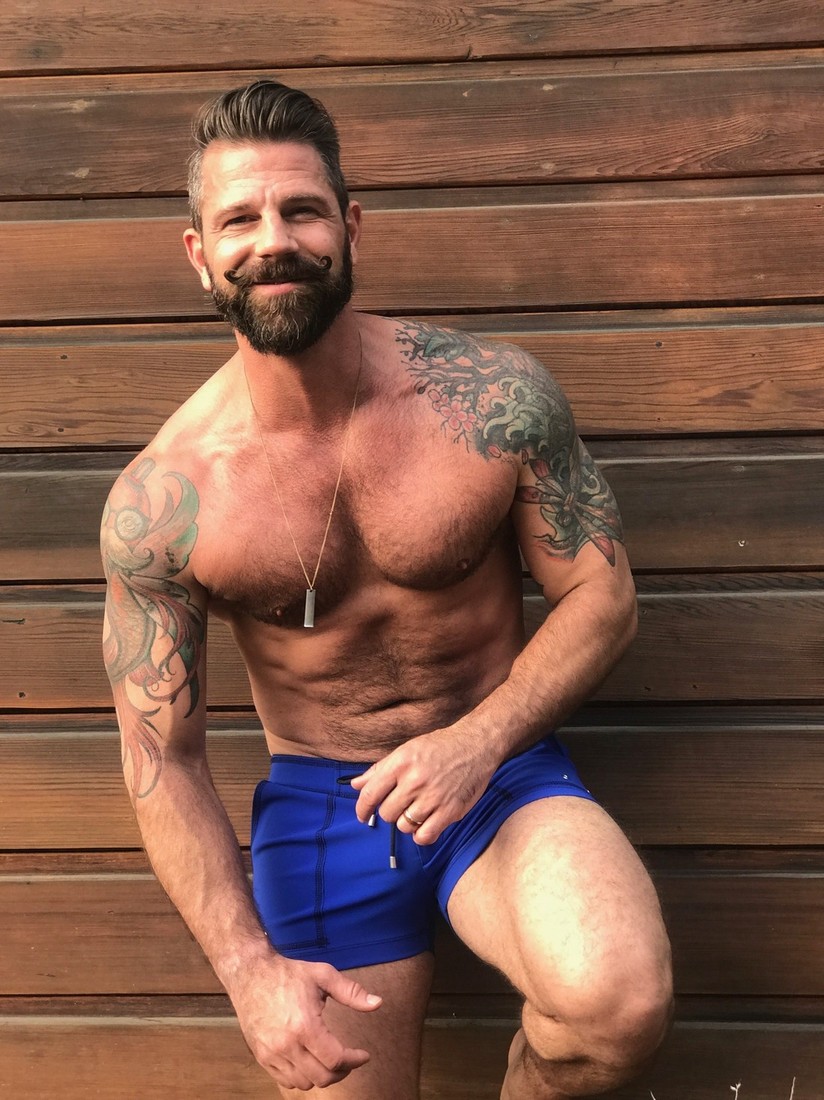 photo credit // elisha mcintyre
Eli McGanal has become a worldwide Instagram sensation: mr_kid.
Certainly his mustache has.
Let's jump back to August 2013, when McGanal created an Instagram account.
"I saw an illustration of an influencer, @isnathan, with a handlebar mustache. I loved the drawing; it kind of looked like me, but was classily stylish and a little unexpected – it gave me goosebumps and I thought, what the heck, I've got to try this," McGanal said.
He grew a mustache and, admittedly, shaved it a few times before it stuck.
His friends and family thought it looked funny and were ruthless telling him so – for about a year.
But McGanal stuck with it.
The handlebar mustache is now his trademark.
"People used (to), and still (do), say 'You'd be so handsome if you didn't have that thing on your face.' Good thing I never really wanted to be handsome; I'd rather be a character," he said. "I think it adds a little happiness to my face and makes people smile. I'm a little introverted and all a sudden I (have) an icebreaker on my face. It made it really easy to meet people."
McGanal, 41, lives in San Francisco and is the chief brand strategist and creative director for WeCreate Advertising of Valparaiso, Ind. He is married to Peej McGanal (@mcpeej).
In July 2014, artist @rickymata was the first to draw McGanal, focused on his mustache. Then in 2014 McGanal wore a strongman costume for Halloween, and artists Fab Ng (@artbyfab) and Ego Rodriguez (@egorod) took notice.
"All of a sudden it wasn't really about me, but more about the art community competing and my little mustached face was mealy a muse," he said. "Some of their (pictures were) incredibly accurate, some merely inspired. Everything from sketches to illustrations to oil paintings, sculptures, calendars, coffee table books and even eight-foot tall gallery pieces shown around the world.
"Every new artist saw a different part of me that I didn't know anyone could see. I wasn't always fit, and we moved a lot, so I didn't have a lot of friends; I got depressed and lonely sometimes. Suddenly I felt special, more confident and not alone."
McGanal has had more than 300 illustrations made of him, er, his mustache.
"I've been told I'm the most illustrated non-celebrity on Instagram, but I don't know if that's true," said McGanal, who admitted that he is "overwhelmed" at the mustache-mania.
He now has about 80,000 Insta-followers.
"I think the more followers I had, the more incentive there was for artists to do a portrait that I would repost. It became a good way to introduce them to the LGBTQA+ art community and potential commissions," he said.
The first year, there were only eight drawings, the next 40, and the next 90. "I was blown away, humbled by the sheer magnitude of it. I didn't feel I deserved it at first, but I felt honored," he said.
He is in awe of every drawing.
"I spent so much time trying to be perfect that I didn't realize it was my imperfections that made me a-musing. The funny thing is, I think this taught me about 'truth,'" he said. "No one sees me the way I see myself, and no two artists saw me the same. There is no version control in life – you are the hero in some stories and the villain in others. The same is true for how we see others. Pain can create empathy and pain can create anger. We see the anger but forget to see the pain.
"The level of skill and investment in some of these pieces is unbelievable. I've gotten to play muse to some of the most talent artists on the planet. I'm nobody special. I don't deserve this and certainly didn't earn it. But it's really special to me."
McGanal has become very good friends with many of the artists.
"Most of us work from home, so it's nice to have a community of artists as part of my support system," he said. "Art has always been an important part of my life. I paint my own artwork when I can. I know how much effort goes into the work. I don't take for granted the time an artist spends on a piece that is inspired by me. I think that's why I spend a lot of time trying to get to know them and support them.
"It's funny, some artists ask permission and will even send sketches to see if I like it. I try to remind them I'm not the client; I'm just the muse. I just enjoy seeing artists inspired. Others will tag me in a photo, and I wake (it by) surprise in the morning. Sometime people don't tag them and mention me in a comment, or one of my followers will."
Thus, McGanal has probably missed some.
What about a favorite?
"That isn't fair (to answer). It's like having children; you can't have a favorite," he said. "With all the artists giving their time, I would hate to insult someone by playing favorites.
"I will tell you that Salem Beiruit (@artistsalem) has done some of the most prolific pieces – skill like that should be in museums. Ego Rodriguez (@egorod) has done multiple pieces that blow me away every time. I can't forget Bryan Sommer (@hausofsommer), who is an animator of all my childhood Disney favorites – and he illustrated me. (It) certainly brings my crush on the Beast full circle."
McGanal and his dog, Thunder, were drawn by Eric Fonseca (@ericfonsecaart), which is a "unique and special" piece to him. "It didn't try to make me perfect or sexy – it just captured me. I plan on framing it (and) hanging it in my house," he said.
None fall into the least-favorite category.
"The fact that someone takes the time to think of me is special," he said. "I do often feel challenged by the level of effort. Someone who spends 10 minutes on a sketch is more eager to get reposted then someone (who) spends six months on an oil painting. I have little code words in my posts that pay honor to the level of effort. Also, I have at least two 'artists' who are trying to pass Photoshop filters off as illustrations ...but this is a tricky thing to call out and I appreciate the effort, but it seems unfair to those who are offering up their time and craft.
"It's really weird to think that (my mustache has gone viral). Having people stop me in the street when I'm in Barcelona or Chicago to take a photo with me is surreal, and it happens more often than you think.
"I've always known I was a bit of a character. I've never tried to conform. I think that's why people gravitate to it. And it's the most memorable thing about me. We have a tendency as a community to try to all look the same, with very narrow beauty standards. People love it or hate it, but at the end of the day, I feel like me."
McGanal said it takes about three months to grow his mustache into the handle-bar look, and he's only shaved it twice since 2013. "The beard can come and go, but I don't plan on shaving (off) the mustache anytime soon."
Talking Chicago
McGanal regularly visits Chicago and one of his dearest friends is Chicagoan
Matthew Harvat
, aka, CircuitMOM.
"When I was a bright-eyed young thing from Detroit. I'd come out here and I'm not sure how we met, but we've always taken care of each over the last 20 years," McGanal said. "I know I've danced for her at FireBall a few times and gotten into more trouble than I'd like to admit. Love that one.
"I love this city, but hate the bitter, windy winters. (There are) amazing people, culture and food. (Chicago is) the only city I'd live in if I left San Francisco."
McGanal said he enjoys going to Moxy or SoHo House, wandering around River North, discovering
Dive Bar
s and searching for the best Old Fashions.
Usually, he just calls CircuitMOM to see what adventures are in store, "and then I just hold on for dear life," he said. "My heart is on Halsted, (Street, which has generated) so many good memories over the years. I usually end up at
Sidetrack
. Chicago has such an amazing sense of community and I always make new friends there."
Personally Speaking
"I was a pretty confident kid, then life happened," he said. "I let people steal my light and internalized everything. I got husky, really husky. I let myself go and forgot my worth. I literally bought a ticket to Hawaii and lost myself for a few years. I met my husband there and he helped me find my light again. I feel like the luckiest guy in the world. Then, this amazing community of artists found me and brought me back even more. It's taught me to give back and be a light to others. I have a social media following and I'm trying to do something positive with it. I'm an advocate for Elher-Danlos Syndrome, body positivity and inclusion in our community."