Anti-gay church to picket graduation of teen denied prom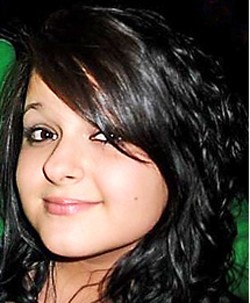 constance mcmillen challenged her school's prom policy
Fulton, MS - The Westboro Baptist Church has announced it will picket the graduation of a lesbian student who sued her school district for refusing to allow her to attend prom with her girlfriend.
Constance McMillen sued the Itawamba County School District after it decided to cancel the Itawamba Agricultural High School (IAHS) prom dance for junior and senior students rather than allow McMillen to attend with her girlfriend and wear a tuxedo.
The
American Civil Liberties Union
(ACLU), which represented the 18-year-old in court, claimed victory in a March ruling by US District Judge Glen H. Davidson. Davidson agreed that the Fulton, Mississippi school had violated McMillen's rights, but refused to force the school to hold the event.
"WBC will picket the graduation of Itawamba Agricultural High School to remind the parents, teachers and students of this nation that God said 'Thou shall not lie with mankind, as with womankind, it is abomination,'" the church said in announcing the protest.
"This generation has been raised to believe that they can live for the devil and still go to heaven, that God has no standards and the biggest lie of all – that God loves everyone."
"The parents of Fulton, MS feign outrage that a filthy dyke wants to parade her 'girlfriend' around at their night of fornication called a prom," the church added. "They had a duty to teach their children what the Lord requires of them. They shirked this duty."
The Topeka, Kansas-based church, which is made up mostly of family members, came to national attention when they started picketing the funeral processions of soldiers killed during the war in Iraq. Fred Phelps, who helms the church, believes dead soldiers returning from Iraq are God's punishment for American support of gay men and lesbians.
Members of the church believe it is sinful not to speak out against being gay.
"But it's not you [gay men and lesbians] and your filth that is causing God's condign wrath to pour out unmixed and unmitigated on this rebellious nation," Margie Phelps told On Top Magazine in 2008. "It's all of the pride and sin of doomed America; it's all the fag enablers, without which you would be back in the closet with your mouth shut, where you belong."
The May 22 graduation ceremony will take place at the Itawamba Community College.