Prime Minister of Ireland celebrates St. Patrick's Day at Sidetrack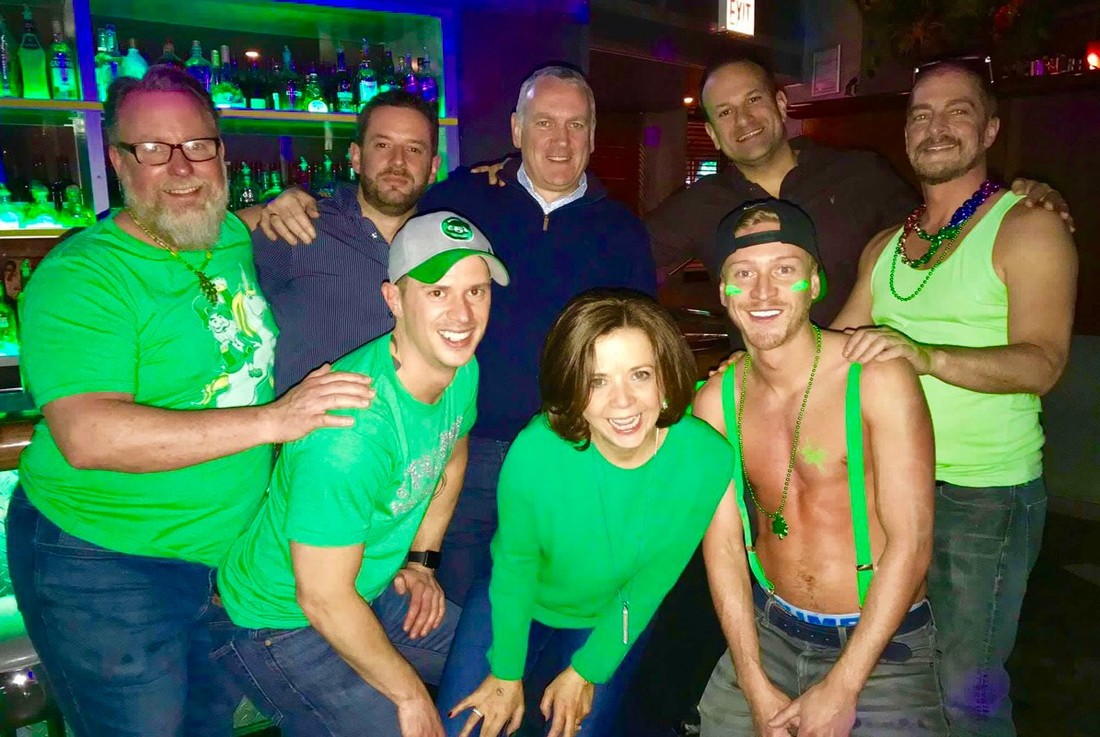 ireland pm leo varadkar (back, second from r) at sidetrack
photo credit // jed dulanas
View more photos from St. Patrick's Day Weekend at Sidetrack (links below)
Chicago, IL -
Sidetrack
celebrated St. Patrick's Day with none other than Ireland's Prime Minister, Leo Varadkar, as he visited the Boystown bar on Saturday and Sunday, March 16 and March 17.
"After his being in the news last week meeting with (Vice-President Mike) Pence, the (Sidetrack) staff was gob smacked that he joined us," said Sidetrack general manager Brad Balof. "St. Patrick's Day 2019 was a great celebration for Sidetrack. Chicago has been unseasonably cool this year, so we've all been ready to get outside and upstairs (at the bar). Even with the cooler weather, the upstairs deck was packed with people enjoying the sunshine.
"Saturday was busy. People were in a great mood; we opened at noon and had a great group from the beginning that lasted all day and night. The outside deck was full all day and night. Dixie Lynn Cartwright and the Jameson Boys entertained the crowd, gave out some Miller and Jameson swag throughout the day."
Varadkar, 40, came out in 2015 – and is the first Irish government Minister to do so. He is Ireland's first, and the world's fourth, openly gay head of government in modern times.
His partner, Matt Barrett, is a doctor.
The Prime Minister ended his week in the U.S. by marching in the Chicago St. Patrick's Day parade on Saturday before making his way to Sidetrack.
"(St. Patrick's Day) is one of our busiest days of the year, and for us is the kick-off to the spring and summer," said Balof, who noted that the holiday's green theme led to some outfits that were "doozies."
Sidetrack welcomed visitors over the weekend in cute green, orange and white shorts, and plenty of kilts, too.
The St. Patrick's drink-of-choice for many was Sidetrack's specialty green Absolut Lit Lime Frozen.
When asked if he had anything else to add, Balof laughed and added, "The gay Prime Minister of Ireland came to Sidetrack on St. Patrick's Day ... that's the whole rainbow and a pot of gold."
St. Patrick's Day weekend at Sidetrack in photos:
Glow Friday
|
Parade Saturday
|
Sunday Funday