A GoPride Interview
Jimmy Clabots
Jimmy Clabots interview with ChicagoPride.com
Wed. September 3, 2008 by Andrew Davis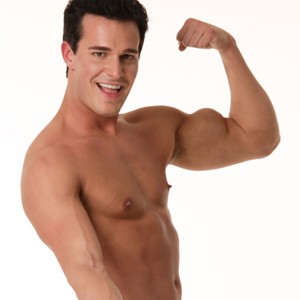 In 2006, Another Gay Movie hit theaters, entertaining viewers with a combination of over-the-top scenarios, guest appearances and loads of nudity. Two years later, its follow-up, Another Gay Sequel: Gays Gone Wild, is here—and it employs the same sucessful formula. Windy City Times spoke with Jimmy Clabots, one of the protagonists in the sequel, about being in his birthday suit, skating with RuPaul and meeting Heath Ledger.
WCT:
(Windy City Times/Andrew Davis) Can you briefly describe the plot of Another Gay Sequel?
JC:
(Jimmy Clabots) Sure. Another Gay Sequel is a spring-break extravaganza for these four guys who have started college. The heart of the movie is in the bonding, and the plots that are strung together [ center ] around sex and the exploration of relationships. There is also the plot around Nico, who is the outcast; he isn't able to find anyone until he is really honest about himself.
A lot of people, including myself, can relate to trying too hard to be cool—but it's all about acknowledging your own uniqueness.
WCT:
The movie is a bit over-the-top and a lot of fun, but there is a message there.
JC:
That's the arc of the story. The subplots are there, and they're about monogamy—if [ the main characters ] want that. There's that whole element of "sexual combat boots" to the movie.
WCT:
Sexual combat boots?
JC:
I mean sexual artillery [ using sex as a weapon ] . I used the wrong word there. [ Laughs ]
WCT:
Three of the four protagonists have the same names but are played by different actors. That is explained in the movie, correct?
JC:
Yes, it is. The three are almost like doppelgangers, you know? The [ change ] is explained away; those characters are killed off.
After [ original stars ] Mitch Morris and Michael Carbonaro dropped out [ of the sequel ] , Todd [ Stephens, the director/co-writer ] changed the script. And, apparently, Jonathan Chase wasn't invited back because of managerial [ difficulties ] .
WCT:
There is a lot of nudity in this film, including the full-frontal variety. How comfortable were you filming those scenes?
JC:
Not very, at first. There was this air of surrealism and novelty, because it was uncomfortable at first. The thing was, though, that they shot all the nude scenes first—so we didn't have that much time to think about it. The only time you could really think about it was when we were sitting in the wardrobe room—well, I guess there wasn't much of a wardrobe, was there? [ Laughs ] That was the most nervous I was. However, the more we talked about the technical aspects, the less nervous I was. I didn't have time to think about being naked with 10 people in the room, and it helped that we broke the tension by making jokes. Actually, I think if I had done an explicit scene with a woman, I would've been a lot more nervous, I would've chewed a lot more gum and my hands would've been shaking.
WCT:
Also, there's a ton of cameos and special appearances in this movie by people such as Colton Ford, Amanda Lepore, Perez Hilton, RuPaul, Lady Bunny and Jim Verraros. Was there any one person who you bonded with or, on the opposite end, were intimidated by?
JC:
I have to say that I was intimidated a little by Perez. I didn't know much about him; I don't go to gossip Web sites much, and I wondered if he was going to write about me. But, slowly, he opened up and we got to know each other. Then, at the L.A. premiere, he put me up on his shoulders. ... I think we got familiar with each other.
I also bonded with RuPaul, actually. He is one of the most compassionate and sweetest people you could ever meet. Some of the cast members went roller-skating at this really shitty rink that he said was great. [ Laughs ] Wooden boards were coming up from the floor. But we had all types of fun—we would play charades for hours while waiting for our shots to come up on set. And he's really good at charades, by the way.
WCT:
Here's a general question for you. If you could choose any actor or actress to collaborate with in your next film, who would they be?
JC:
I really like Giovanni Ribisi; I just love the range he has. I think he'd be a fantastic person to work with, even if it was in a gay comedy. [ Regarding actresses, ] I, of course, think of the hot ones, like Jessica Alba and Hilary Swank. But, one who has range and is gorgeous is Michelle Pfeiffer, although that'd be like some weird sort of MILF fantasy. I also like Ellen Page. Did you see Hard Candy?
WCT:
I did see it, but I liked Juno and Smart People more. Now, I discovered that you were in the movie Ten Things I Hate About You. Did you get to meet Heath Ledger?
JC:
How did you find that out? Yes, I did meet Heath. I was in a group of extras called "The Beautiful People Clique," so we had to hang around a lot of the actors on the set. We ended up playing cards and drinking. I had been trying to mack on this girl and [ 10 Things co-star ] Andrew Keegan stole her from me because he had this star power.
Heath was very cool. He told a lot of stories, but sometimes I think he was bullshitting us for the sake of bullshitting us. [ For example, ] he said he was arrested in Australia for killing a Tasmanian devil. We were just a bunch of extras from Tacoma [ Wash. ] , and I don't think he was trying to impress us; I think he was just f*cking around just to have a good time. I think that this was his first big [ U.S. ] film, but it didn't seem like he let it go to his head.
Another Gay Sequel: Gays Gone Wild will be shown at Landmark's Century Centre Cinema, 2828 N. Clark, starting Friday, Sept. 5. See
www.landmarktheatres.com/Market/Chicago/Chicago_Frameset.htm
.
Written by: Andrew Davis
Article provided in partnership with
Windy City Media Group
.
Interviewed by Andrew Davis
Serving the Chicago gay, lesbian, bisexual and transgender communities. ©Copyright 2019 GoPride Networks. All rights reserved.