A GoPride Interview
Ben DeJesus
Behind the klown: Ben DeJesus on filming John Leguizamo
As John's Chicago fans have proven over the years, he has a really loyal fan base that are outside the demographic of a typical NY Times readers.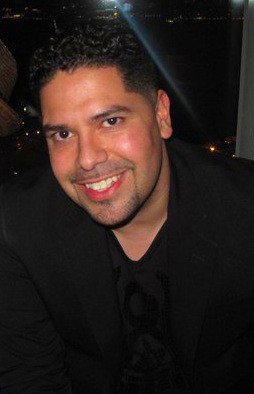 photo credit // ben dejesus
Ben DeJesus is one of the industry's most prolific film directors. His current project is "Tales from a Ghetto Klown," which captures the journey of actor/playwright John Leguizamo's as he struggles to mount his latest one-man show on Broadway and beyond. The 52-minute documentary film will premiere nationwide on PBS, during the network's prestigious Summer Arts Festival with the generous assistance of Latino Public Broadcasting and the DVD will be available on August 14th.
The 35-year-old DeJesus spoke with GoPride.com about his experiences with Leguizamo and his making of the documentary.
MJR:
(Michael J. Roberts) First off, thank you for taking the time for this interview. Chicago theatre audiences have always had a very strong connection to John and our readers appreciate this opportunity to get to know him through your amazing documentary.
BD:
(Ben DeJesus) Thank you as well. I appreciate you sharing our story with your readers and your kind words about the film. John himself has said that Chicago has always been his most supportive city outside of NYC and he ALWAYS loves performing for the audiences there.
My brother and family also lives there, so I really like the area too.
MJR:
How did the idea first come about of documenting the process of putting Ghetto Klown on stage and how did you become involved with the process?
BD:
I first connected with John through a mutual friend David Chitel who asked me to shoot some web videos featuring John. I was excited for the gig, because I had always admired John's career and contributions in the theater word. During that first shoot, we clicked and had a great time collaborating creatively. Afterwards, we exchanged contact info and over the next few months stayed in touch. He told me he was in rehearsals for his new one-man show, so I asked if I could shoot some footage. After that first day, I was convinced that here was a story worth telling. So I kept coming back with my camera, and before long I was on the road with John, including the 2011 blizzard of Chicago, which plays a key role in the film.
MJR:
The documentary goes into some very emotional and dark places.
How did you and John place boundaries on what or what would not be filmed?
BD:
Actually, we never set boundaries about what could be filmed or not during any part of the production. Over time, we developed a strong rapport and easygoing working style, where we would catch up and connect about many other things outside of the show before even turning the camera on. I was never trying to just shoot footage with no real direction or purpose, especially with things that I knew would not make the film. But since I was knew many of the obstacles John was facing and the real risks he was taking, at a certain point I would steer the conversation to how he was being affected by the whole roller coaster process.
Then I would begin shooting as we have a more focused and open conversation about some of his own inner thoughts and emotions.
Fortunately, he trusted me and was able to open up in a way that makes this film more of an intimate portrait of a true artist versus a biography of a celebrity. At least that was my goal.
MJR:
What has the experience taught you about yourself that you didn't know going into the filming?
BD:
Working on this film and with John in particular, has taught me you should always strive for excellence in whatever work you want to share with the world. Until his show closed on Broadway, John never stopped tweaking his work, because he never wanted to settle or get comfortable with himself if he believed he could make it better. That's something that always stick with me. John's work ethic is legendary and certainly is worth emulating. I also learned that believing in your own vision and instincts is so important in reaching your goals – whether it's a PBS doc or a one-man show.
MJR:
I recently spoke to one of the producers of Broadway's Leap Of Faith about how much impact New York theater critics have over the success of a show. What do you think made John's show critic proof?
BD:
As John's Chicago fans have proven over the years, he has a really loyal fan base that are outside the demographic of a typical NY Times readers. Aside from just Latinos, John's fans are the kind of people that may not see any other Broadway show ever, but his. Because what John does onstage, connects with so many different audiences, he is able to sell tickets to wide variety of passionate fans.
MJR:
In the early rehearsal process, director Fisher Stevens told John to approach the piece from a place of love and not anger. Was that a major turning point and how was John able to let the anger go?
BD:
Absolutely. Fisher was such a great influence and creative partner for John, He always seemed to find the right way to articulate to John what John himself was trying to get out through his work.
It was amazing and extremely entertaining to see their process up close. Fisher really helped John to bring out the heart and soul of Ghetto Klown.
MJR:
While you were filming, how did you see the show affect the audiences every night?
BD:
I've probably seen the show a hundred times and not once, has the audience not leaped to their feet with a standing ovation at the end of John's show. Afterwards, when fans or even famous actors would meet with John, they would be in awe of what they had just seen and in very passionate ways, would express how inspired they were by the show.
MJR:
What insights would you like the viewing audiences to get out of the documentary?
BD:
I would like the audience to see an artist at work, in a way they've never seen. Regardless of the outcome, John like many other artists art willing to risk so much for his art, which I think consumers may not appreciate as much as they should. No matter how much success someone has had as an actor, writer, musician or other form of art, many people would be surprised how much of an uphill battle it is for many of their favorites.
MJR:
What upcoming projects are you working on?
BD:
Currently, I am working with my partners at NGL Media.com (David Chitel, Ben Leff and John Leguizamo) to produce more content for digital audiences. I also am developing 2 new documentaries. I still produce many commercials for AEG and others, along with branded music videos and various tv specials. I also have a script for a dramedy series that is being shopped in Hollywood and NYC. I'm very excited for the year ahead.
"Tales From a Ghetto Klown" DVD is being released August 14th and is available for pre-order at PBS online.
Interviewed by Michael J. Roberts. Michael J. Roberts is theatre editor for the ChicagoPride.com covering Chicago's diverse arts and entertainment scene.