A GoPride Interview
Benny Hardy and Adam Hughes
Benny Hardy and Adam Hughes: They can slap us on the butt, but they don't go too far.
Wed. July 20, 2011 by Windy City Times
They can slap us on the butt, but they don't go too far.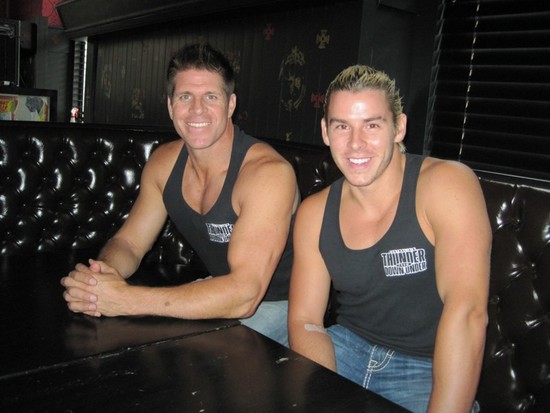 benny hardy and adam hughes
Chicago feels the 'Thunder from Down Under,' interview by Windy City Times
The things we do for research.
I bore witness to the power of thunder—as in the all-male Australian revue "Thunder from Down Under." Hundreds of women were screaming as the five main dancers and emcee Benny Hardy gyrated and stripped—with three of the awestruck patrons even participating in a very intriguing contest.
However, despite the troupe being primarily advertised as a party for women, the dancers contend that they are more than happy to entertain men and are very gay-inclusive. A conversation with Hardy and dancer Adam Hughes revealed their thoughts on everything from the gay community to the inevitability of retirement.
WCT:
(Windy City Times) So how large is the troupe?
A:
(Adam Hughes) We have a permanent show based in Las Vegas and there are 10 guys in that. Then, we have this show, where there are six guys, so there are 16 altogether. But we always have guys who train up.
A:
(Benny Hardy) By the way, you definitely have to be Australian—but it's funny, because you're selling that you're Australian, but they think that it's contrived, along with our sexuality.
WCT:
Your manager told me that me you're all straight. Why do you think some people assume that you're gay?
A:
(Benny) Well, we do dance around in thongs, and that's not something straight guys wear; I personally don't wear them.
WCT:
In Europe, I imagine you don't get this question.
A:
(Benny) When we tour Australia, Asia and Europe, we never get that question. But in America, a lot of our tours go through the Midwest and the Bible Belt. In Chicago and Vegas, people tend to be more open-minded. In 20 years, we haven't had one gay guy in our show, actually—although we're fine with them being in it.
In Vegas, we sometimes have groups of gay guys who come see our show. In fact, we have a disclaimer: "Gentlemen are welcome." In fact, we have this contest and in San Francisco there was this guy who competed—and we never get guys in it. He had such a great attitude, and the crowd loved it!
(Adam) However, in Australia, I've got mates who can't think of anything worse than dancing to girls and having them up in their face. It's probably the worst job to do if you're gay. If you're straight, it's a great job.
(Benny) Any job with any expression of art usually gets that sort of question.
WCT:
What term do you prefer: "dancer," "stripper," "ecdysiast" or something else?
A:
(Benny) Oooh ... I like [ecdysiast]. I hadn't heard that term before.
(Adam) I like "entertainer." If we want to be funny, we say we're "clothing-removal engineers."
(Benny) I like "performer" or "entertainer." It's semantics, really. "Stripper" doesn't bother me. If you get [worked] up about it, they say, "Hey. Easy..." Essentially, you're a performer because you're using all facets of entertainment: You're dancing, performing, relating to the audience and you have costumes. It's theater.
A stripper, to me, is someone who's just dancing around a lounge room—which is fine, you know.
WCT:
The word "stripper" has a different connotation—in this country, anyway—than "entertainer."
A:
(Benny) It's really cabaret ... without the Liza. But I'll give her a run for her money. [Laughs]
WCT:
And sometimes you have legit actors who strip down for films.
A:
(Adam) There was [Jason Segel] in Forgetting Sarah Marshall...
(Benny) ...and there was Kevin Bacon in Hollow Man.
WCT:
Interestingly, I was thinking of women when I was talking about nudity, such as Halle Berry in Swordfish.
A:
(Adam) Yes, that's true.
(Benny) Then there's Charlize Theron, in just about every movie she's in.
(Adam) With us, you may get some butt cheek, but that's about it. There is a lot of skin: chest, arms—but no dangling bits.
WCT:
How wild does the show get? What is the policy regarding touching?
A:
(Adam) They can slap us on the butt, but they don't go too far. But as long as they have fun—and, by the way, there are no photos allowed during our show but they can take a picture with the guys on the stage after the show. They can lie down across the guys' laps and post it on Facebook. It keeps our show free-flowing and non-tipping; tipping looks a bit seedy.
The most common response from girls after the show is "It's not what I expected. I had this preconceived idea of what it might be. It's just a very fun night.
It's not just "Look at my body." We have dance routines dressed as firemen or warriors, for example—and Benny entertains the crowd throughout the evening.
WCT:
Maybe you could come out as congressmen.
A:
(Adam) [Laughs] Yeah—actually, a suit would be a good routine. We've done something similar in Vegas, and we have a routine as gangsters as a tribute to Chicago. We're fully clothed, and we slowly take it off; it's a striptease, not a "strip, please." We always leave them wanting more. If we just took our clothes off at the start of the show, it'd be like, "What else is there?" Then there's the meet-and-greet—and that's when the audience realizes that Benny isn't the only Australian.
WCT:
How'd you get started?
A:
(Adam) I was a high school teacher in Sydney...
(Benny) [Smiles] That's the best.
(Adam) I taught kids rowing and rugby. I moonlighted as a personal trainer. While I was training, I was asked to join the show—and I got to tour the world. When I was in my mid-20s, it seemed like a good idea at the time.
(Benny) I was in nightclubs and working as a personal trainer. Another guy was an engineer; that was the best one.
(Adam) A lot of guys come from trades: electricians, plumbers, brickies [bricklayers]. They've always enjoyed working out. The general reasons you get picked are because of your body and attitude; once the [audience members] see you have an ego, it takes away the gloss. We're not about that; we're a bunch of "boys from next door" that you can take to meet your mom. [Hughes and Hardy laugh.]
WCT:
That brings up a question, though: How difficult is it to maintain relationships?
A:
(Benny) I haven't had a girlfriend for a long, long time but it would be hard to maintain a relationship. You do meet a lot of girls, right? But I imagine once is all is said and one, it's still hard. Eventually we'll be in Vegas and we can have a girlfriend and a house and a car and a pet. [This tour] is a great chance to live a different lifestyle, and it makes you appreciate it when you have a static life. It's sometimes about the grass being greener on the other side.
WCT:
So what's your workout regimen like?
A:
(Adam) We try to work out five to six times a week, mostly weights. We also do cardio; we have to maintain a good body the whole year round. It's in our contract; if we get too overweight—if you don't have visible abs—you get a warning. Singers have to have voice; we have to have abs.
(Benny) No kegs allowed. I like good food, so I sometimes have to train hard. There's no motivation like taking your shirt off in front of a crowd.
WCT:
What are the best and worst aspects of this job?
A:
(Adam) The worst is the constant travel—sleeping in a different bed every night; driving sometimes up to eight hours when you're going somewhere remote, like North Dakota. Also, you can't maintain a relationship. The best is that we get to stay in really nice cities like Chicago for the summer, in an apartment overlooking Lake Michigan.
(Benny) I get bored easily, so I need many types of stimuli. Here, you get to meet heaps of different people. But I don't get to have hobbies because I'm constantly traveling. With food, you're at the mercy of [take-out]; also, you have to limit the amounts of shoes and jackets you carry around on tour—that's a big one for me.
WCT:
It's sounds like an exciting, entertaining career—but it's not a long-term one.
A:
(Adam) You can do it to your late 30s. I know you're saying, "Yeah, you look about 28." [Laughs]
(Benny) People ask, "What are you going to do when you're older?" I say, "If you have a good opportunity to save your money, then it'll take care of itself." I don't know what I'll do later on—just do what makes you happy.
The show runs Fridays and Saturdays through Oct. 22 (with a three-week break in late August and early September). Visit www.ThunderInChicago.com.Interview by Andrew Davis for Windy City Times
Interviewed by Windy City Times