A GoPride Interview
Michael Ivan Carrier
Once on this Island's Michael Ivan Carrier shares his story as 2018 Tony's best revival arrives in Chicago
it is all leopard print and turquoise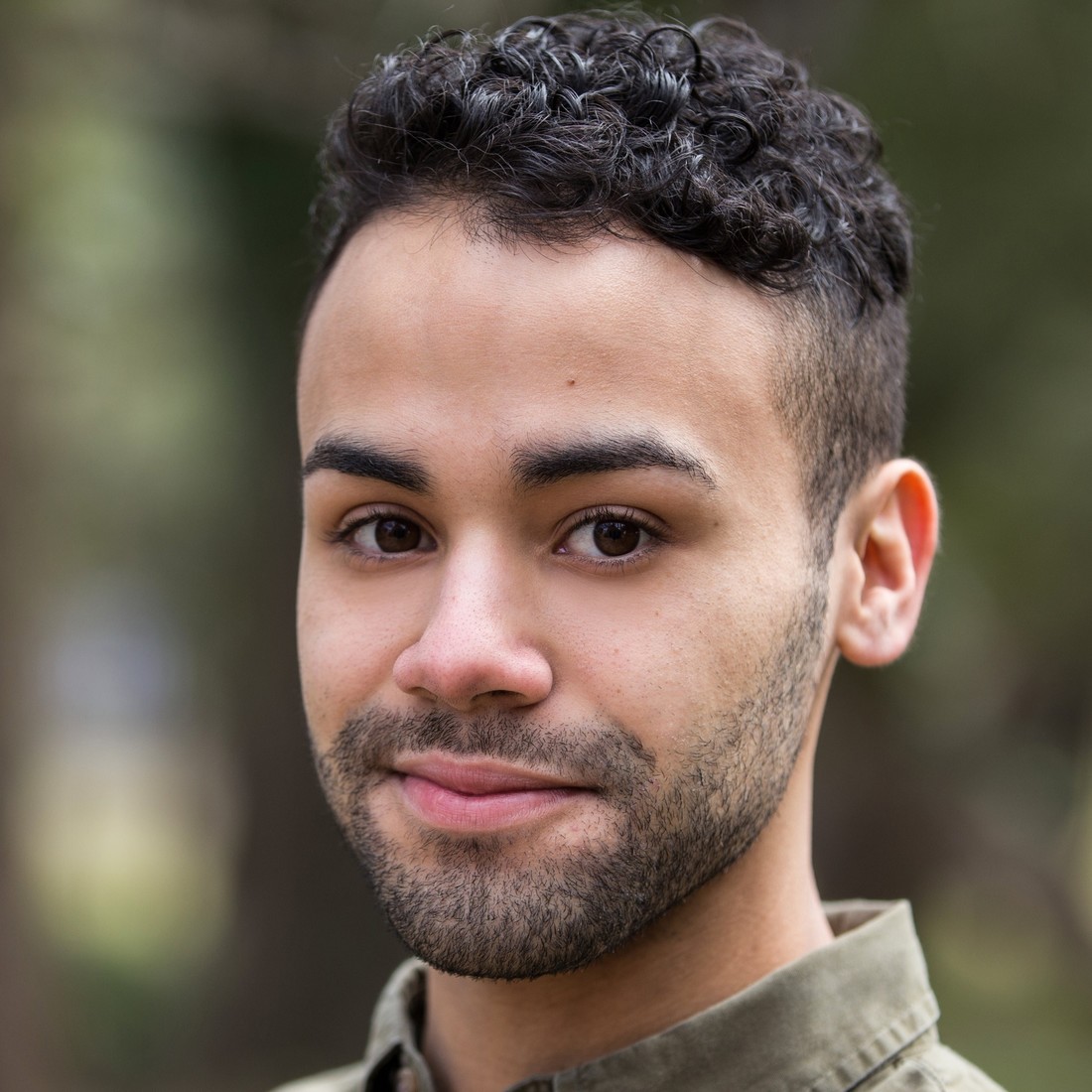 Winner of the 2018 Tony Award for Best Revival of a Musical, ONCE ON THIS ISLAND is the sweeping, universal tale of Ti Moune, a fearless peasant girl in search of her place in the world and ready to risk it all for love. Guided by the mighty island gods, Ti Moune sets out on a remarkable journey to reunite with the man who has captured her heart.
The fun and quick-witted Michael Ivan Carrier makes his National Tour debut as the Storyteller in the production.
"I pride myself in being the most versatile performer I can be" and "I am incredibly thankful to wake up every morning and strive for my best self," says Carrier. Currently based in New York City. Carrier grew up in  Lafayette, Louisiana where his first creative outlet was tumbling and trampoline at the age of 7. He went on and competed for 8 years and eventually earned a Gold medal at the Junior Olympics. 
MI: Hi Michael! Thanks so much for taking the time out to chat today. And congratulations on the show. So how did you get involved with the show?
MIC: Well, I actually saw the show for the first time my freshman year of college. They were doing it at my university and it is common for a lot of schools for the freshman not able to audition for the show, so they have to work crew for it. So I did usher the show - all eight performances – and I fell in love with it.
Since I couldn't be in it, I was doing the choreography in the lobby of the theatre and I just loved it so much. And when I found out that it was coming to Broadway, I was living in New York at the time, and I got to see the production.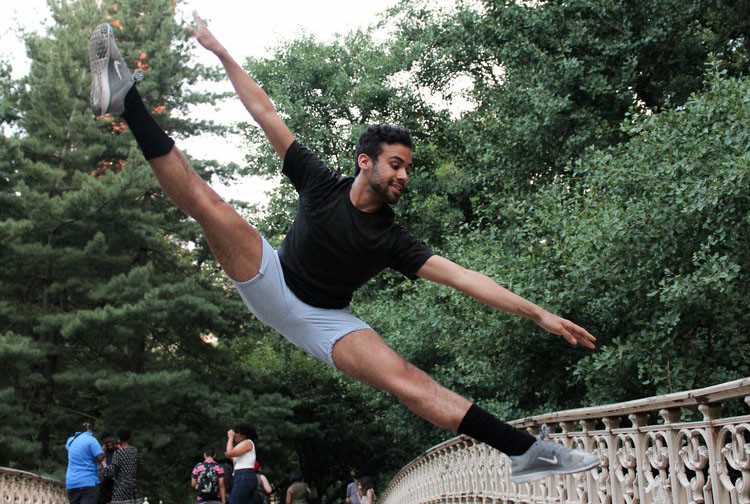 I did not think I was going to be in it at all - I couldn't believe it; and then I began the audition process which is pretty long and rigorous. And then I found out I got the part and it was crazy! It is totally a dream show and I am still baffled that I am on stage every night in it.
MI: Awesome! So for those not familiar with the story, tell us a little about the show. It sounds like it had a massive effect on you back then, but is there a message or a particular scene from the show that you personally love?
MIC: The show basically is a retelling of Hans Christian Anderson's "The Little Mermaid", telling of a little girl's journey. It is very "Romeo and Juliet"-esque; she is this fearless peasant girl in search of her place in the world and ready to risk it all for love. She is guided by four mighty gods and she goes on this journey to reunite with a man who has essentially captured her heart.
I think it is the message of hope and just us as a human race being collectively one. I think so many people can get caught up in these different cultures and maybe are not likely to be or experience something that is so far from them but once they see this show I think they will connect with the people.
You know we all want one thing and that's to be loved and to give love and there are so many universal messages of hope and there is a moment at the end of the show where we've built the story up where we are all in these massive ball gowns and suits and hats and we are at this big hotel and it gets deconstructed into like the basicness of the show when we started out and it just lets us know that the only thing we can do is kind of just tell the story and just kind of get this down to our basic human selves and what we have to offer and give.
MI: Yeah, definitely! So let's talk about performing every night - is there anything you just religiously have to do right before a show for luck?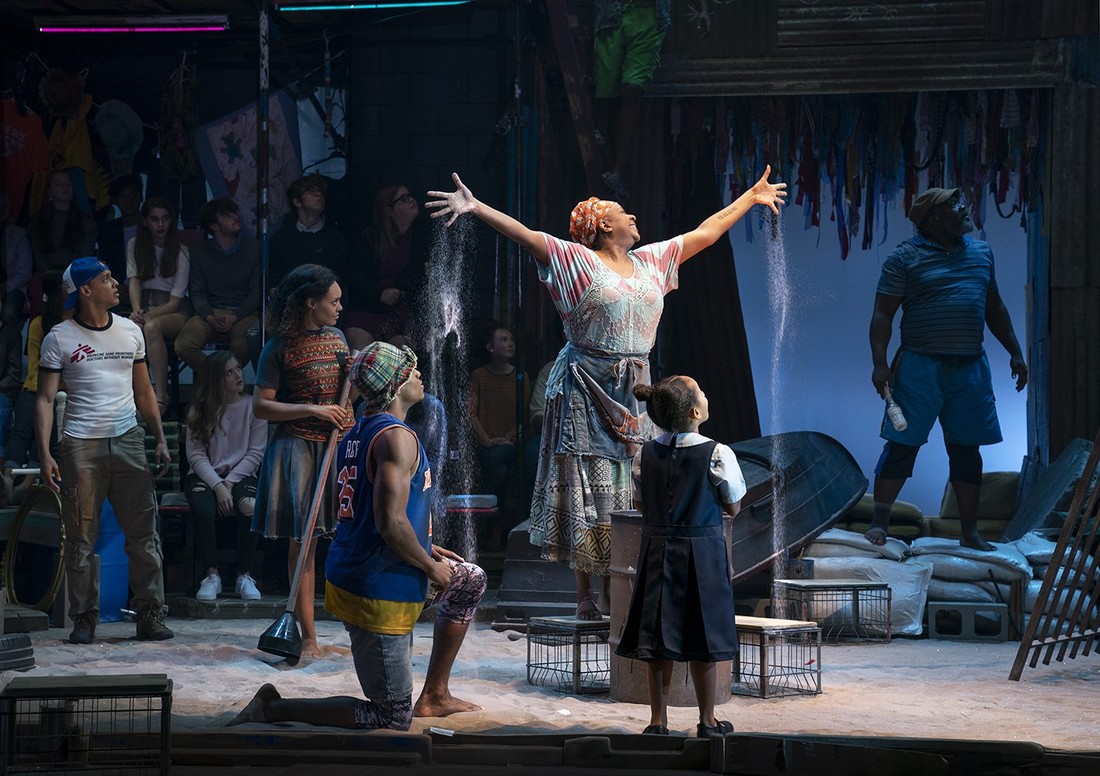 Once on this Island, Company; photo by Joan Marcus
MIC: I do a warm up. I think that for me, in particular, a part of my costume is having these knee pads that they have to like make look like they're island scrap cause all of your costumes are poor people in Haiti. And I really have to like ask everyone "do I have my knee pads on?" cause I have done a couple of shows without my knee pads; and you feel it. So that's not a superstitious thing but I go to people and I'm like "do I have my costume on?" I'm a chatterbox so I'm all up in everyone's station and getting to everyone so I can get distracted sometimes. So I have to make sure I am really focused and have some friends that can kind of help me get on track.
MI: So take us back a little bit. Where is home and then how did you get involved in performing? Was there anyone in particular who inspired or motivated or mentored you?
MIC: Well, I am from Lafayette, Louisiana down south so there aren't a whole lot of arts opportunities that I was exposed to when I was younger, but I did grow up doing gymnastics competitively and so I did that from about when I was 7 to 14 and I actually have a junior Olympics gold medal in trampoline.
MI: Oh that's awesome!
MIC: And tumbling. So I was very competitive growing up and I also did speech and debate in high school. I did lots of interpretive events like dramatic interpretation so I competed in that nationally and I kind of won doing that and so I feel like just kind of a combination of those two things, like tumbling contributed to dancing well and the competitive acting and I majored in musical theatre in college and it just kind of fell together randomly to do musical theatre when I was 18 and I love it. It's my favorite job that I have ever had.
MI: So do you get to do some of that tumbling on stage like every night now? 
MIC: Actually this is the first show I have been in where I am not tumbling.
But usually when people find out that I'm a flipper they are like "we gotta put it in the show." Yeah, I am not doing any standing tucks or back hand-springs. I think the closest I do is there is a part in the show where we make this big car out of trash and so I am like the side of the car and I break off and I do this little spin. It's the danciest, most acrobatic I get in the show.
MI: Alright, since there's no tumbling what's been your most memorable moment on or off stage?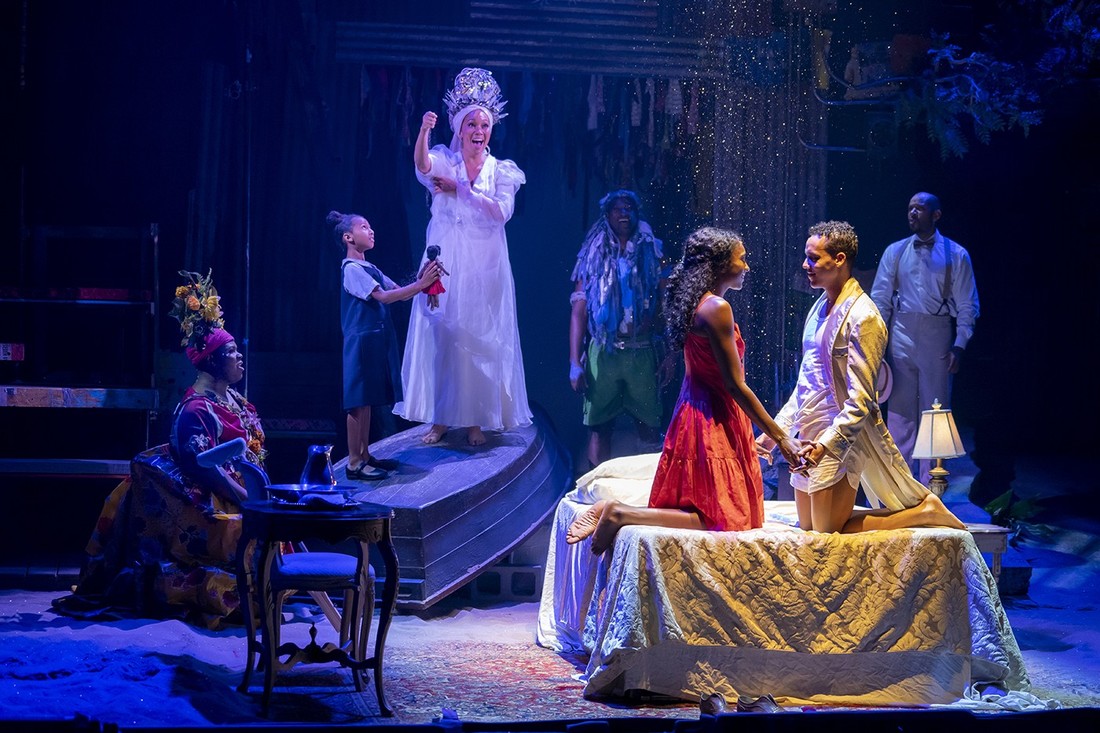 Once on this Island, Company; photo by Joan Marcus
MIC: The most memorable moment for me was just opening. I feel like a lot of actors and anyone who has ever done a show can really kind of agree, you know? When you are ready for an audience you are just kind of ready and so the anticipation was just so awesome and everyone was so great and just to be a part of that and feel the energy onstage was just amazing. I'll never forget the opening, performing in front of an audience.
MI: You'll be here in Chicago for a couple of weeks! Are you excited?
MIC: Yes. I'm not excited for the weather. I am a southern boy so I have to gear up but it will be fine. I am so excited. The last time I was in Chicago was for a tumbling competition when I was younger so I must have been like 10 so I am super excited to revisit it as an actual adult and get to do some fun things there.
MI: Do you have your top three list of things to do in your spare time while you are here?
MIC: Top three. Uh, stay warm. Stay healthy and show up to work. No. I'm going to have a lot of fun in Chicago. So balancing that with work will be easy. It will be fine. But I am super excited to get out and get to know the city and eat and drink and play.
MI: Anything specific as far as eating goes? Where are you are going for some Chicago pizza?
MIC: Oh, I do love pizza but something that is weird about me is that I am lactose intolerant, so pizza is still one of my favorite foods, but I just get it without cheese so I hope the Chicagoans don't look at me crazy for 3eating deep dish without cheese if that is possible.
MI: Well then you should go to Lou Malnati's then. They do the meat patty thing where they put a layer of meat over the crust. The meat is almost kind of like the crust so that probably wouldn't be too bad without cheese.
MIC: OK.. I just wrote it down. I'm gonna tell them you sent me!
MI: Is there a dream role in any other play or musical that you would just love to do?
MIC: Well I did this in school, but I would love to do it again. Well I have two. I really want to revisit Angel in "Rent" it is just an iconic role and I've done some shows, I've been in drag for some shows, and so I feel I've got the hang of it. I'd love to tackle like an actual character. I love Paul in "A Chorus Line", which I've done before but it is different every time I do it so that's another dream role. And just an originator role, which I'm sure a lot of people say, but that would just be a dream come true to kind of build a character.
MI: Let's get personal = what's something in your home that would make a stranger think you were straight?
MIC: Nothing! I don't have anything. I'm literally looking at my room and it is all leopard print and turquoise. Wait, I have something, no, um, no. Wait, I have... no, it is all pretty gay.
MI: Well maybe that answers the next question. What's something in your home that might make a stranger think you were gay?
MIC: This sequin gold blazer that is on the ground right now.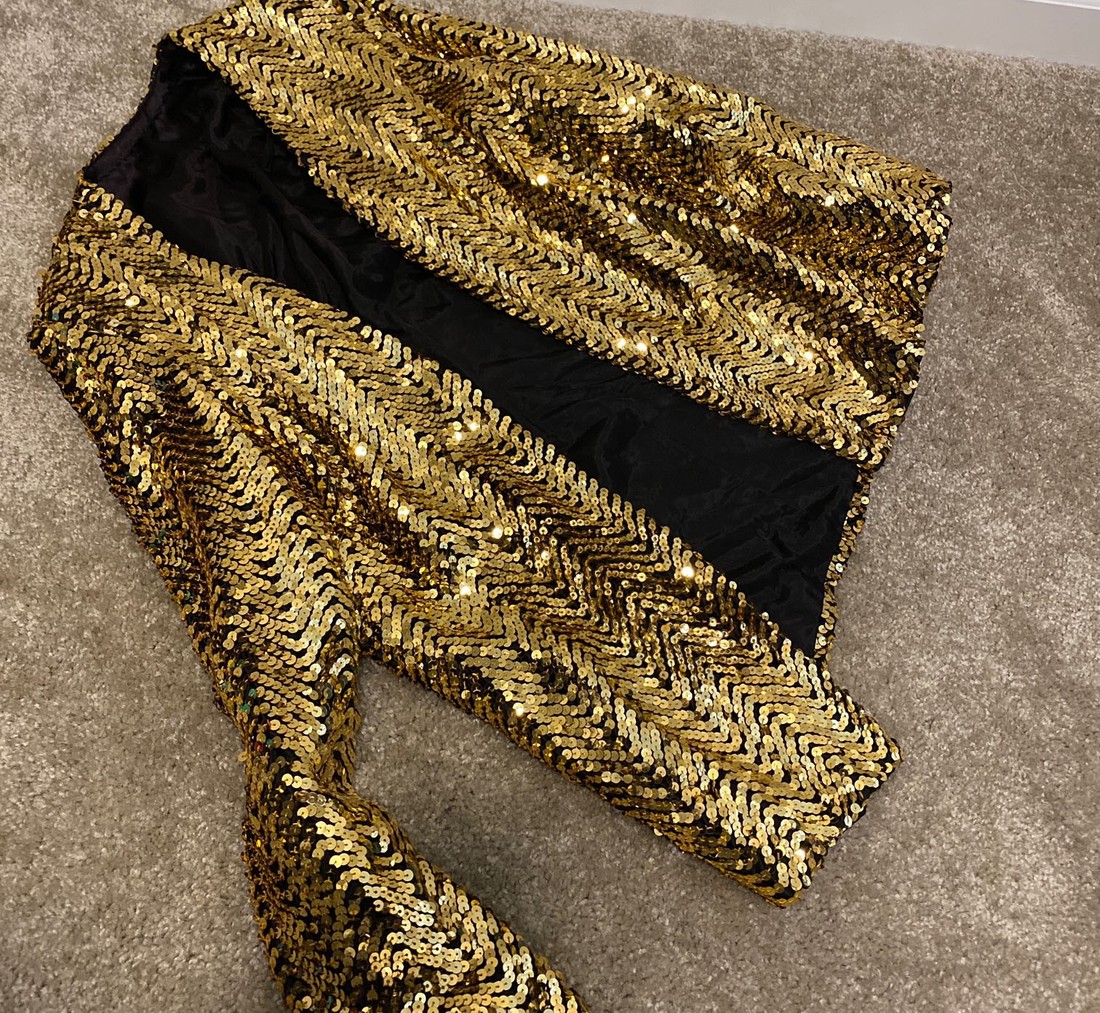 MI: If your life story were to become a movie, who would play you?
MIC: Probably what is his name that is doing Evan Hansen right now? I love him, but it is that guy. Jordan Fisher!
MI: Good choice! Lastly, sum up your life in one musical title.
MIC: Probably, "Werq" with an "e" and a "q" cause I say that a lot.
MI: I love that! Ok, so that's going to be the original musical that you'll originate the role on.
MIC: Yes.
MI: Michael! Thank you so much for taking time to chat this morning. I am totally looking forward to the show!
 
ONCE ON THIS ISLAND ticket information; about the show
The Tony-Award winning ONCE ON THIS ISLAND opened this week at Broadway In Chicago's Cadillac Palace Theatre (151 W. Randolph) for a limited two-week engagement through February 2, 2020.
This production features new orchestrations by original orchestrator Michael Starobin, who is joined by AnnMarie Milazzo, Scenic Design by Dane Laffrey, Costume Design by Clint Ramos, Sound Design by Peter Hylenski, Tour Sound Design by Shannon Slaton and Lighting Design by Jules Fisher and Peggy Eisenhauer.
ONCE ON THIS ISLAND premiered at Playwrights Horizons in May of 1990. The original Broadway production opened in October of that year and ran for 469 performances garnering eight Tony nominations including Best Featured Actress (LaChanze), Best Original Score, Best Book of a Musical and Best Musical. The 1994 West End Production won the Olivier Award for Best New Musical. The critically acclaimed 2017 Broadway Revival, which opened in December of that year, won the 2018 Tony Award® for Best Musical Revival before closing January 6, 2019.
The ONCE ON THIS ISLAND national tour is produced by Ken Davenport, Hunter Arnold, and NETworks Presentations. Additional producers include Carl Daikeler, Roy Putrino, Broadway Strategic Return Fun, Sandi Moran, Caiola Productions, H. Richard Hopper, Diego Kolankowsy, Brian Cromwell Smith, Ron Kastner, Rob Kolson, Judith Manocherian/Kevin Lyle, Jay Alix/Una Jackman/Jeff Wise, Witzend Productions/Jeff Grove/Wishnie-Strasberg, Mark Ferris/Michelle Riley/Marie Stevenson, Conor Bagley/Invisible Wall Productions/Silva Theatrical Group, and The Harbert Family/Keith Cromwell/Red Mountain Theatre Company.
Individual tickets for ONCE ON THIS ISLAND are currently on sale and range in price from $25 - $99.50 with a select number of premium seats available. Individual tickets are available by calling the Broadway In Chicago Ticketline at (800) 775-2000. Tickets are available now for groups of 10 or more by calling Broadway In Chicago Group Sales at (312) 977-1710.
Interviewed by Matt Inawat. Ron Matthew Inawat is president of the GoPride Network and contributes to ChicagoPride.com, PrideLA.com and other sites within the GoPride Network. Follow @cpmatthew