A GoPride Interview
Chicago Takes Off
Chicago Takes Off interview with ChicagoPride.com
Wed. January 9, 2008 by Dana Caprina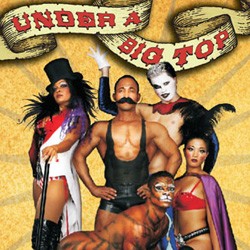 chicago takes off, february 9, 2008
photo credit // www.tpan.org
DC:
(GAY CHICAGO MAGAZINE) Since you only had one show last year and it sold out, how would you describe "Chicago Takes Off?"
CTO:
(KEITH ELLIOTT and TODD KIECH) "Chicago Takes Off" is a fun and sexy show of burlesque and striptease. While most people associate both of those with strippers in a nightclub, this show has big, choreographed production numbers with some of the best dancers, choreographers, costumes and specialty acts in Chicago. All of this fun helps raise money for Test Positive Aware Network.
DC:
I understand this year there will be a theme.
CTO:
(KEITH ELLIOTT and TODD KIECH) Yes, this year's show is called "Under the Big Top," so, of course, we're doing a circus theme. Think of a fun and sexy circus-themed burlesque show in Las Vegas. That's what we're trying to bring to you this year, and we can't wait!
DC:
How many dancers this year?
CTO:
(KEITH ELLIOTT and TODD KIECH) We're still compiling our cast list, but last year we had more than 60 performers in the show. I think this year we'll have a few more.
DC:
How do you find them?
CTO:
(KEITH ELLIOTT and TODD KIECH) A lot of them are returning from last year, but we found them through most of the professional dance companies in Chicago.
However, we do also enlist actors, personal trainers, specialty acts and a few select professional strippers. We also have Michelle L'amour returning this year. She's the authority on burlesque in Chicago if not the country. Also, the Amazing Tomas, who wowed the crowd last year, is returning.
DC:
Do you have a costume designer?
CTO:
(KEITH ELLIOTT and TODD KIECH) Yes, our lead costume designer is Burt Pitcher, who worked on a preevent for "Dance For Life" called "Dance Divas." Burt has worked as a costume designer in New York and currently works with Royal Caribbean Cruise lines. We're very lucky to have him, and he's got the perfect sensibility for our show. It's gonna sparkle!
DC:
How long does it take to produce this show?
CTO:
(KEITH ELLIOTT and TODD KIECH) We've already been working on the show for a few months, but December and January are key months in securing and implementing all of our production ideas.
DC:
I understand there will be two shows this year.
CTO:
(KEITH ELLIOTT and TODD KIECH) Yes, at 7 and 10 p.m. Last year, we were sold out three weeks before we opened, so this year we wanted to give more people an opportunity to come see the show.
DC:
Are there any surprises you can tell us about this year's show?
CTO:
(KEITH ELLIOTT and TODD KIECH) If we told you, then it wouldn't be a surprise. I can tell you that this year, we promise more men, more skin and more glitter.
DC:
How do we get tickets?
CTO:
(RHETT LINDSAY, TPAN) You may purchase tickets by calling 773-989-9400 or visiting www.tpan.com.
DC:
Who are this year's cochairs?
CTO:
(RHETT LINDSAY) We're very lucky to have four energetic, sexy, talented, philanthropic cochairs this year that include Lisa Conner, Catharine Smith, Kyle Heath and Tom Segal. All of our cochairs have dedicated much of their time to LGBT and HIV/AIDS services organization. We're very lucky to these individuals steering this fun event.
DC:
Why is the money raised from "Chicago Takes Off: Under the Big Top" important to TPAN?
CTO:
(RICK BEJLOVEC, TPAN) "Chicago Takes Off" provides funding to some of our most integral programs and services, including peer support and buddy programs; Treatment, Education and Advocacy Management (TEAM); programs designed for newly diagnosed individuals; in addition to our prevention outreach programs, such as our Smart Sex program, case management, HIV testing and other referral services we offer. Overall, the entire agency benefits from the funds generated by this event.
I would also like to mention that we're incredibly grateful for the support of our committee, producers, sponsors, performers, volunteers and donors who attend this event. We're happy to provide a sexy, new event like no other in Chicago.
This interview was originally published in
Gay Chicago Magazine
and provided in partnership with
www.gaychicagomagazine.com
. All questions for Dana can be sent to Danacaprina@aol.com.
Interviewed by Dana Caprina
Serving the Chicago gay, lesbian, bisexual and transgender communities. ©Copyright 2019 GoPride Networks. All rights reserved.