A GoPride Interview
John Barsoian
A "charming" conversation with John Barsoian, currently in Rodgers + Hammerstein's Cinderella
a young woman kind of creating her own happy ending, versus the traditional fairy tale...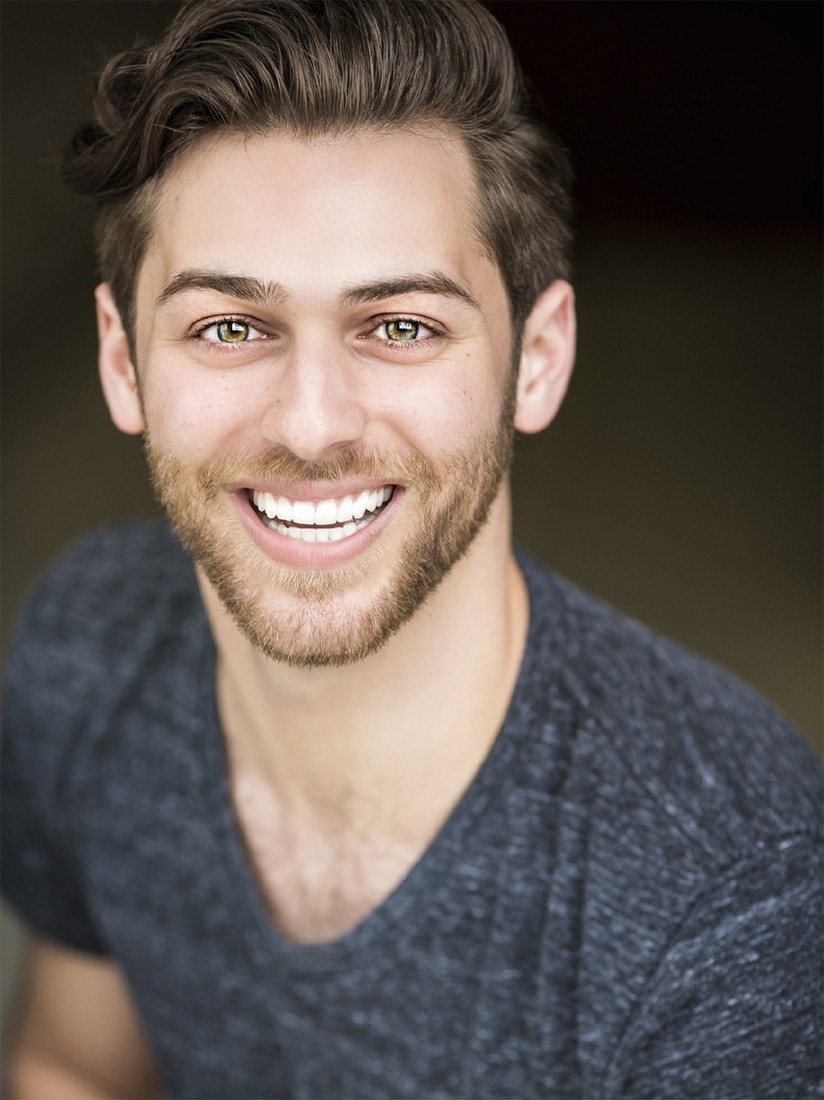 A "charming" conversation with John Barsoian, currently in Rodgers + Hammerstein's Cinderella
This week, we feature the handsome and "charming" John Barsoian who's currently in the cast of Rodgers + Hammerstein's 2013 Tony® Award-winning Broadway musical "Cinderella."  In addition to being in the ensemble, Barosian understudies the role of Prince Topher.
With its fresh new take on the beloved tale of a young woman who is transformed from a chambermaid into a princess, this hilarious and romantic Rodgers + Hammerstein's CINDERELLA combines the story's classic elements – glass slippers, pumpkin, and a beautiful ball along with some surprising twists. 
We talked with him about the twist on the production and got a little personal before the show begins this Friday, April 27th at the Cadillac Palace Theatre.
MI: (Matt Inawat, ChicagoPride.com) Hi John! Let's start by telling us a little bit about this amazing new production of Cinderella. What's familiar between the new musical and the classic, timeless story out there? And what will audiences love that's a little bit different then the original musical?
JB: (John Barsoian) Actually, it's a revised version of the Rogers and Hammerstein version of Cinderella. It's actually pretty wonderful because it takes the familiar fairy tale and adds a little twist to it and makes it a little bit more relevant to today's audiences.
MI: Can you tell us a little bit about the twist? 
JB: Oh, I don't want to give away too much! It's really more about kindness. It's about a young woman kind of creating her own happy ending, versus the traditional fairy tale of she finds a man and lives happily ever after.
MI: That's a little bit different... and pretty cool.
JB: Yeah.
MI: So tell us about the roles you're playing - and what's it like to understudy the role of the iconic prince?
JB: I'm in the ensemble and I understudy Prince Topher and his advisor, Sebastian. It's pretty great understudying the prince. He has some of the most beautiful music in the show, in my opinion. It's really exciting being able to work with Tatiana, the girl who plays Cinderella.
MI: Do you have a personal favorite scene or a message that emanates from the musical?
JB: There's a monologue that the fairy godmother gives Cinderella during her transformation. It's one of my favorite monologues. 
It's about how she has to create her own path, how she has to find her own happiness. It's really empowering. It's a beautiful message.
MI: Yeah, that's an awesome message! So tell us a little bit about your personal story. Where did you grow up? How did you get involved in theater?
JB: I grew up in New Hampshire. My parents put me in acting classes when I was really young. It was a great way to distract me, I had a ton of energy as a kid. It was a really great outlet for me. In Nashua, New Hampshire there's actually a really incredible community theater. That's what I ended up doing. My sister and I did it for a long time. It was a great. It was a terrific environment.
I ended up going to a boarding school for the performing arts for high school called Walnut Hill in Natick, Massachusetts. That was a terrific place for me and it was exactly what I needed. The school is comprised of several different majors, actually, so we had ballet dancers, we had visual artists, we had writers. There were theater majors and musicians. It was a huge environment of immensely artistic people. It was an amazing opportunity for me, especially as such a young artist, to be immersed in that world.
MI: Was there a specific or a strong moment where you just knew you were born for the stage?
JB: Oh, I don't know. I've always kind of been a very outgoing person and theater was a great place for me. It was a safe place for me. It was where I found my people. It's just kind of in my blood. It's something I do, it's something I have to do.
MI: Who are some of your acting and performance influences over the years? Who's inspired you?
JB: Oh, man. It's kind of hilarious, but Glenn Close is probably my favorite actress. My childhood was just watching 101 Dalmatians over and over. She's incredible. She's such an expressive actress. I love watching her!
MI: Any word of advice that you'd love to share with aspiring dreamers looking to make it in the industry?
JB: I would just say really throw yourself into your work. Throw yourself into your craft. It's all about the work you put into it. It's such an engaging craft that you have to be invested in it. If you want to do it, you can make it happen. If that is where your heart is, you have to follow that.
MI: Okay. We're gonna go back a little bit here. What were some of your favorite roles, previous roles, to date?
JB: Let me think. One of my actual favorite roles I did in college, it was for the musical "A Man of No Importance." It's not a super well known show, but it took place in Ireland and it's about this theater troupe that puts on a show and it's about a man who's really trying to find his identity. 
I played a small role in it. I played Breton Beret. It was such a powerful show. It was an intimate show. Everyone that worked on it was just so incredible.
And I was able to do Mary Poppins. The woman that played Mary Poppins actually worked on our production of Cinderella. She and I even went to college together. I got to play Bert to her Mary Poppins. That was an amazing experience. That was such a wonderful show!
MI: Any history with Chicago? Have you visited before?
JB: I've actually never been to Chicago.
MI: Any fun plans while you're here in the city?
JB: It's so funny, I was actually talking to my friends about the interview and asked them, "Where should we go? Where's the good spots?". Maybe that's for you, where should I go? I've never been. A lot of us actually haven't been, but we're really excited to go!
All I'll I've heard about is the deep dish pizza and that's about it.
MI:There are so many places in Chicago and so many different types of things to, places to go. It all depends on what you're interested in... We'll chat!
MI: Are there any charities or causes that have a personal importance to you?
JB: When I went to Walnut Hill in Natick, Massachusetts, at the end of the year, a lot of the students would raise money for Boston Fights AIDS. We would do the big AIDS walk in Boston. That was pretty important to me. Every year, seeing our communities come together and raise money for that. 
Broadway Cares is such an amazing organization that raises so much money and awareness.
MI: So, we're nearing the end of the interview here. For this final part, I'm gonna ask you ten flash questions. You give us the first answer that pops into your mind, alright?
JB: Okay.
MI: What do you miss most when you travel?
JB: Home cooked food.
MI: What was your favorite book or toy?
JB: Harry Potter.
MI: What are you superstitious about?
JB: Breaking mirrors.
MI: What would the title to your autobiography be called?
JB: You know, I actually had this conversation with one of my friends and we came up with, "It's 2018 and I Still Don't Have Portrait Mode."
MI: What is something in your home that would make a stranger think you were gay?
JB: Oh, I have a golden unicorn hanging up in my living room.
MI: Okay. You're gonna have to text me a photo after that! What is something that might make a stranger think you were straight?
JB: My Xbox.
MI: Boxers, briefs, both, or neither?
JB: Briefs.
MI: Who would play you in life story, if it were a made for TV movie and why?
JB: Zachary Quinto. I love the roles that he's drawn to. They're kind of dark, they're a little more mysterious. I'm kind of drawn to that.
MI: Finally, what was your worst fashion mistake?
JB: When I was younger, I just thought I looked so good having fully spiked hair with frosted tips.
MI: Oh, wow. Do you happen to have a photo of that? We can include it in the interview.
JB: It was a sight. I might have burnt them all, so I don't know if you'll get any.
MI: (laughter) Well John, this was a fun interview. Thank you so much and see you in "Cinderella" next week!
More than just a pretty face with the right shoe size, this Cinderella is a contemporary figure living in a fairytale setting. She is a spirited young woman with savvy and soul who doesn't let her rags or her gowns trip her up in her quest for kindness, compassion and forgiveness. 
"Cinderella" features beloved songs such as ""In My Own Little Corner" and "Impossible/It's Possible," and is playing at Broadway In Chicago's Cadillac Palace Theatre (151 W. Randolph) for a limited engagement on April 27 through May 6, 2018.
TICKET INFORMATION
Individual tickets for Rodgers + Hammerstein's CINDERELLA at the Cadillac Palace Theatre (151 W. Randolph) range from $18 to $85 with a select number of premium seats available. Tickets are available now for groups of 10 or more by calling Broadway In Chicago Group Sales at (312) 977-1710. Tickets are available at all Broadway In Chicago Box Offices (24 W. Randolph St., 151 W. Randolph St., 18 W. Monroe St. and 175 E. Chestnut), the Broadway In Chicago Ticket Line at (800) 775-2000 and online at www.BroadwayInChicago.com.
Interviewed by Matt Inawat. Ron Matthew Inawat is president of the GoPride Network and contributes to ChicagoPride.com, PrideLA.com and other sites within the GoPride Network. Follow @cpmatthew
Serving the Chicago gay, lesbian, bisexual and transgender communities. ©Copyright 2019 GoPride Networks. All rights reserved.